Deal Status in 2020 BioPharma M&A Accelerates in 2021
The life sciences segment exemplifies the BioPharma M&A market in 2020.  Coming off the global record-breaking year of 2019, Ernst & Young reported that U.S. deals fell to $159 billion from the usual $200 billion level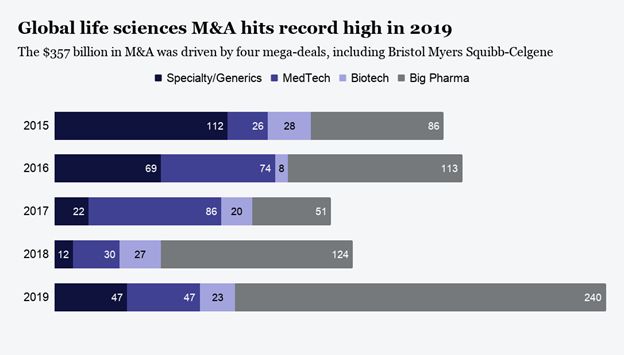 Into the second half of the year, however, M&A transaction value trended much higher thanks to five megadeals totaling nearly $97 billion.  This included the AstraZeneca acquisition of Alexion Pharmaceuticals, Gilead Sciences purchasing Immunomedics, Siemens Healthineers acquiring Varian Medical Systems, Bristol Myers Squibb acquisition of  MyoKardia, and J&J acquiring Momenta Pharmaceuticals.  These M&A deals were brough about by the need for pharmas to accelerate the pace of getting to market with their experimental drugs in the hottest research areas they are pursuing.  This in order to convince investors that the expensive clinical trials they are facing would result in strengthening their position for future growth. BioPharma M&A Accelerates in 2021
Into 2021, Hot Spots and Targets
Coming off last year's unusual circumstances affecting the market, PwC predicts M&A deals in BioPharma this year 2021 total up to a potential $275 billion, with several mergers of big market cap companies likely – including several megamergers each at least $50 billion in size.  According to RevCycle Intelligence of xtelligence HEALTHCARE Media, the ongoing COVID-19 pandemic could be the catalyst for more healthcare M&A activity in 2021, finding that healthcare executives surveyed unanimously foresee extensive M&A activity.  Fierce Pharma in their 2021 forecast sees pharma's having approximately $1.47 trillion in firepower for M&A transactions – all in a drive to create eminence and exclusivity in profitable therapeutic specialties through inorganic growth. BioPharma M&A Accelerates in 2021
PwC expects that acquisition assets likely to be pursued in 2021 include oncology, gene/cell therapy, plus further developments in vaccines, biotech and therapeutics.  Contract Development and Manufacturing Organizations (CDMOs) with technology successfully used in COVID-19 vaccines will be Big Pharma targets. Consolidation is expected in production of Active Pharmaceutical Ingredients (APIs).
(Please see the EDGE Briefing coverage of the significance of APIs in cannabis investment strategies at this link to the article entitled The Future of Cannabis Investing.)
In healthcare services, PwC predicts digital healthcare services providers and health IT companies that digitize practice management will be targeted also.
Recently Merck announced the acquisition of clinical-stage biotech firm, Pandion Therapeutics, for patients with autoimmune diseases, in a $1.85 billion deal.  Other targets predicted by Biotech Investments include:
Cambridge-based Alnylam Pharmaceuticals. Specialty, RNA interference therapeutics for genetic diseases. Market cap, $15.43 billion.
Clovis Oncology. Specialty, prostate and ovarian cancer treatments. Market cap: $437.49 million.
Deciphera Pharmaceuticals. Specialty, precision oncology. Market cap: $2.52 billion.
Intercept Pharmaceuticals. Specialty, treatment of chronic liver diseases. Market cap: $1.60 billion.
Myovant Sciences of Brisbane (California) and Basel (Switzerland). Specialty, prostate and uterine cancer. Market cap: $1.75 billion.
What's Driving the 2021 M&A Trend?
PwC states that the Pharmaceutical and Life Sciences (PLS) industries have two main drivers of value: innovation in treatments, and enhancing the customer experience and ecosystem – focusing on building specialty platforms and moving away from being pharma conglomerates. Capital is readily available through such fresh sources as private equity firms, infrastructure investment funds and family offices.  Private equity fund managers with ample reserves are under pressure to find good investments. Globally, China's economic plan for 2012 – 2025 emphasizes biotech acquisitions.  While U.S. dealmakers a placing greater and greater emphasis on Environmental, Social and Governance (ESG) issues when selecting future deals.
Perhaps most significant, though, is the adoption of digitalization advances affecting everything from patient-care delivery and practice management to the development of advanced precision therapeutics. Digitalization is causing the industry to reexamine business models and to seek out cross-sector M&A opportunities. BioPharma M&A Accelerates in 2021
Digital Transformation in Healthcare
Faced with the potential of dramatic ROI from advancements in treatments and therapies that make it to market much more rapidly than in the past, here are the characteristics we encourage our investors to look for in the BioPharma companies that are realizing the benefits of digitalization.
A leading Biopharma company should be leveraging relationships with data partners to create breakthroughs by the preemptory application of data. Finding the causes and potential treatments of complex diseases will require a diligent effort to access new data sources.
The cornerstone of the technology investment by a pharma company should be an enterprise architecture structured to meet the increasingly complex challenges of scalability, flexibility and increasing speed-to-market while decreasing the costs to get there.
AI/Machine Learning is critical to more rapidly determine drug/therapy treatments by more effectively identifying potential positive and negative effect through digital modeling in order to better understand effects on the human body prior to entering clinical trials.
While leading-edge technology has always been an integral part of biotechnological advancements, AI and Machine Learning are now decreasing the time it takes to get a new product to market. The scope, scale and cost-efficiencies of R&D are expanding along with improvements in the manufacturing process.  Data analysis from clinical trials enables Biopharma companies to more rapidly predict medication effectiveness.
Increasing operational efficiency. The demand for precision medicines – small-volume, personalized medicines – is driving manufacturing away from large-scale bulk production to the smart factories of the future with the promise of digital automation solutions. With digitalization, according to Deloitte's Center for Health Solutions, the number of days it takes to release a drug product could potentially be reduced from 100 days to a mere seven.
Data-driven manufacturing is placing renewed focus on quality and productivity. In order to better manage production costs relative to compliance standards, manufacturers are using new automation technologies to track productivity in real time.
And, as in every directional change an organization undertakes, the culture of the pharma company needs to be nurtured into becoming not just a science company, but one that is now adopting a digital mentality.

M&A in Healthcare AI
A panel of industry experts conducted by M&A Community concluded that these segments of the healthcare industry have the highest revenue growth potential: BioTech, MedTech, Digital Health, and AI.
While leading-edge technology has always been an integral part of healthcare advancements, AI and Machine Learning are now decreasing the time it takes to get a new product to market.  The scope, scale and cost-efficiencies of R&D are expanding along with improvements in the manufacturing process.  Data analysis from clinical trials enables biotech companies to more rapidly predict medication effectiveness.  And, Pitchbook analysis shows 2021 to be off to a fast start with PE and Strategic M&A transactions in 2021; deal size and median post valuations are already rising dramatically at this early point in the year. 
PE and VC Backed Healthcare Buyouts in AI and Machine Learning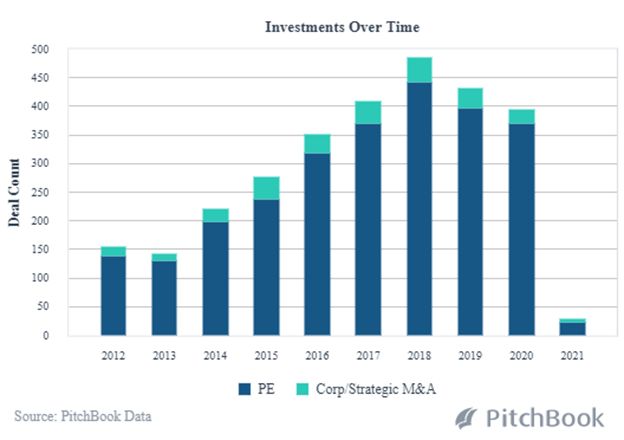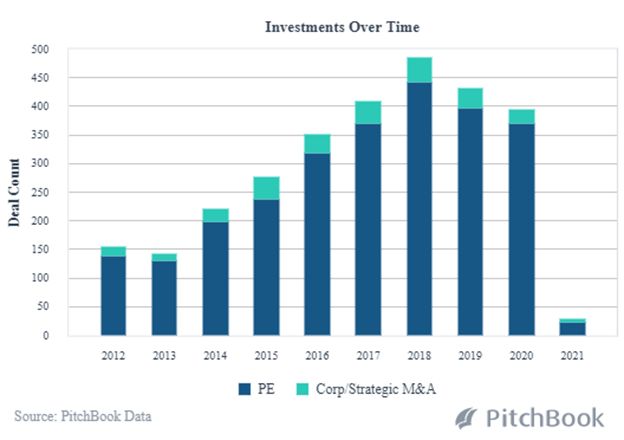 Innovative financing for innovative therapies.
Deloitte Insights – Tackling Digital Transformation points out that innovative therapies, like gene and cell therapies, come at such a high price that public and private payers are not likely to absorb the costs.  These developments coming at a time of heightened policymaker scrutiny signals the likelihood of drug manufacturers and biopharma startups moving beyond just selling therapies to entering the business of healthcare financing in order to bring innovation to drug pricing and payer reimbursement.
Guidance Toward the Right Choice in BioPharma Investing
For our investor clients, here is the advice we provide as they assess the plethora of healthcare opportunities that cross our desks.  These are some of the aspects of basic due diligence that simply let's the investor know exactly what is being purchased. 
The technology – critical, naturally, to thoroughly understand the technology and its place in the client's investment strategy.
Pre-Money Valuation – This is essential for the investor's understanding of the equity stake being bought into.
The team – how comfortable is the investor with the caliber and experience of the management team and how convincing is the team's dedication to change/improve people's wellbeing? And, are they resilient?
Credible funding plans – is there a clear and attainable path toward profitability?

Beyond the allure of the pro forma, what are the obligations and liabilities being assumed.

Risk Assessment – what is the type of risk the investor is willing to take?
Timing – is investment prudent now before the onset of future risks?
Exit – understand the company completely from their patent protection to the acumen of their management team to accomplish their exit strategy.
Legal advice – consult with a law firm skilled in structuring legal documentation associated with the level of risk of the investment being contemplated.
A Competent Investment Advisory – preferably an advisory experienced in BioPharma that is thoroughly familiar with the industry trends that will affect the future ROI.
What It Takes to Make It Over the Finish Line 
The Vision of the Parties

All stakeholders to the M&A transaction must have a clear vision as to the direction toward profitability the marriage of the parties will take. This requires good advice about the fundamental legal and business issues that will arise and the judgement calls that will have to be made during the process to keep a clear vision for the post-closing entity.

Commitment

Once the decision is made that a buyer's objectives are better served by acquiring rather than taking the path of organic growth, all key management team members must fully buy into that direction regardless of hurdles that will arise along the way.

Culture – The Critical Role it Plays in Realizing the Value in an M&A Deal

Comprehending into to very essence of the deal the shared values and behaviors in Environmental, Social, and Governance (ESG) that shape employee experience, interaction and morale within an organization. Understanding the Culture Equation avoids differences that are likely to become too hard to manage after the transactions is completed.
For our clients, once the vetting process is completed the outreach process begins to all potential qualified acquirers.  Our contact list numbers in the thousands of PE firms, MSOs, Pubcos, HNW, Family Offices and other qualified investors. They are contacted, sign our Non-disclosure agreement, are supplied with an Executive Summary about the opportunity and invited for a full presentation of an informative pitch deck and financials. BioPharma M&A Accelerates in 2021
Investor Takeaway
Coming off the down year for BioPharma M&A transactions in 2020, industry sources predict 2021 to will be a banner year in the race for innovative drugs. Global Data confirms that M&A deals are the core driver of growth in BioPharma accentuated by COVID-19 innovations.  While Deloitte, finding that the industry has a great reserve of dry powder for M&A, concludes that Big Pharma will turn to M&A transactions over internal R&D as key players seek exclusivity through innovation and portfolio diversification. Coming out of the COVID-19 crisis opens the unprecedented opportunity to accelerate an investment up through the consolidation curve.  As every industry matures the very few companies at the top control the very large percentage of the total industry.  This typically does not happen by slow, steady organic growth.  Instead, leadership to market dominance is achieved through brand alliances and deftly executed M&A transactions.
Digitalization and AI are already changing business efficiencies, patient treatment and medical data security, and expediting the development and clinical testing of new drugs.  With venture funding booming and M&A transactions heading toward a banner year, investors are motivated by the momentum established at the end of 2020.  Like all investments, though, following a thoughtful due diligence process aided by experienced advisers is recommended for the rapidly evolving healthcare industry. 
How We can help
At Highway 33 Capital Advisory we excel at structuring deals to meet client investment strategies in trending segments like BioPharma as well as our core expertise in highly regulated markets that include; Cannabis, CleanTech, FinTech CBD/Hemp, SaaS, and ancillary technology companies.  We provide investors with thoroughly vetted companies looking to drive growth and enterprise valuations through M&A, non-dilutive debt financing and/or capital investments ranging from $5M to $100M+.
Let's talk about putting the power of this expertise to work for you as a Sell or Buy-side client.