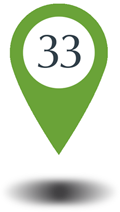 The Highway Edge: A Comprehensive Vetting Process
highway 33 advisory Managing investor risk starts with our thorough vetting process. Highway's curated vetting process is designed to help investors mitigate risk and uncover opportunities.
Before introducing sell-side clients to our buy-side network we require the sell-side clients to go through a rigorous vetting process. Some of the categories of the in-depth information we seek on behalf of our investors are:
Complete Details and All Filing Documents on Company Legal Structure and History
Including the listing of all legal commitments, even including any informal, but strategic partnerships.
Personal, Officer and Key Management Background Information
All information obtained here is intended to facilitate background checks of all key personnel and clarification of Cap Table.
Debt and Securities
Any encumbrances of dilution of company ownership is required here.
An Accounting of All Property and Assets of the Company
Current Property Appraisals and/or Purchase Agreements are requested here.
Intellectual Property
Included here is the request for contact information with legal entities handling the company's IP matters.
Sales, Marketing, Production and Operational Information
Including such detail as raw material suppliers, inventory levels, branding and marketing programs, distribution channels, and adherence to cGMP.
Litigation
Any Current and pertinent previous involvement.
THEN…
…We Make Sure the Opportunity is Completely in Sync with Investor Objectives
ROI Potential With Well-Substantiated Valuations
We only extend our services to those companies that are well established in the marketplace so that more realistic valuations can be effectively determined.
Scalability
How much growth is possible from careful management of a company's resources – a key consideration in order not to dilute investor returns or adversely impact exit strategies.
"Choke Point" Advantage
Strong brands with protected IP will be in the established, sustainable leadership position in the marketplace. We thoroughly research the most likely and most profitable survivors to expose to our investor networks.
Expert Management Team
Management capable of guiding companies to the next level of operational effectiveness are the only ones that meet our evaluation criteria.
The Right Time to Get In / Most Advantageous Time to Get Out
The trend of Increasing legalization will inevitably attract more sophisticated competition and investors.
The Right Deal Structure for Risk Mitigation and Most Profitable Return
We have our fingers on the pulse of the marketplace – by the growing number of companies in our pipeline– ensures or investors deal structures that are attuned to market conditions and in alignment with investment mandates.