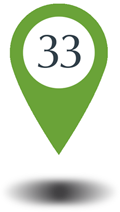 Here's Where the Smart Money is Investing
PHARMA
highway 33 tracking smart money Before the end of this very chaotic year the pharmaceutical industry is projected, nevertheless, to surpass $1.5 trillion. Propelling growth is the increasing demand by consumers, both Baby Boomers and Millennials, for health and well-being products and services beyond traditional provider-based medicines. This is what is attracting VC investment in Pharma. The biggest year on record for venture capital, as shown in the chart below, was 2018—$17 billion invested globally in bio pharma startups, according to Bay Bridge Bio, from an Evaluate Ltd. Vantage analysis, which also showed $37 billion of M&A exits that year. Last year was not far behind.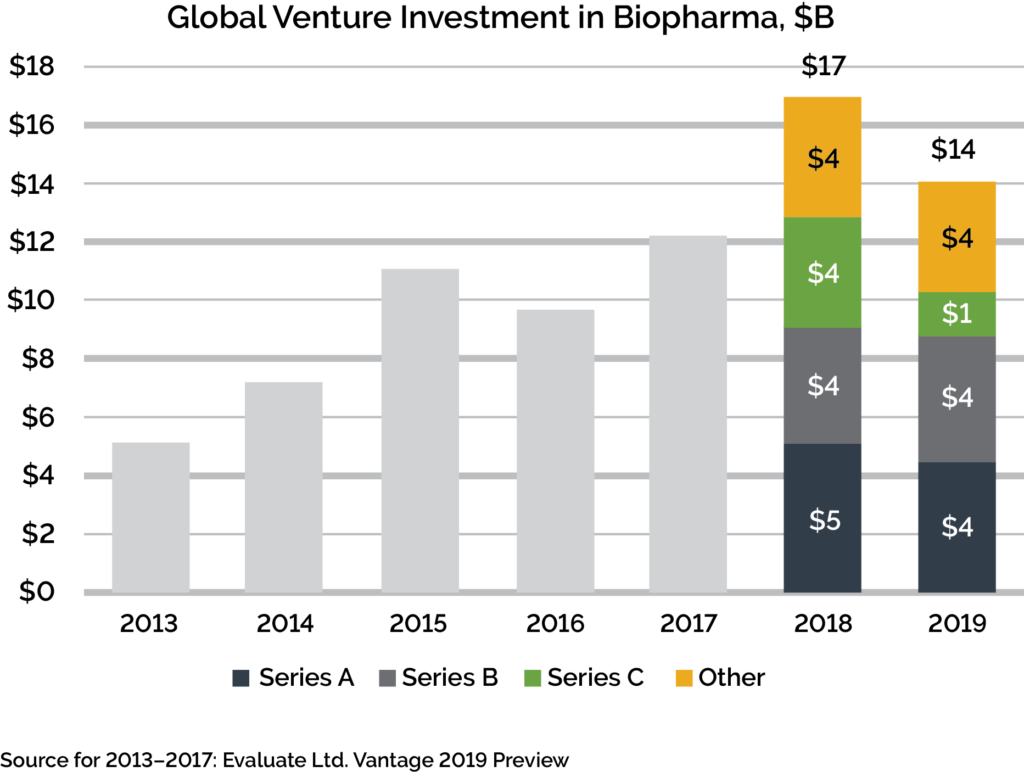 What's Trending In Pharma…
AI-powered Drug Discovery
As time-consuming complexities grow in traditional product development, the pharmaceutical industry is turning to AI to expedite development and satisfy demands for more sophisticated medications. AI systems sift through millions of different chemical compounds and isolate the most promising candidates at a fraction of the time of human researchers. However, as of yet there are no drugs on market that were created by using AI. Proponents, though, hold that upcoming advances in AI technology will decrease drug development time and cost, such that companies develop drugs in previously unprofitable areas. Additionally, for investors AI will improve operational and development transparency and protect against the loss of vital regulatory substantiation data. And for R&D companies, AI promises to rapidly identify the most appropriate candidates for clinical trials.
Gene Therapies
Genomics is proving to be one of the most significant tools for understanding the genesis of diseases. Treatments of gene-based diseases are growing rapidly particularly in oncology and rare diseases. The global gene therapy market size was $524 million in 2018, according to Market Research Future, and is anticipated to grow at a huge 40.7% CAGR to approximately $3 billion by 2023. Drivers for growth are increasing competition and affordability, demand for innovative products particularly for cancer, and acquisition of startups by traditional pharma. The FDA has recently approved medicines from early phase trials of gene-based therapies. Payers are readily accepting the promise of such alternatives to high-cost medicines, even if these gene therapy alternatives have immature clinical data. Gaps in data are filled via post-approval studies of day-to-day patient use and outcomes.
Neurotechnology
Neurotechnology centers around technologies designed to enhance and repair brain function. Analysts at Market Expertz report the global Neurotechnology valued at $9 billion in 2018 and expected to grow to $19 billion through 2026, a CAGR of approximately 15%. North America is projected to garner the largest share of market, followed by Europe, as both geographies show a marked increase in neurological disorders, particularly due to the large geriatric populations and better diagnostics. With the modernization of private and government medical research facilities, the fastest CAGR is estimated in Asia-Pacific.
VC interest has resulted in M&A transactions worldwide making traditional pharma a key driver in sector growth. A demonstrative acquisition was Boston Scientific Corp. acquiring Advanced Bionics Corp. for neurostimulation devices for treating chronic pain and deafness. More recently, newcomer to the category, Facebook, acquired New York-based neurotech startup CRTL-Labs, estimated to be valued between $500 million and $1 billion. Facebook plans to create a wristband that will convert neurological signals into digital signals that help control digital devices.
Medical Cannabis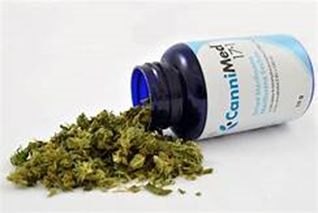 In the early 1990's researchers found that the endocannabinoid system controls critical biological functions such as pain, memory, sleep, and immune functions. Since then pharmaceutical manufacturers and research facilities have been working around government restrictions to conduct further meaningful research on the effects of various cannabinoids. Most recently, however, with the trend of legalization and lure of lucrative legal markets, governments are fast-tracking legalization relating to pharmaceutical cannabis. Pharmaceutical companies have raced ahead with cannabis medications for maladies from chronic pain to vascular disorders. Not just cannabidiol (CBD), but a number of rare cannabinoids are under research as Active Pharmaceutical Ingredients (APIs). With this growing interest, PharmOut in their Industry Growth Predictions for 2020-2025 predicts the global medicinal cannabis market will eventually reach $650 billion, making it the third-largest worldwide market after oil and arms. highway 33 tracking smart money
HEALTHCARE
What's Trending in Healthcare…
Per Preqin Ltd. VC dry powder rose for a seventh consecutive year to roughly $276 billion in 2019, with another $21 billion raised in Q1 2020. The categories receiving most funding were enterprise SaaS, fintech, life sciences, and Healthcare IT.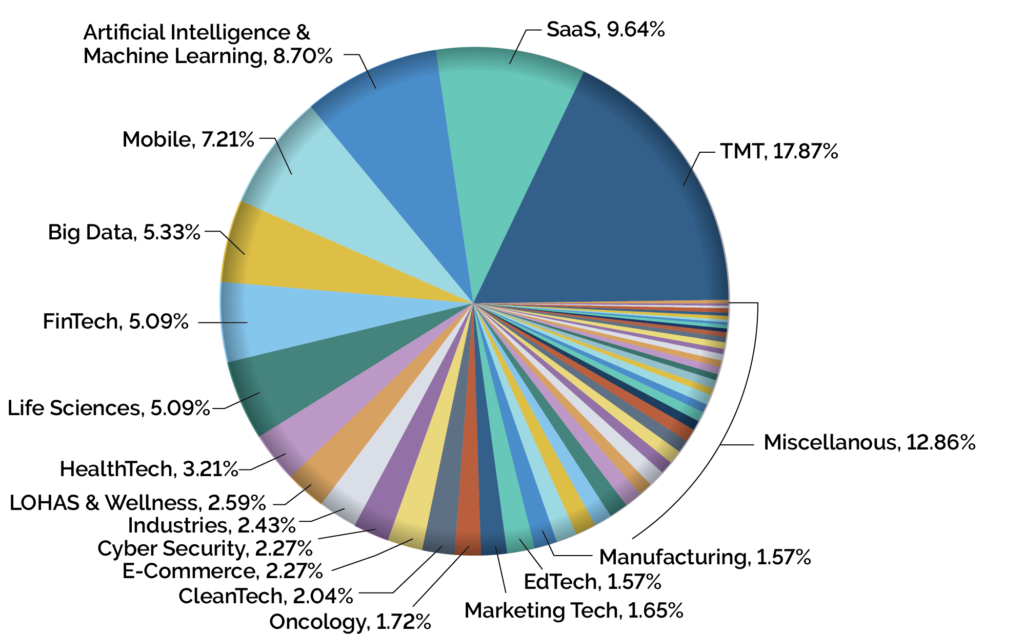 According to Preqin's April 2020 survey of 100 alternative asset investors, 36% said that they are targeting healthcare-focused investments in 2020 because of COVID-19's impact. The Healthcare IT category includes the distribution of health services via web or mobile applications. Particular segments within this category include Remote Patient Monitoring tools and telehealth services. To facilitate the use of telehealth, regulators have eased restrictions, and payers have extended insurance coverage.
According to Pitchbook, companies in this segment raised $554 million across 29 VC deals in Q1 2020, up from $401 million year-over-year. For our investors we are monitoring the tools and apps bringing unprecedented innovation to the Virtual Health category. We see developments in personal health tools & tracking, fitness apps (including pay-per minute "on demand" gyms), behavior modification tools, and digital therapeutics—apps designed as treatments for certain medical conditions. The global mobile health market is estimated to reach $173 billion by 2024, propelled by a staggering 38.5% CAGR from a market size of approximately $34.1 billion in 2019.
AGTECH
What's Trending in Agtech…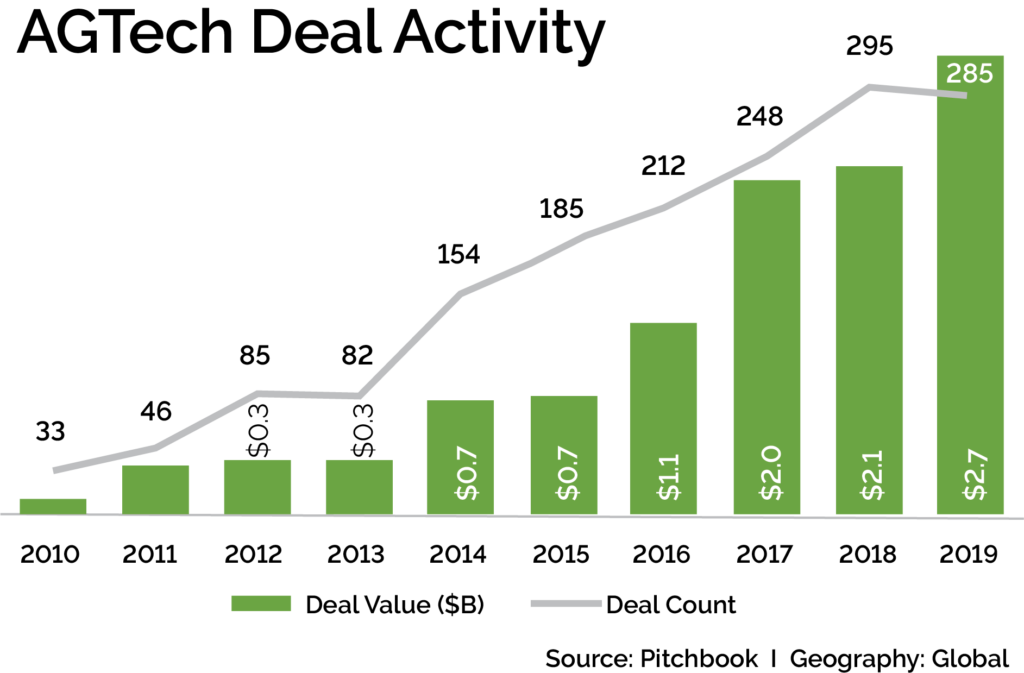 Controlled Environment Agriculture
With over $2.01 billion raised by VCs in Q1 2020, Agtech is attracting increasing interest from our investor base as capital from major funds and institutions flows into the category. According to Hexa Reports, technological advancements in Precision Agriculture and High Efficiency Cultivation are propelling the category toward a market size of $43.4 billion by 2024, a CAGR of 14%. Specific advancements range from digital farming to drone and autonomous vehicles to agriculture software technology, IoT, and energy efficiency developments for indoor cultivation.
Indoor farming has become a hotbed of AgTech innovation for a number of reasons—precision agriculture, architecture, and energy and resource-efficiency advancements to name a few. These innovations make growing, and consuming, food more aligned with the changing expectations of today's consumer's preference for local, tasteful, organic, and sustainable: produced with fewer demands on diminishing resources.
Peace-of-mind about food safety, according to Food Safety News, is another important part of the puzzle pushing increased demand for indoor grown produce. Safety scares originating from large-scale farms have buyers looking for lettuces and greens grown on a smaller scale and closer to home. Controlled Environment Agriculture reached $20 billion in sales by 2019, up from $12 billion in 2014.
For more insights into lucrative industries and investments.