Advisory
Product
Commercialization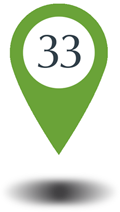 Highway Edge: Successful Product Commercialization for Driving Growth and Profits
highway 33 product commercialization Commercializing a product is difficult enough, but in the highly regulated industries we serve, like biotech and pharmaceuticals, taking a product from inception, trials, FDA approval, and into the hands of the patient is monumental. In the face of such a task, we nevertheless keep our clients' eyes on the consumer journey from particular need to eventual purchase.
What's our method for leading product and marketing teams to a more consistent approach to get to market?  At a high level, we:
Identify the target customer for a perceived consumer/patient need.
Follow the journey the customer takes to find the remedy.
Align product development and marketing with this consumer centricity.
Likewise, even in the ideation phase, we not only look at value to the customer, we seek a thorough understanding of consumer behavior and form a business model that maximizes consumer benefit and stakeholder return.
There has never been a more volatile time in the healthcare industry.  New regulations, high R&D costs, and increasing end-user demands on efficacy and pricing are critical factors driving product and business change.  The former notion of commercialization focusing on process is replaced by tracking the path leading patient to product.
If you want to give your product the Highway Edge.