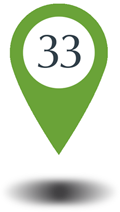 Our strategy. Your edge.
Highway33 Capital Advisory is focused on serving the capital needs of the cannabis and hemp industries. And we see great opportunity in doing so. Projections continue to soar for CBD/Hemp market, surpassing $20 Billion in the U.S. alone by 2025. Retail sales of medical and recreational Cannabis in the U.S. are predicted to top $15 Billion by the end of 2020. Yet, Cannabis capital markets remain constrained. Highway 33 Capital Advisory The Fund
Highway Canna-Hemp Debt Fund
Our Canna-Hemp Debt Fund will deploy $50 Million into the cannabis and hemp markets, addressing the industry's unmet need of funding for Real Estate, Equipment, and Working Capital. The Fund's target return is 9.65% annually to investors. Helping to fil the gap for Cannabis/Hemp funding. And benefit investors at the same time.
Special Purposes Vehicles (SPVs).
To deploy our Canna/Hemp Debt Fund, we are seeking funds for deal-specific Special Purposes Vehicles (SPV's).
Each SPV will fund a specific project through debt, backed by the property itself, corporate guarantees from the operating company (if available), and personal guarantees from the principals with a preferred return for the investors.
We will service and manage each SPV on behalf of the investors.
We have a significant pipeline of real-estate-debt deals that can achieve a 10% annual return with first-lien debt on industrial and retail properties across the US.
Learn more about Canna Debt Fund here.