Advisory
Turn Around &
Transformation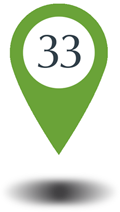 Take the Highway to a successful turnaround.
highway 33 turn around & transformation Highway 33 Capital Advisory has a seasoned team and a disciplined approach for managing transformational turnarounds. We've changed the destiny of distressed companies in biotech, pharma, technology and many other industries. Bringing together subject-matter experts (SMEs). Securing financial resources. And assembling leadership teams capable of reviving under-performing companies at risk of failure. The steps in our proven process:
Stem the drainage of cash immediately.
Conduct a fast-track situation assessment.
Re-examine company's SWOT.
Obtain and sustain management commitment by deploying teams to work hand-in-hand with key executives.
Research, analysis, vision.
Blazing the right trail takes carefully constructed research, in-depth analysis and vision borne of experience. It all starts with mutually agreed-upon performance metrics. The process involves:
Creating a restructured capital plan.
Divesting of underperforming assets (if necessary).
Placing a greater emphasis on digital transformation – data-driven KPIs.
Reinvesting in areas of the business that present the greatest opportunities for growth in revenue and margin.
Evaluating staffing needs to determine whether the right people are in place to deliver maximum value to stakeholders.
Developing a product commercialization plan for any unique IP in the pipeline.
Guiding an integrated sales channel and marketing plan tied to specific ROI objectives.
Momentum, measurements, maximized value.
Once the plan is in motion, it's critical to keep the momentum. Tracking tools measure KPIs for weekly progress reviews, all critical to making informed decisions. The sole focus throughout this process is to maximize stakeholder value.
Value and vetting.
Accordingly, we introduce our network of investors to sellers only after conducting our in-depth vetting process. Designed to fully establish the value of new investment opportunities and the strengthen stakeholders' current investment.
In this ever-changing, increasingly competitive environment, count on Highway 33 Capital Advisory. We're driven by continuous improvement initiatives that build shareholder value and create effective exits.
For the Proven Turnaround Advice You Are Seeking >>>