Investor Takeaway Will Scotts Buy-in Be the Game-Changer for Cannabis MSOs?
After another record sales year of over $25 billion in U.S. cannabis sales in 2021, Q1 2022 got off to a sluggish start.  As measured by industry research firm BDSA and reported in New Cannabis Ventures, sales in established medical and adult-use markets such as California, Colorado, and Nevada began experiencing the decline in December when YOY sales dropped by 12%, 11%, and 8% in those markets respectively. The picture is much different in states new to adult-use on the East Coast, of course, where into the mix two weeks ago stepped the large CPG brand Scotts Miracle-Gro.  Through a Canadian subsidiary, Scotts purchased Etain, one of the first five medical cannabis licensees in New York, for a deal valued at $247 million.  Does this mark the beginning of the anticipated entry of major CPG brands into the plant-touching cannabis market?  More importantly, speculation is that a productive impact will be felt on the valuation of the undervalued assets of cannabis operators, in general, and major MSOs in particular.
Big Brand Buy-in Will Scotts Buy-in Be the Game-Changer for Cannabis MSOs?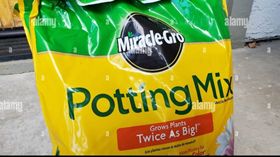 Two weeks ago, Scotts Miracle-Gro, the $7 billion Ohio-based potting soil people just planted themselves in the middle of the New York market with the purchase of Etain, one of the first five medical cannabis licensees in the state. The acquisition was a cash and stock deal valued at $247 million. This is a major development in the state that MJBizDaily estimates to be a $2.4 billion market in 4 years once, that is, adult-use is legalized.
Up until this point, major CPG brands have been shy of the cannabis affiliations, particularly when it comes to plant-touching cannabis operations. Thus, the very fragmented, decentralized cannabis industry to this point in time has been dominated by a handful of high market value MSOs. How is the encroachment by this major consumer brand into one of the U.S. markets with the largest sales potential likely to impact the future performance of the established MSOs? 
The MSOs Dominating the Market Will Scotts Buy-in Be the Game-Changer for Cannabis MSOs?
By size and by their assessment of industry impact, Boradroom.TV lists the following as "the companies that have the resources, innovation, and timing on their side, however, have had the chance to really establish themselves as the power players in the industry."
Trulieve Will Scotts Buy-in Be the Game-Changer for Cannabis MSOs?
Controls 50% of the $1 billion Florida medical market, the third largest U.S. cannabis market, and has expanded into West Virginia, Georgia, Massachusetts, and Pennsylvania. Big news recently was the $2.1 billion merger with Arizona-based Harvest Health and Recreation.
Green Thumb Industries
Through aggressive acquisitions the brand portfolio of GTI includes : RYTHM, Good Green, incredibles, Beboe, Dogwalkers and Doctor Solomon's as well as 17 manufacturing facilities, 75 open retail locations, and operations that span across 15 U.S. markets.  GTI also allocates around $1.3 million in social equity grants each year.
Curaleaf
The company has overcome a rocky start and executive changes to have now expanded into 23 states with 22 cultivation sites and over 30 processing sites for concentrates and vape pens. Last march Curaleaf International officially joined the EU market.
Columbia Care
Columbia Care is a major player in medical and hemp markets now holding licenses in 15 jurisdictions in the U.S. and the EU, including 54 facilities in operation or in development.
Cresco Labs
Cresco has acquired a strong family of brands and has expanded into 10 fully legalized states, 21 production facilities, and 49 retail licenses. Also noted for the "SEED" initiative to develop tangible pathways into the cannabis industry for communities impacted by the War on Drugs.
As you probably know the $2 billion merger of Columbia Care and Cresco is pending.  The proposed all-stock merger is one of the largest in the cannabis industry with a potential of the combined entity generating >$100 million in annual revenue.
And Emergen Research adds these familiar names to the list:
Canopy Growth Corporation
Canopy retains the title of being the largest cannabis company in the world with its >$434 million revenue.
Tilray Brands Inc.
With its merger last year with Aphira this $210 million in revenue international company, incorporated under Privateer Holdings, is noted for its rich variety of cannabis strains manufactured under cGMP-Certified standards. With sales lagging in the U.S., its strength in international markets contributes to an industry leading 12 consecutive quarters of positive adjusted EBITDA.
Aurora Cannabis Inc
$208 million revenue, the second-largest licensed cannabis producer in the world, Aurora trades on NASDAQ and the TSE, and the has up to eight licensed production facilities operating in more than 25 countries worldwide.
MedMen Enterprises
>$145 revenue, operations in New York, California, Illinois, Arizona, Nevada, Florida, and Massachusetts, running 6 cultivation facilities and 29 retail stores, with over 1,000 employees. MedMen trades on the CSE. 
Ayr Wellness
A U.S. multi-state cannabis operator with 67 operating dispensaries across six states, projected to reach 95 by YE 2022. Its biggest presence in Florida (42 dispensaries) is a result of the Liberty Health Sciences acquisition in February. The company has been among the fastest growing upper-tier MSOs, increasing revenue by 111% YoY.
Verano Holdings Corp.
Verano Holdings is one of the largest MSOs operates in 11 states and has 90 functioning dispensaries as well as 12 growing and processing facilities.  Noted for creating high-quality cannabis products that are sold under its various consumer brands, the company has a substantial count of 40 dispensaries in Florida. 
Over Promise and Under Delivery?
The largest M&A deals in the U.S., with examples referenced above, are being conducted by these MSOs. A year ago the major publicly traded MSOs started Q1 with very promising performance.  But then, as Seeking Alpha reports in the chart below, results went off the rails from that point on throughout the rest of the year.

With Canopy Growth Corporation down over 80% from its 2021 peak, Seeking Alpha goes so far as to call this the "Pot Bubble Burst."
So, what is going on?  What is the real role MSO's will play in the future of the cannabis industry in 2022? One of the key factors listed by Seeking Alpha is the legal, and primarily illegal, competition on price in local markets that MSO's have not yet mastered. Forbes sums up the key drivers propelling industry growth as regulations, marketing and scale. Inconsistent laws state-by-state and restrictive tax regulations limit the ability of an individual operator to scale. This choking effect on margins provides further impetus for consolidation in the industry.
The Entry of Scotts Miracle-Gro – A Game Changer for the Industry?
Those factors stated above are keeping cannabis valuations at a fraction of normal market valuations. In the assessment of Viridian Research:
U.S. cannabis valuations compressed meaningfully (in 2021) with companies trading at an average '22 EV/Sales multiple of 2.3x estimates and 8.0x on EV/EBITDA. Current valuations compare to forward one-year multiples ('21E) at this time last year of 4.1x and 16.4x respectively. 
MJBizDaily points out that cannabis companies are considered strongly valued in the marketplace when they achieve a market cap of 200% of book value.  Yet, in the wider category of traditional enterprises the S&P trades at 4.8 times book value.  Why this gap? MJBiz expresses the answer this way:
The industry overpromised and underdelivered. It tried to grow too much, too fast. Rising demand combined with reduced prices last year squeezed the industry almost dry. Tons of capital flowed into the industry for the past five years, sure, but so far, the assets this cash bought have not produced to their potential.
Scotts dramatic entry into this environment, however, has the potential of closing this gap creating a total shift in the way cannabis assets are valued.  With a quarter of a billion-dollar investment in cannabis, rather than in the growth of its business in its home industry, MJBiz concludes that Scotts believes its growth and profit objectives are better served by the investment in Etain.
Finding The Right Fit for Your Investment Strategy
Valuation is the critical component, the basis for an investment decision.  We will be providing more information about that subject in an upcoming issue of the EDGE. What we have concluded is that 2022 offers an array of opportunities in existing and emerging cannabis states across the country, of which M&A deals among MSOs of all sizes, stand out.  What we advise our investors as they assess the market in which they see as the most advantageous boils down to this:
Finding the right fit for your strategic investment portfolio – or to find the correct way to appeal to a source for your growth funding – comes down to clarifying the investment needs and objectives of all parties, determining the real value in the business by calculating a well-substantiated valuation, and matching the right investors with the right financing opportunity – the right operators whose objectives and scalability are a fit for investors' portfolios.
How We Can Help
At Highway 33 Capital Advisory we excel at structuring deals based on substantiated valuations to meet client investment strategies in emerging 2022 opportunities with our core expertise in Cannabis and other highly regulated markets in the fields of Pharma, Biotech, Healthcare, Agtech, Clean/ClimateTech, and CBD/hemp companies. We specialize in thoroughly vetted companies looking to drive growth and enterprise valuations through M&A, non-dilutive debt financing and/or capital investments.
Let's talk about putting the power of this expertise to work for you as a Sell-side or Buy-side client.