The cannabinoid (CBD) market is roaring along at a CAGR pace higher even than the explosive growth rate of the marijuana side of the cannabis business – a 35.7% CAGR in a global market size that could climb as high as USD 108.8 billion in 2027.  With the glowing future that CBD has in terms of the potential of the health benefits from this natural substance, can an alternative to tobacco smoking be one of them? Will Cannabis Cigarettes Disrupt Smoking Tobacco?
Harmful Effects of Smoking Tobacco
The Centers for Disease Control and Prevention (CDC) still ranks tobacco smoking as the leading cause of preventable disease, disability and death in the U.S. – accounting for as many as 1 in 5 of all deaths in our country each year. Nevertheless, in spite of the well-publicized and promoted dangers of this habit, nearly 14 of every 100 U.S. adults aged 18 years or older currently smokes cigarettes. This means an estimated 34.1 million adults in the United States currently smoke cigarettes.. More than 16 million Americans live with a smoking-related disease.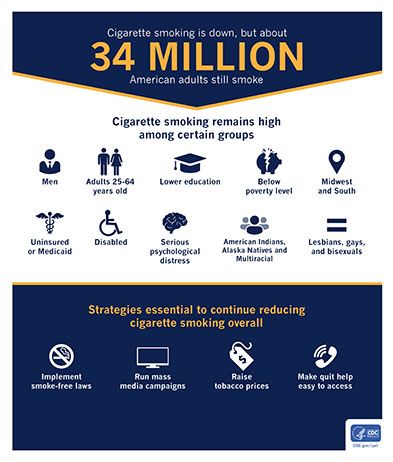 Current smokers: 15% of all males in the U.S., 13% of all women. By age, highest among people aged 25–44 years and 45–64 years. Current cigarette smoking was lowest among people aged 18-24 years.
Veterans Smokefree reports that Nicotine is the main addictive substance in cigarettes and other forms of tobacco. Nicotine is a drug that affects many parts of the body, including the brain. Over time, body and brain get used to having nicotine in them. About 80–90% of people who smoke regularly are addicted to nicotine.  And smoking has been found to harm nearly every organ of the body. Deadly diseases related to smoking include:
Cancer – Smoking is the leading cause of cancer, that can occur almost anywhere in the body, and death from cancer.
Cardiovascular Disease – Smoking increases the risk of coronary heart disease and stroke by two to four times.
Respiratory Disease – Smoking causes lung diseases like emphysema and chronic bronchitis.
Mental and Emotional Health – Smoking can increase feelings of stress and anxiety. Plus, smoking can increase symptoms of depression.
So, Why Do Smokers Smoke? 
What people say, according to Veterans SmokeFree, are reasons varying from stress relief to pleasure and socializing. The act of smoking and getting the oral fixation of smoking are addictive, and the habit becomes conditioned into day-to-day life.  The most compelling reason, however, is likely to be the addiction to nicotine.
Can CBD/Hemp Cigarettes Be the Healthful Alternative?
Well, as noted earlier, the CBD market in general is experiencing phenomenal growth.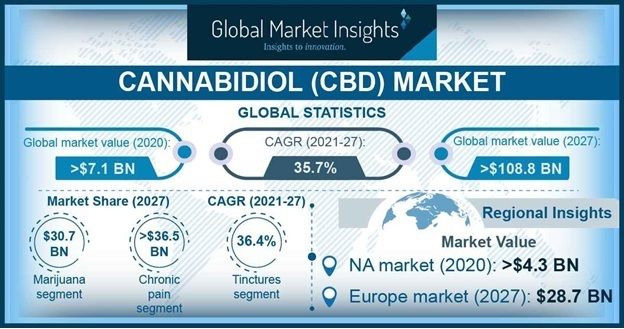 According to Global Market Insights:Cannabidiol market size surpassed USD 7.1 billion in 2020 and is estimated to grow at over 35% CAGR between 2021 and 2027. Supportive regulatory stance in majority of the countries paves way for the market expansion. Moreover, CBD has been found to be effective against numerous medical disorders such as chronic pain, neurological pain, anxiety, sleep disorder, as well as nausea and stress. 
How CBD Works
Tetrahydrocannabinol (THC) and CBD are the two most recognized cannabis plant cannabinoids, with CBD having the potential to provide stress and chronic pain relief, and overall wellbeing, without the restrictions placed on THC products in most states. The human body maintains a state of equilibrium via neurotransmitters in the endocannabinoid system. Research has found that the intake of CBD causes the body to produce more endocannabinoids which bind to C1 receptors in the brain, that identify factors such as pain and cognition, and C2 receptors in vital organs such as the liver and thyroid.  It is thought that this affects the serotonin hormone which can produce a sense of calmness from pain and can cause a reduction of inflammation without any the feeling of intoxication that THC can have.  The FDA specifies that legal CBD flower contains no more than .3% THC.
Saving Grace CBD expresses the effects on the body as:
You can also think of the benefits of CBD as a removal process. Instead of adding good sensations, it may remove bad ones.  Or like drinking water where one glass isn't going to change your life but dehydration can cause serious damage to your body and organs.
What the Future of CBD Holds
In the past the hindrance to the growth of the CBD market has been the lack of research substantiation of medical benefits.  That has rapidly changed as can be seen by the $16 million in research funding by the National Institute of Health last year.  The primary stumbling block that remains, however, is inconsistent regulation of the industry while the Food and Drug Administration has still not issued required CBD product standards.  This is the case while consumers are insisting on more comprehensive state and federal legislation on CBD product manufacturing and packaging to ensure user safety. In response the FDA has stated that they are committed to protecting public health while they are also taking steps to improve the efficiency of regulatory pathways for the lawful marketing of cannabis and cannabis-derived cannabinoids.
CBD/Hemp Cigarettes Vs. Tobacco
The key differences between the two are with CBD the elimination of addictive nicotine and the faster delivery of CBD and CBG. Smokers can feel the effects of high yielding CBD and CBG hemp cigarettes within one minute.
Envy CBD reports on a study in 2013 reported in the National Library of Medicine from a  looked at how CBD could, in fact, reduce cigarette consumption in tobacco smokers.  24 smoker participants, each of whom reported smoking more than 10 cigarettes per day were given either an inhaler of placebo or CBD for one week, and were instructed to use the inhaler any time they had the urge to smoke. Placebo smokers showed no reduction or difference in the number of cigarettes smoked. Those with the CBD inhalers saw a reduction in cigarette cravings by about 40% during the treatment week.  Though it was a pilot study, it did prove the working hypothesis well enough to garner further attention in the future.  This pilot study did indicate the potential of CBD cigarettes as a treatment option for nicotine addiction.
Hemp Industry Daily reports on the Nielsen Research finding of the growing size of the CBD/Hemp smokeable market – from approximately $70 to $80 million in 2020 to a projected $300 million to $400 million in 2025, representing roughly 5% of the potential $6 billion to $7 billion hemp-derived CBD consumer products category.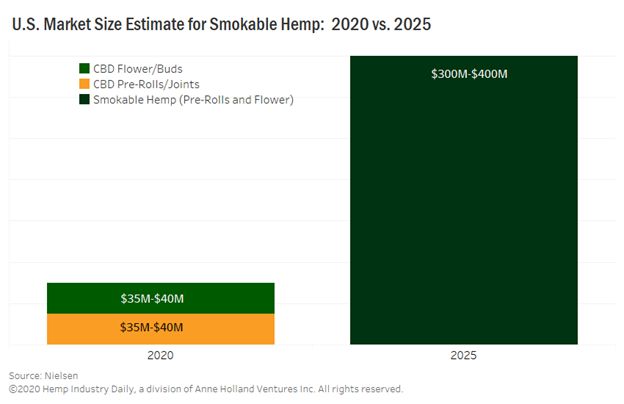 Key players in the segment include Wild Hemp (U.S.), Canoil Canada Inc. (Canada), Koch & Gsell AG (Switzerland), Nirvana CBD (U.S.), AVAIL Vapor (U.S.), and Hempacco (U.S.).
According to Hempacco Founder and C.E.O, Sandro Piancone, Hempacco is the leading CBD/Hemp cigarette manufacturer in the U.S.  He states that:
Hemp cigarettes will cease to be a novelty and will move to the mainstream cigarette category in less than two years. Why would people smoke hemp cigarettes? What is the Unique Value Proposition these new products provide? Here is a list of value propositions offered by Hemp Cigarettes: • Faster delivery of CBD and CBG than pills, creams and tinctures • Smoking Cessation • Healthier smoke than tobacco • Get cannabis benefits without the high • Party smoke instead of e-cigarettes: sharable and sanitary • Smoke CBD rich hemp cigarettes to come down from cannabis • Different taste and smoking experience than tobacco.
Big Tobacco Takes Heed
Reporting in Forbes, Dario Sabahi says that Big Tobacco has been ready to launch its own brands of cannabis cigarettes since 1970.  That situation has gained new significance since the passage of the Farm Bill in 2018.
Big Tobacco can't help themselves, the allure is too great, and the tobacco farmer sees the +100% or more income they can generate from an acre of hemp, vs. an acre of Tobacco. Tobacco is experiencing a long-term declining trend, and Cannabis is the most exciting growth vehicle in the past many years.
Actions taken by the major tobacco companies include:
Imperial Brands (NASDAQ IMBBY), Kool and Winston cigarettes, joined with Snoop Dogg's Casa Verde investment firm for a $10 million investment in British medical marijuana research firm Oxford Cannabinoid Technologies. And In 2019, made a $123 million investment in Auxly Cannabis Group, Canada.  Auxly develops, manufactures, and distributes products for both the medical and recreational markets.
Last December Altria invested $1.8 Billion for 45% of Cronos one largest Canadian Legal Producers (LPs). Then, as reported in Cannabis Wire Altria actually lobbied on cannabis sales in Virginia – the first time that a tobacco company has lobbied on cannabis in the U.S.
Alliance One International (NYSE AOL), an independent leaf tobacco merchant in Morrisville, NC, acquired a 75% equity position in Canada's Island Garden and an 80% stake in Goldleaf Pharm.
And, earlier this year, British American Tobacco (BAT) launched its first CBD vaping product, VUSE CBD Zone, while also investing a reported $25 million in Triat Biosciences, a cannabinoid research company focused on CBD-based beverages.
The Emerging Investment Strategy in the Industry
What does all this activity portent for cannabis industry investors?  Well, much like is happening in the cannabis industry in both the U.S. and Canada, in the CBD market Mergers and Acquisitions are being implemented as consolidation is seen as the best way to solidify a position in the industry. In recent years, major names engaged in cannabidiol-based product manufacturing have engaged in M&A transactions:
Last year, Charlotte's Web(NASDAQ: CWBHF), marketer of hemp-derived CBD products, after receiving approval from the U.S. Hemp Authority and National Animal Supplement Council for its CBD supplements, tinctures, and topicals for pets, acquired Abacus Health Products (CSE: ABCS), a leader in OTC hemp extract topicals, in order to improve its product portfolio.  The acquisition will result in a new entity with an estimated $190 million in 2020 sales and a market cap of some $450 million.
Yunnan Lvxin Biological Pharmaceutical Co. bought Hemp Foods Australia, the hemp subsidiary of Elixinol Global giving Yunnan Lvxin the rights to the intellectual property (IP) of Elixinol and license to distribute products in Taiwan and mainland China.

CBD Unlimited, Inc. (OTC PINK: EDXC)recently acquired Kush, Inc., a New York based media driven entity that builds brands and also owns net.
And, in a market expanding development reported in the Stock Market Press:
Not only can M&A activity in CBD mean more sales and market cap in a consolidated business, but it can also mean the entry into the industry of mainstream names. For example, the recent move by mainstream firm Colgate Palmolive (NYSE: CL) to acquire Hello Products and its line of oral hygiene products — CBD-infused toothpastes, toothbrushes, mouthwashes and lip balms. Colgate Palmolive is a trusted, mainstream and established brand. Its entry into CBD-infused product in the oral hygiene area raises the profile of CBD on the shelf. The Hello Products line consists of seven products: three CBD-infused toothpastes, two mouthwashes and two lip balms. Hello Products is an oral care brand based in New Jersey.
Mitigating Risk and Maximizing Upside in this Investment Space
The evidence continues to mount that phenomenal growth is ahead for the cannabidiol segment of the cannabis industry. However, especially in emerging markets, due diligence is key to identify the real players from the pretenders.  Here is the approach we take with our clients for risk mitigation prior to presenting cannabis investment opportunities:
First, we ascertain if the company and founders have backgrounds in cannabinoid-based science and marketing. Without this background the chances of success are greatly diminished.
Second, we ensure that the company is familiar with and focused on meeting EU cGMP requirements for manufacturing pharmaceutical grade products. This is likely to become a competitive advantage, at least, and most likely a regulatory requirement in the future. If a standard like this is not in place, we typically advise moving on because the lower quality companies are a dime a dozen, and destined for commoditization.
Third, we assess the regulatory regimen in the company's home market, and in the target markets. And, we analyze the ability of the company to scale in the context of near, medium and long-term market expansion as new major international markets come online. In our opinion it is critical for a properly positioned cannabis company to have the ability to scale rapidly in order to capitalize on the massive global market potential.
Investor Takeaway
The CBD market is roaring along at a CAGR pace higher even than the explosive growth rate of the marijuana side of the cannabis business – a 35.7% CAGR in a global market size that could climb as high as USD 108.8 billion in 2027. Fast growing market segments such as CBD/Hemp smokeables are disrupting the tobacco industry with more healthful alternatives for smokers.  In fact, CBD/Hemp smokeables are already a $70-$80 million market predicted to grow as high as $400 million in 2025, representing roughly 5% of the potential $6 billion to $7 billion hemp-derived CBD consumer products category. Much like is happening in the cannabis industry in both the U.S. and Canada, in the CBD market Mergers and Acquisitions are being implemented as consolidation is seen as the best way to solidify a position in the industry. Not only does M&A activity in CBD mean more sales and market cap in consolidated businesses, but it also is proving to attract major CPG and Tobacco brands into the industry. In all cases, due diligence with experienced guidance in cannabis is the first step in approaching this rapidly growing and evolving marketplace.
How We Can Help
At Highway 33 Capital Advisory we excel at structuring deals to meet client investment strategies in emerging 2021 opportunities with our core expertise in CBD/Hemp and Cannabis along with other highly regulated markets in the fields of Pharma, Biotech, Healthcare, Agtech, Clean/ClimateTech, and SaaS.  We specialize in thoroughly vetted companies looking to drive growth and enterprise valuations through M&A, non-dilutive debt financing and/or capital investments ranging from $5M to $100M+.
Let's talk about putting the power of this expertise to work for you as a Sell-side or Buy-side client.