From caves in St. Louis formerly used for brewing beer before refrigeration; to a customer-designed vertical farm at the newly opened Whole Foods Manhattan West market, Vertical Agriculture is set to grow at a blistering pace. According to Verified Market Research this prominent segment of precision agriculture will become a $16.8 billion market in 2027, set to grow at a CAGR of 23.3%. Vertical Farming Agtech
Urbanization across the globe is drastically crowding out land traditionally used for farming. This is occurring along with growing demand for high-quality food that is free of both pesticides and herbicides and is grown with sustainable farming technology that has less environmental impact. With COVID-19 proving the fragility of supply chains, the need for food security will accelerate indoor farming for more efficient systems and utilization of renewable resources. And, it has long been established that the massive carbon footprint for food transportation and refrigeration – with produce currently being transported over 1,500 miles for a meal for the average consumer – is not sustainable. Due to the challenges and costs of transporting fresh crops to larger cities, urban farmers have realized the potential in utilizing existing spaces in urban structures to produce crops locally. Vertical Farming Agtech
Deals and Capital Invested
According to Pitchbook, the performance of companies in this marketplace reflect rapidly accelerating Investor interest as capital investment continues to rise, even as the number of deals has trailed off so far this year.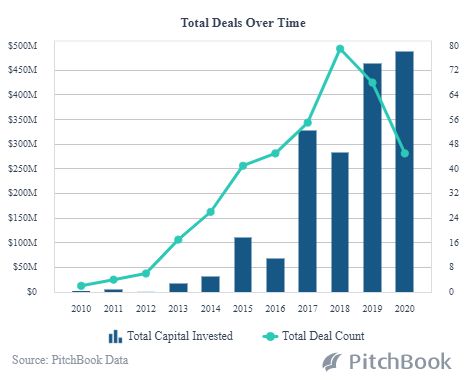 Compelling Forces Driving Vertical Agriculture Advancements
Indoor farming is providing a strong foundation for healthy profits. These are the driving forces our investors have considered when seeking our help with this category:
Aging, shrinking workforce – with the aging population in general, and in the farm community in particular, combined with stricter immigration enforcement, the farm labor pool is diminishing.
Vanishing number of farms and acreage – from over 2.16 million farms and ranches in 2000 that total dropped to a reported 2.04 in 2017, with the average acreage per farm estimated to be have dropped from 444 to 400 acres during that time.
Climate change – extremes in weather fluctuations worldwide have not only reduced or severely damaged crop productivity but have also led to pest infestations compounding problems with traditional outdoor cultivation.
Ecosystem and Sustainability – as an outgrowth of the impact of climate change pressure keeps mounting on the industry from regulators and their constituents for Agtech and Foodtech to continue to foster innovation for reduced environmental impact.
Plant-based diets – consumer preferences are shifting away from the traditional protein sources of meat and dairy.
World population growth – from the current base of nearly 8 billion people worldwide, population growth to 10 Billion is forecast by 2050. This is, of course, the elephant in the room.  Only dramatic technological advancement in outdoor and indoor farming can keep up with the demand of this hungry growth rate.
Who Are the Innovators Attracting Capital?
Thanks to the range of new technologies available a number of startup companies are emerging in the vertical farming sector and attracting huge investment commitments.  The most well funded of these, according to Crunchbase, is Plenty, a San Francisco-based start-up, that has raised $401 million in funding; with other US start-ups AeroFarms and Bowery Farming securing $238 million and $167.5 million in funding, respectively.
Plenty
Plenty touts a zero waste technology advancement using a patented sensor system that delivers purified water to the plants in vertical cultivations for substantial resource conservation.
AeroFarms
AeroFarms claims it takes vertical agriculture to an entirely new level by employing "aeroponic" farming technology, growing crops in a mist environment that reportedly uses 95% less water than traditional methods.
Farm.One 
Farm.One uses a Distributed Agriculture Model for indoor farming in spaces within businesses in cities that is an alternative to more expensive warehouse farming. From a centralized location in a city it supports custom-tailored mini vertical grows at customer locations throughout the city. Vertical Farming Agtech
Jones Food Company
Jones focuses on reducing the expense of labor in vertical farming by maximizing automation and robotics modeling their facilities after automobile factory assembly lines.  The company is in the process of setting up its urban farms near Ocado's grocery depots to provide fresh-picked deliveries.
Infarm
Infarm, a startup based in Berlin sells modular, hydroponic vertical farms for growing leafy greens and herbs right inside locations such as supermarkets, schools, and offices.  This model takes up 99.5% of normal growing space claiming a two-square meter vertical unit can grow 8,000 plants a year. Vertical Farming Agtech
Challenges:
To the many advantages of vertical agriculture – providing the ultimate year-round crop production and quality while using only 1% of the water, crop acreage, and transportation energy – there is one major obstacle.  All prominent systems are dependent on electric lighting. This affects the optimization of both lighting and temperature control in grow facilities. The increasing demand from indoor farming for long-lasting, energy-efficient and economical grow lights has led to government and private sector initiatives to support technological advancements in LEDs.  To this point, however, even the most modern LEDs consume massive kWhs of electricity relative to crop economic value and require huge upfront CapEx investment per square foot.
In search of alternatives a World Wildlife Fund study revealed that the industry could shrink its carbon footprint using fiber-optic technology that can bring sunlight into a room to options for renewable energy. Vertical farms that use less energy will make it possible for companies in the industry to expand beyond growing leafy greens crops.
One such company in the fiber optics field, SunPathTech.com, has developed a patented daylight delivery platform that harnesses the power of sunlight indoors claiming a higher yield per plant/per square foot at a lower running cost than traditional LED and HPS lighting while producing healthier and higher quality yielding plants. The company is collaborating with several groups to implement this breakthrough technology.
Investor Takeaway
As emphasized by Joseph DiMasi, CEO of SunPath, "Both sustainable crop production and sustainable energy production are critical technologies to meet the 21st century challenges of population growth and climate change." Vertical agriculture has becoming a prominent factor in meeting that challenge and is currently attracting tens of millions of dollars in VC, private investor, and M&A support.
How we can help
At Highway 33 Capital Advisory we excel at structuring deals to meet client investment strategies in trending segments like Agtech, as well as our core expertise in the fields of Pharma, Biotech, Healthcare, Cannabis and CBD/Hemp companies. We work with thoroughly vetted companies looking to drive growth and enterprise valuations through M&A, non-dilutive debt financing and/or capital investments ranging from $5M to $100M+. Join us through our Website to put the power of this expertise to work for you – www.highway33.com