In statistics just released by Kenneth Research, the global Biotechnology market is estimated to reach $727 billion by 2025, growing at a CAGR of 8.1%. Biotechnology is the use of biological processes for industrial and other purposes, especially the genetic manipulation of microorganisms and living systems for the production of antibiotics, hormones, etc. Where the Smart Money is Going in Life Science
Public and Private Investment Flowing into Life Science
Unlike many other industries in these uncertain times that have struggled to inspire investor confidence, life science funding remains robust. Tracking by Crunchbase shows that in the first half of 2020 global investment in life science and biotech reached $16.6 billion over 450 deals – Series A and beyond. During the same period in 2019, the number was 600 deals at a reduced investment total, though, of $13.4 billion. Where the Smart Money is Going in Life Science
As shown in the chart below, through July Crunchbase reports 37 venture-backed North American life science IPOs, a total of $6.7 billion, at high market valuations.  While in the full year 2019, 51 IPOs raised $5 billion, also with high valuations.
Pitchbook recorded similar substantial deal size and increased valuations from PE and VC investing as well: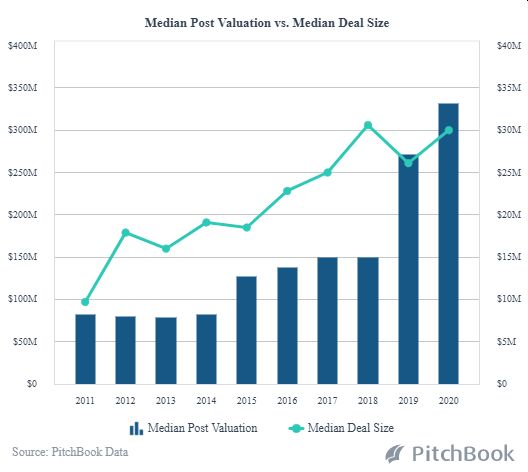 Market Segment Drivers
The drivers behind these numbers include advancements that are transforming the life science sector – gene and cell therapies, the digital disruption in the industry exemplified by AI drug discovery and development, the search for COVID-19 therapies and vaccines, and new discoveries for artificial foods and non-antibiotic medicines for livestock.  These life science innovations are moving closer to the promise of true precision medicine and will continue to generate investor interest long after the pandemic. Where the Smart Money is Going in Life Science
The commercialization of life science breakthroughs comes at a time when consumers and regulators are scrutinizing the pricing and the effectiveness of traditional medicines.  Here is a key Life Science segment we are tracking for our clients:
Life Science Sparking AgTech Innovations and Funding
Within Agtech, in addition to the mainstays of digitalization of farming, crop protection, indoor farming, and energy and supply chain efficiencies, money is flowing into life science discoveries in DNA sequencing, alternative proteins, ingredient refinement, microorganism technology, and increasing crop yields.  Deal activity continues to escalate worldwide.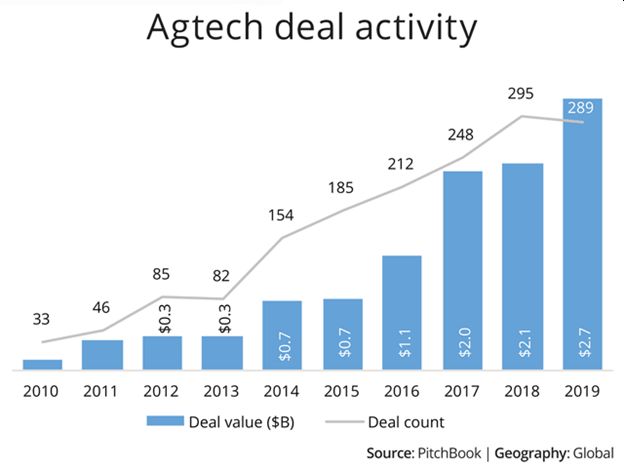 Life Science at the Forefront of Ag Investor Interest
GMOs
Genetically Modified Organisms (GMOs) present numerous investment opportunities. However, the segment faces public relations challenges with politicians and the public.  Most beneficial to consumers are Plant-Incorporated Protectants (PIPs), which reduce the need for spray pesticides, and genetically engineered intolerance for weeds, which reduces the need for weed control chemicals.  And, while GMOs are used mostly in animal feed they are also used in foods for human consumption such as canola oils that are free of trans fats.
Plant Biologics
Biological Farming optimizes the activity of soil microbes to achieve naturally high levels of biological activity that enhances soil nutrition and increases productivity. This technology bolsters natural regenerative properties to increase soil fertility and provide a greater degree of control of the cultivation process.  An example from Bayer is its Poncho Votivo seed treatment which forms a living barrier around plant roots.  And, because biologics are naturally occurring compounds their regulatory approval time is far shorter than traditional chemicals.  Studies reported in Progressive Farmer show that the average R&D cost for a crop production chemical to reach the market is around $256 million.  A plant biotechnology product can reach the market for less than $100 million.
Microalgae
Microalgae have been attracting considerable interest worldwide lately, as their application grows as renewable, sustainable, and economical sources of biofuels, pharmaceuticals, nutraceuticals, and food ingredients.  With the ability to convert atmospheric CO2 into useful fuel products, microalgae can be one of the most economical alternatives to fossil fuels with the additional benefits of renewability and sustainability.  In biopharmaceuticals, Zoetis, NutriQuest, and ZIVO Bioscience are testing an algae-derived immune modulator as a non-antibiotic animal feed additive.  And, as a plant-based superfood, microalgae provide a source of high-quality protein, vitamins, micronutrients, and non-starch polysaccharides with immune health benefits, low odor, neutral taste, and no earthy aftertaste.
Sorting Through the Right Investment to Meet Your Portfolio Strategy
We see many biotech opportunities and have founded and operated biotech companies. We assess opportunities in life science/biotech by looking at these factors:
The technology – it's critical to thoroughly understand the technology and its place in the client's investment strategy.
The team – how comfortable is the investor with the caliber and experience of the management team and how convincing is their dedication to change/improve people's wellbeing? And, are they resilient?
Credible funding plans – is there a clear and attainable path toward liquidity/growth?
Risk assessment – what is the type of risk the investor is willing to take?
Timing – is the investment prudent now before the onset of future risks?
Exit – understand the company completely from their patent protection to the acumen of the management team to execute their exit strategy.
Legal advice – consult with a law firm skilled in structuring legal documentation associated with the level of risk of the investment being contemplated.
A competent investment advisory – preferably, seek an advisory experienced in Biotech that is thoroughly familiar with the industry trends that will affect the investor's ROI.
We Can Help
At Highway 33 Capital Advisory we excel at structuring deals to meet client investment strategies in trending segments like Biotech and Healthtech, as well as our core expertise in highly regulated markets that include Pharma, SaaS, CBD/Hemp, and Cannabis and ancillary tech companies.  We provide investors with thoroughly vetted companies looking to drive growth and enterprise valuations through M&A, non-dilutive debt financing and/or capital investments ranging from $5M to $100M+. Let's talk about putting the power of this expertise and our network to work for you.
Get the Highway Edge at https://highway33.com/
Highway 33 Capital Advisory.
Buy side. Sell side. Your side.