EDITORS' PICK | Apr 1, 2022,12:36pm ED
The U.S. House of Representatives passed the MORE Act, a bill that would end the federal prohibition on cannabis by removing it from the list of banned controlled substances. This is the second time the bill passed the House; however, it will face strong headwinds in the Senate. U.S. House Of Representatives Passes Federal Cannabis Legalization Bill MORE Act
The Marijuana Opportunity Reinvestment and Expungement (MORE) Act was introduced by House Judiciary Chairman Jerrold Nadler, a Democrat from New York. It passed the House 220 "yea" votes to 204 "nay" votes.
Cannabis is legal for adult use in 19 states and for medical use in 36 states. This bill would end the federal ban, but leave legalization up to the states. The legal industry generated $25 billion in sales last year, a 43% increase over 2020, and is expected to hit $65 billion in 2030.
During his opening statement, Nadler said that the bill, if made into law, would reverse decades of injustices waged on Americans, and especially those from communities of color. "Whatever one's views are on the use of marijuana for recreational or medicinal use, the policy of arrest, prosecution and incarceration at the federal level has proven both unwise and unjust," Nadler said. "For far too long, we have treated marijuana as a criminal justice problem, instead of as a matter of personal choice and public health." U.S. House Of Representatives Passes Federal Cannabis Legalization Bill MORE Act
Troy Carter, a Democrat from Louisiana, said that 91% of Americans want some form of cannabis to be legal and that there are more important priorities cops should be focused on. "Law enforcement cannot afford to chase small pot offenders when violent crime is on the rise nationwide," says Carter. "The war on marijuana is a costly relic of the past."
Hakeem Jeffries, the Democratic Caucus chair, said there is a mass incarceration problem in the U.S, fueled by the "prison industrial complex" in America. He says former President Richard Nixon's failed war on drugs disproportionately targeted Black and Latino Americans and noted that the fact that the U.S. imprisons more people per capita than China and Russia is a "stain." Ending the federal government's ban on pot would be a step in a positive direction.
"It has ruined individual lives, ruined families and ruined communities, particularly in communities of color," said Jeffries. "It's time to end the federal cannabis prohibition."
House Majority Leader Steny Hoyer said this is an important issue because the majority of Americans want cannabis to be legal. He also said that he used to support tough-on-marijuana policies earlier in his political career. "I was a supporter of the war on drugs, I've been here a long time. . . . but it's not a gateway drug, I've been convinced of that," said Hoyer. "Marijuana has been legalized in 40% of our states, and medical marijuana is legal in 36 states. This is not out of the ordinary; this is something Americans tells us is an appropriate thing to do."
Despite the fact that the vast majority of Americans are in favor of legal marijuana, there were plenty of naysayers in the House. Cliff Bentz, a Republican from Oregon, managed the bill's opposition, said the MORE Act is a "bad and incomplete bill." Representing southern Oregon, where illegal cannabis grows have become a pervasive problem rife with organized crime, says a better bill would fund the police to battle issues like the illicit market.
Bentz said legalization has been a disaster for Oregon, explaining that drug cartels are stealing water and threatening locals. He also says the tax rate of 8% would make legal pot 30% more expensive, giving illegal operators a nice margin to exploit.
"This bill will drive up demand for marijuana and up the cartels across the United States," he said. "If you're going to do this, get it right."
In response, Nadler said: "You pass this bill, and the cartels will no longer have a monopoly."
Most Republicans who took to the podium to voice their opposition against the bill said there are more important crises Congress should be addressing, from the invasion of Ukraine to rising gas prices to inflation. Ohio Republican Jim Jordan said that he voted "nay" because politicians should focus on "things that matter," adding that immigration at the country's southern border and crime should be priorities. "Every major urban area has record high crime and Democrats are legalizing drugs, there are record gas prices and Democrats are legalizing drugs and helping the marijuana industry," said Jordan.
Earl Carter, a Republican from Georgia, embraced old stereotypes on marijuana use: "As a pharmacist, I can tell you, marijuana is nothing more than a gateway drug—it leads to other, harder drugs," said Carter. "This is misguided; this is wrong."
Andy Biggs, a Republican from Arizona, referred to the bill as "a piece of garbage," claiming it will legalize activity and businesses controlled by international drug cartels. Steven Palazzo, a Republican from Mississippi, raised concerns over how decriminalizing marijuana on the federal level would hurt kids. "The MORE Act does not end the war on drugs; all it does is poison our children and weaken our country," said Palazzo. "Put our children first, not the dope dealers."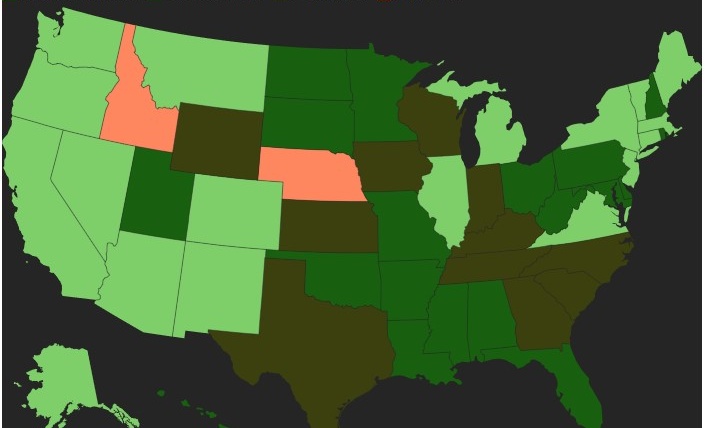 The MORE Act is thought to have an uphill battle in the Senate. The last time the House passed the bill the Senate did not take it up to a vote. There are also competing bills within the House. Nancy Mace, the freshman representative from South Carolina's coastal swing district spanning from Charleston to Hilton Head, introduced the States Reform Act, a bill that would end the federal government's 85-year prohibition on marijuana, last year. Her bill, the first comprehensive Republican version to end cannabis prohibition, is expected to have its own hearing in April. Mace voted no on the MORE Act.
Perhaps the biggest hurdle for the MORE Act getting time in the Senate is that Senate Majority Leader Chuck Schumer and Senators Cory Booker and Ron Wyden, are planning to finally formally introduce their much-anticipated federal decriminalization bill, the Cannabis Administration and Opportunity Act later this month.
The MORE Act would need 60 votes to pass the Senate, which is unlikely. Not every Senate Democrat supports legalization and if the three House Republicans who voted for MORE are a barometer, it won't get much support from the GOP.