You're reading a copy of this week's edition of the New Cannabis Ventures weekly newsletter, which we have been publishing since October 2015. The newsletter includes unique insight to help our readers stay ahead of the curve as well as links to the week's most important news. These Three Events Could Help Cannabis Stocks Break the Downward Trend
Friends,
Despite many positive industry developments during 2021 and strong growth from leading cannabis companies, stock prices, as reflected by the New Cannabis Ventures Global Cannabis Stock Index, fell 10 straight months into year-end, leaving the index down 26%: These Three Events Could Help Cannabis Stocks Break the Downward Trend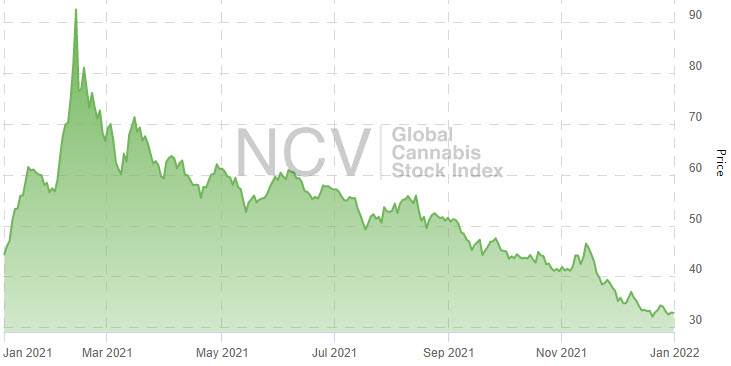 The unwinding of the parabolic spike at the beginning of the year overwhelmed valuation and fundamentals, in our view. Quite simply, a lot of momentum traders showed up and then exited as the year played out. The Senate Democrats took a long time to unveil their legislation, and it was instantly clear that it was dead on arrival. Those who were betting on it pulled their stakes. These Three Events Could Help Cannabis Stocks Break the Downward Trend
The cannabis stocks have typically rallied on specific events, such as the 2016 elections, legal adult-use sales commencing in California at the beginning of 2018, Canada legalizing for adult-use in late 2018 and the 2020 elections. These spikes in interest drive investment, in our view, and no spike was like the one in early 2021. The Google Trends graph below highlights interest in the sector based on key search terms (cannabis stocks, marijuana stocks and weed stocks):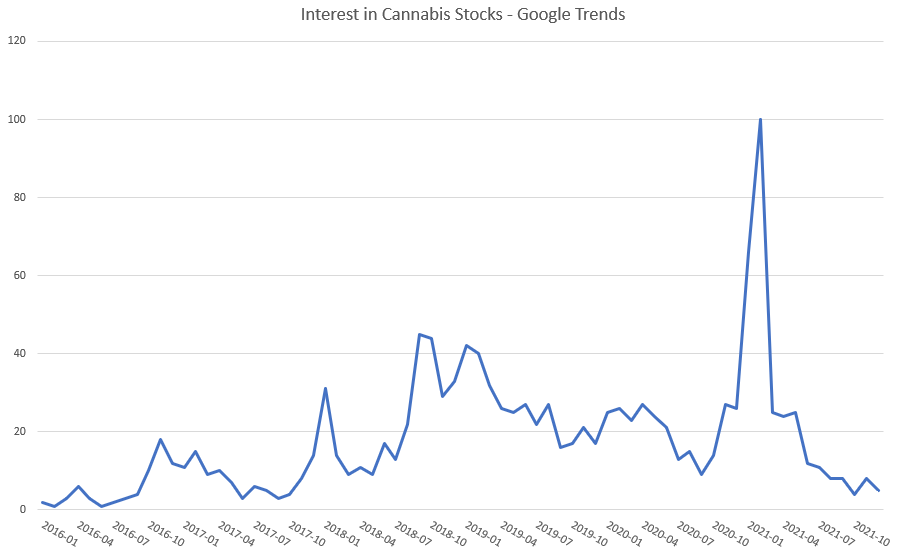 It's very clear to us that traders care about these event-driven catalysts. While long-term investors certainly appreciate them as well, we believe they also care about valuations and fundamentals. When it all lines up, as it did in early 2021, with price momentum, strong fundamentals and reasonable valuations, the market can get carried away. Of course, this is easy to discuss in hindsight, but we were warning our subscribers at premium service 420 Investor in February that the stocks had gone too far too fast and were overvalued. Unfortunately, we didn't expect the reversal to be so deep and persistent.
As we begin the new year, we are wondering what it takes to change the downward trend. We recall a similar situation at the end of 2018, the unwind of the rally into the end of 2017 into California's legalization that was abruptly halted by Attorney General Jeff Sessions rescinding the Cole Memo. In the last few months of the year, several MSOs went public, and prices sank subsequently. Sure enough, as the calendar flipped, the stocks took off. We hope that 2022 starts off like 2019 did, but these things are hard to call. As we look out into year ahead, we are hopeful that what we see generally as attractive valuations and strong projected growth draw more interest in the sector, and the stocks could very well go up without any of the three catalysts we discuss below kicking in, but our readers likely want to know ahead of time when to expect the next spike in interest. We see three events that could drive interest in the cannabis sector in the year ahead, including New Jersey commencing adult-use sales, a strategic investment into a U.S. cannabis company by a large CPG company and the ability of the U.S. cannabis companies to trade on a major exchange.
New Jersey Opens the Doors to Adult-Use Stores
The delay in the commencement of adult-use in New Jersey was one of big disappointments in 2021. There is still no official start date, but most expect it to begin by mid-year. This catalyst is the most likely of the three we envision, but it is also probably the least impactful. Still, we believe that this event will drive interest in the sector. First, New Jersey is likely to draw buyers from New York City, something that we think will generate substantial media coverage. Additionally, the state's cannabis industry is dominated by publicly traded stocks, so this event will be more actionable than some other implementations from the past. With Connecticut expected to begin adult-use sales in 2022 as well and then New York in 2023, we think that investors could see this as more than just a short-term trade.
Strategic Investment
In the past, strategic investment into the industry has sparked a lot of interest. These deals have tended to be Big Alcohol or Big Tobacco investing into Canadian LPs, but we envision that this model could change this year. There is no reason the types of deals getting done in the U.S to date, which have been exclusively Canadian LPs investing in debt (Tilray/MedMen) or options to acquire equity (Canopy Growth and Acreage, TerrAscend and Wana Brands and Cronos Group in PharmaCann), can't be more direct. We think 2022 could be the year where a large CPG company structures a compliant investment into a major U.S. operator. We have looked at market caps, growth rates and valuations of these potential acquirers and believe these types of transactions appear to be attractive. It's very difficult to predict the timing of such an event, but we believe it would create substantial interest in the entire sector if we see a strategic investment.
U.S. Cannabis Operators Gain Access to NASDAQ/NYSE
One of the biggest challenges for American cannabis companies, in our view, is that they don't trade on higher exchanges. Relegation to the OTC limits the audience greatly. We think that more investors, rather than just short-term traders, would invest in American cannabis companies if they traded on the NASDAQ or NYSE. There is no law that prohibits these exchanges from listing them, but they have opted not to do so. There is a bit of hypocrisy, as these exchanges list the power companies that supply electricity to the industry, the banks that work with them and even the ancillary companies that provide goods and services, but they won't list the operators themselves. As the bill was previously written, the SAFE Banking Act will not address this issue, but we believe that an enhanced version could specifically give cover to the exchanges. This is the least likely of the three potential catalysts we envision, but it is also the most important one by far. With Republicans beginning to position themselves in favor of cannabis legalization, we think that SAFE Banking could be resurrected as 2022 plays out, hopefully with language to give safe harbor to exchanges.
Conclusion
2022 could begin like 2019 did, turning on a dime after tax-loss selling ended. Low valuations and strong projected growth could drive interest in the sector, but following this developing sector for almost nine years now makes us well aware that spikes in interest tend to come from specific catalysts. The most likely significant driver ahead in our view is New Jersey commencing adult-use sales. We think that strategic investment in to an American cannabis company would spark speculation of other potential investments, driving more interest in the sector, though the timing of such an event is unpredictable. The most impactful catalyst, which is also the least likely, would be the expansion of the investor base and the consequent reduction in cost of capital afforded by being listed on major exchanges rather than the CSE and the OTC.
We want to wish our readers the best in the year ahead. We look forward to keeping you informed of all the developments in our industry.
Get ahead of the crowd! If you are a cannabis investor and find value in our Sunday newsletters, subscribe to 420 Investor, Alan's comprehensive stock due diligence platform since 2013. Gain immediate access to real-time and in-depth information and market intelligence about the publicly traded cannabis sector, including daily videos, weekly chats, model portfolios, a community forum and much more.
Use the suite of professionally managed NCV Cannabis Stock Indices to monitor the performance of publicly-traded cannabis companies within the day or over longer time-frames. In addition to the comprehensive Global Cannabis Stock Index, we offer a family of indices to track Canadian licensed producers as well as the American Cannabis Operator Index and the Ancillary Cannabis Index.
View the Public Cannabis Company Revenue & Income Tracker, which ranks the top revenue producing cannabis stocks.
Stay on top of some of the most important communications from public companies by viewing upcoming cannabis investor earnings conference calls.
Discover upcoming new listings with the curated Cannabis Stock IPOs and New Issues Tracker.
Sincerely,
Alan & Joel