Investor takeaway
The U.S. cannabis market is leading in the race to make the cannabis industry the largest consumer products industry – the largest in the world. A "Green Wave" is sweeping over the Northeast, the South, and other areas where Recreational Use will be legalized. The big news in the cannabis industry in 2021 focused primarily on the high stakes investments, both in M&A and debt financing transactions, involving large multistate operators (MSOs). Yet, the fact remains that the vast majority of the legal cannabis industry remains unbanked or underbanked. Major banks are still on the sidelines while cannabis remains restricted under the Controlled Substances Act (CSA). Stepping in to fill this void is where federally chartered and state chartered credit unions come in. How credit unions are supporting the growth of the cannabis industry and what lending options beyond cash deposit services mean to operators and industry investors is the subject of this week's EDGE Briefing. As stated by CUManagement.com…
The State of the Cannabis Industry Into 2022 The Significant Role of Credit Unions in Cannabis Industry Growth
Currently 38 states, the District of Columbia, Guam, Puerto Rico, the Northern Mariana Islands, and the U.S. Virgin Islands have legalized medical marijuana programs. 19 of those states and DC have also approved cannabis for legal adult consumption. That means over 70% of Americans, currently have access to legal medical marijuana in their respective states, and more than a third of the U.S. population has access to recreational cannabis. The Significant Role of Credit Unions in Cannabis Industry Growth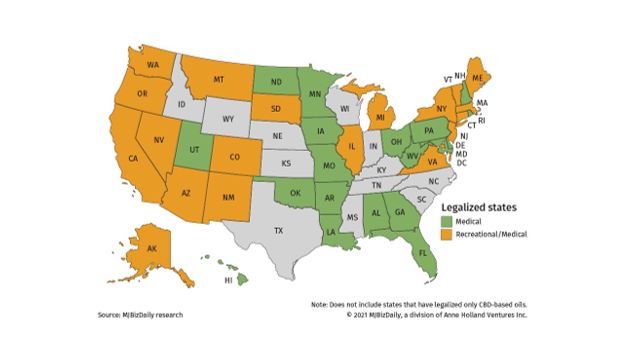 With states seeing legalized cannabis raking in unprecedented revenues, and with the industry promise of jobs and investment opportunities, the pace of legalization across the country continues to accelerate. A "green wave" is now sweeping over the East Coast and other formerly reluctant jurisdictions. Industry pundits and researchers are projecting the potential of the cannabis industry to reach as high as a market size of $115 billion by 2030. The Significant Role of Credit Unions in Cannabis Industry Growth
States opening for the first time for Medical Marijuana – Nebraska, Idaho and potentially Wyoming.
States expanding to legalized Recreational use – Arkansas, Maryland, Missouri, Ohio, Oklahoma, North and South Dakota.
And, the potential of a major development in 2022 in one of the largest U.S. markets is being watched closely. That is, when Florida adopts much anticipated Recreational Use.
While the final tallies are still being tabulated, cannabis market data, intelligence and strategy firm Prohibition Partners is predicting that global cannabis sales hit a record $37.4 billion in 2021.  The forecast from Bank of America Securities, as reported by Seeking Alpha, for the U.S. market is $25 billion in 2021. This means that U.S. cannabis sale grew at the rate of 40% over 2020, while only a 15% growth rate was expected by various other sources.
Mid-Market Capital to Fuel the Industry Growth
The big news in the cannabis industry in 2021 focused primarily on the high stakes investments, both in M&A and debt financing transactions, involving large multistate operators (MSOs). From the $2.1 billion acquisition of Harvest Health and Recreation  by Trulieve Cannabis Corporation to the record $425 million in debt financing that Curaleaf negotiated at an 8% interest rate, MSOs commanded the headlines.  Yet, the fact remains, however, that the vast majority of the legal cannabis industry remains unbanked or underbanked. Major banks are still on the sidelines, of course, while cannabis remains restricted under the Controlled Substances Act (CSA). Stepping in to fill this void is where federally chartered and state chartered credit unions come in. As stated by CUManagement.com:
The growth and evolution of the cannabis industry throughout the U.S. is leading more and more credit unions to build or improve their cannabis programs. While there's talk of federal legislation such as the SAFE Banking Act being passed under this administration, the truth is some credit unions are already serving this market—and have been doing so for years. These credit unions have identified the needs of the businesses in their communities and stepped up to serve them. By doing so, they're not only supporting the growth of this emerging industry but also materially impacting the safety of their community by helping to keep cash off the streets.
The Significance of CUs to Industry Growth and Security
While the element of safety to the industry and to each community that CUs provide by taking cash deposits from Marijuana Related Businesses (MRBs) is common knowledge, there is another vital role CUs have been providing. The Law firm BMDLLC speculates that, while loan numbers are hard to substantiate, that in the low to mid-hundreds of millions of dollars have been loaned to plant touching marijuana businesses in 2021. And they expect that number will continue to increase dramatically in 2022. These latest figures that we have found in the chart below are indicative of this trend for all CUs that are providing services for MRBs. The chart below shows the momentum in CU loan activity throughout the pandemic: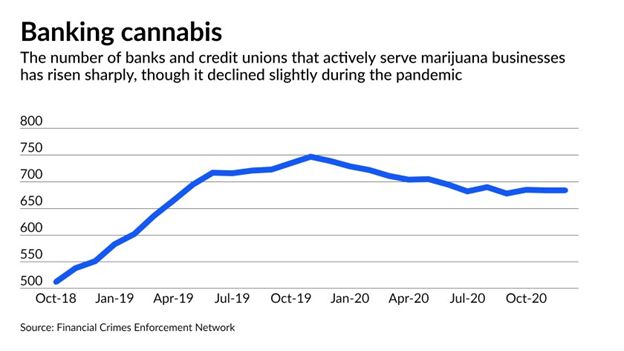 This represents the big steps credit unions are taking beyond the initial deposit services that were first offered years ago to the largest legal all-cash industry in the U.S.
Falling under the supervision of the National Credit Union Administration (NCUA), and FINCEN BSA/AML requirements, make it more complicated for federally insured credit unions to accept cannabis clients, state-chartered CUs typically have greater flexibility.  Without this help MRB borrowing using private debt financing would have to accept hard money terms at much higher interest rates, in the high teens. And for the state chartered as well as the more cautious federally chartered credit unions, CU Management.com expresses it this way:
Credit unions throughout the country continue to fill the void left by institutions that are unwilling to navigate this emerging market. The dichotomy between state and federal law, cash-intensive nature and seemingly unpredictable growth patterns make the cannabis industry one that is rife with risk, but it's also rich with opportunity. The opportunity to serve members of the community while tapping into a lucrative niche market has never been as clear as it is with cannabis. Quite simply, cannabis is a catalyst for growth.
Last June, AmericanBanker.com reported this typical transaction: Credit unions remain competitive in this market. When Kings Garden, a cannabis cultivation, processing, distribution and manufacturing company in Coachella Valley, California, went looking for a banking partner it found no takers among the traditional banks. The company instead turned to Salal Credit Union in Seattle for all of its banking. "We were unable to obtain banking with a traditional bank," said Lauri Kibby, co-founder and chief financial officer of Kings Garden. "We are extremely happy with our credit union experience. It has advanced app-based banking features, wire and ACH capabilities and prompt response times."
Regarding Federal Legalization 
As you know, those hopeful for federal legalization to take a step forward with the passage of the SAFE Banking Act last year faced the disappointment of the Act being slipped out of the National Defense Authorization Act (NDAA). The two prominent, impending pieces of federal legislation, the MORE Act and the SAFE act, continue to take a plodding path through Congress. The ultimate objective of the MORE act is to completely remove marijuana as an illegal substance on the federal level. This would eliminate substantial roadblocks existing federal regulations place on the cannabis industry, from access to banking to benefiting from standard business tax deductions prohibited the industry under Section 280E of the IRS tax code. How soon such legislation will become law remains up for speculation. In the meantime, as Business Insider found when surveying prominent industry executives: 
CEOs of the largest cannabis companies in the world said they're not waiting for the US federal government to legalize cannabis while they focus on growing their businesses. Several said they were hopeful that Congress would pass some form of cannabis reform, but most said they were betting on a narrower banking bill ahead of full-scale legalization or decriminalization.
This same sentiment continues to strengthen the importance credit union service to the cannabis industry in their communities. 
Typical Loan Products Available Through Credit Unions 
Facilitators like the firm Standard C use what they term as a fully integrated application process to provide cannabis-related businesses access to a network of financial, insurance, and other related services. Recreational & Medical Marijuana Business Loan and Line-of-Credit Options that are available include:
Cannabis Real Estate Loans
Marijuana Construction Loans
Revolving Lines of Credit for Marijuana Businesses
Cannabis Accounts Receivable Financing
Tenant Improvement Financing for Marijuana Facilities
Cannabis Equipment Financing
The firm Canna-Hemp Lending Partners will lend anywhere from $1M to as much as $10M (or in some cases more) based on the value of commercial real estate assets and/or a cannabis company's revenue and EBITDA, with three loan packages:
Cannabis Licensed Asset Backed Loan based on a LTV ratio of 50-65% of the appraised in-use value of cannabis properties.
Loan based on cash flow with positive EBITDA being used to calculate a debt service coverage ratio that will determine how much will be lent.
A combination of the commercial real estate assets and cash flow to maximize the operator's ability to borrow a larger amount. Most programs are interest-only with terms in the two to three year range.
Finding The Right Fit for Your Growth Funding Strategy
2022 offers an array of opportunities from alternative financing options such as credit unions in most existing and emerging cannabis states across the country.  What we advise our investors as they assess the financing options in which they see as the most advantageous boils down to this:
The correct way to appeal to a source for growth funding, or finding the right fit for your investment portfolio strategy, comes down to clarifying the investment needs and objectives, determining the real value in the business by calculating a well-substantiated valuation, and matching the right source of investment with the right funding opportunity.
How We Can Help
At Highway 33 Capital Advisory we excel at structuring deals to provide access to capital while meeting client investment strategies in emerging 2022 opportunities with our core expertise in Cannabis along with other highly regulated markets in the fields of Pharma, Biotech, Healthcare, Agtech, Clean/ClimateTech, and CBD/hemp companies. We specialize in thoroughly vetted companies looking to drive growth and enterprise valuations through M&A, non-dilutive debt financing and/or capital investments ranging from $5M to $100M+.
Let's talk about putting the power of this expertise to work for you as a Sell-side or Buy-side client.