The Market The Prospects for Private Equity Cannabinoid Investments
There appears to be no stopping the expansion of the cannabis market around the globe.  Smart Investing projects sales worldwide to reach UDS $146 billion by 2025.  Within this tremendous growth is the growing demand for not only tetrahydrocannabinol (THC), the psychoactive molecule found in the cannabis plant, but also for cannabidiol (CBD) and the lesser known minor cannabinoid molecules.  Projections are that CBD and the rare cannabinoids will eventually dominate the cannabis marketplace. The Prospects for Private Equity Cannabinoid Investments
The Popularity of CBD
The passage of the Hemp Farming Act of 2018 escalated the demand for Cannabidiol (CBD) products. The cannabis industry researcher BDS Analytics projects a CBD market that will exceed $20 billion by 2024, as a growing number of CBD products make their way out of marijuana dispensaries and onto more general retail shelves, as they have already done in prominent pharmacy chains.  And, the pandemic has only hastened that trend. In Europe, the Brightfield Group predicts the CBD market will grow by 400% over the next 3 years.  All this confirming the sustainable high revenue potential of CBD. The Prospects for Private Equity Cannabinoid Investments
How CBD Works
THC and CBD are the two most recognized cannabis plant cannabinoids, with CBD having the potential to provide stress and chronic pain relief, and overall wellbeing, without the restrictions placed on THC products in most states. The human body maintains a state of equilibrium via neurotransmitters in the endocannabinoid system. Research has found that the intake of CBD causes the body to produce more endocannabinoids which bind to C1 receptors in the brain, that identify factors such as pain and cognition, and C2 receptors in vital organs such as the liver and thyroid.  This can produce a sense of calmness from pain and can cause a reduction of inflammation without any the feeling of intoxication that THC can have. The Prospects for Private Equity Cannabinoid Investments
What the Future of CBD Holds
In the past the hindrance to the growth of the CBD market has been the lack of research substantiation of medical benefits.  That has rapidly changed as can be seen by the $16 million in research funding by the National Institute of Health last year.  The primary stumbling block that remains, however, is inconsistent regulation of the industry while the Food and Drug Administration has still not issued required CBD product standards.  This is the case while consumers are insisting on more comprehensive state and federal legislation on CBD product manufacturing and packaging to ensure user safety. In response the FDA has stated that they are committed to protecting public health while they are also taking steps to improve the efficiency of regulatory pathways for the lawful marketing of cannabis and cannabis-derived cannabinoids.
The Future of Minor Cannabinoids
The most abundant cannabinoids are THC and CBD. They are the foundation of the dramatic market forecasts stated above. However, these are just two of the 144 cannabinoids identified in a single cannabis plant to date.  The graphic below depicts some of the minor cannabinoids and the health benefits that are commonly attributed to them.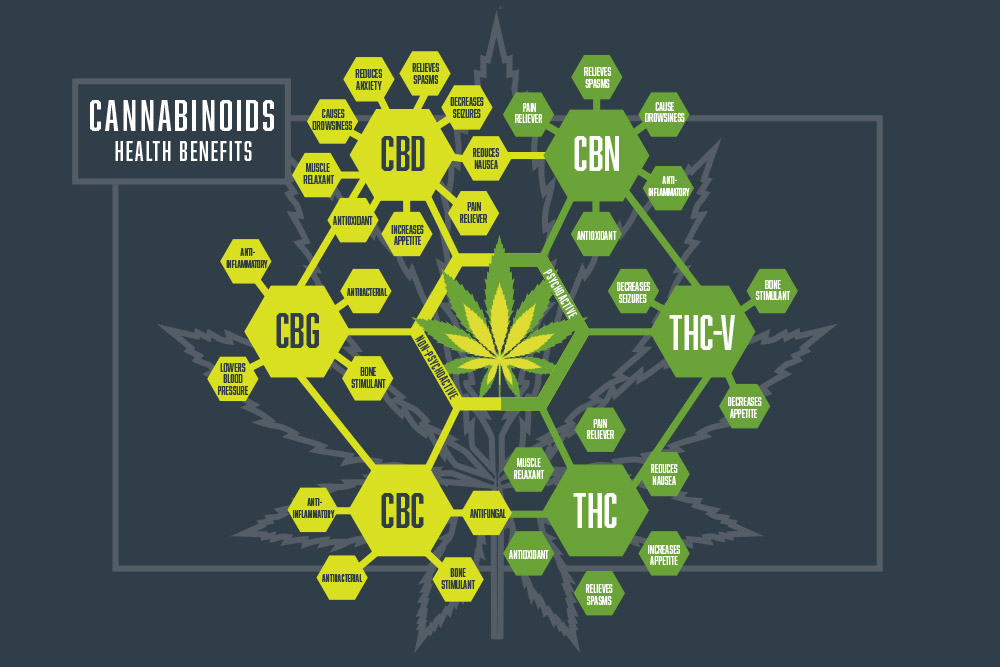 As with the neurotransmission process described above for CBD, minor cannabinoids (meaning, those distinguishable from the major cannabinoids (THC and CBD) act in a similar manner with the effect that is produced depending on which receptor in the body they bind. The basis of all cannabinoids is the molecule CBG.  To date CBG has been found to be beneficial in reducing pain, inflammation, nausea, even slowing the spread of cancer cells. It is an example of how just one of the cannabinoids has the potential of usurping both THC and CBD in the future treatment of a broad variety of diseases.
Other Examples include CBC – attributed with increasing bone strength and having antibacterial and antifungal properties. THCV – with the capability to promote bone regeneration, and suppression of appetite and anxiety attacks. CBN with properties for being an antioxidant, aiding sleep, and relieving pain and muscle spasms.
These are among the many minor cannabinoids that analysts project will lead to a $50 billion global cannabinoid-based pharmaceutical market within 10 years.
Advancements in Cannabinoid Research/Manufacture
Biopharmaceutical companies are bringing the promise of the healthful benefits of cannabinoids to market readiness.
Nexien BioPharma has been granted one patent with seven pending patents as they get closer to FDA approval of drugs for the treatment of myotonic dystrophy and myotania, and states that the company develops advanced parenteral formulations and drug delivery systems, as well as precision oral and sublingual tablet technology for the use of cannabinoid API's as standalone or adjunct therapies.
Tetra Biopharma is noted for its cannabinoid-based drug development programs in Oncology, Ophthalmology, Inflammation and Chronic Pain, which they state are aimed at bringing novel drugs and treatments to patients and their healthcare providers.
GVB Biopharma extracts cannabinoids from hemp using a proprietary cryogenic extraction process that specifically targets only the valuable components of the hemp plant, while leaving behind the undesirable water-soluble elements. After extraction this ultrahigh quality crude is sent through a custom designed and fabricated short-path distillation system.  This method enhances potency and clarity producing a broad spectrum distillate. The distillate is then either sent through a proprietary THC removal process to ensure compliance with federal regulations or converted into 99% pure CBD isolate.
This exemplifies the kind of processing and controls necessary for the hemp industry to realize its potential in preparation to comply with FDA rules.
Investor Takeaway – Investment Strategy Guidance
As you can see, the projections indicate cannabinoid-based pharmaceutical industry is posed for high return investment.  The perceptions of CBD being a cure all may give way to the reality of the full spectrum of cannabinoids actually delivering on that promise. There are, however, signs of caution along the way. Of 30,000 cannabis products tested last year by the California Bureau of Cannabis Control, products that ranged from vape pens to tinctures and edibles, approximately 15% didn't pass the state standards for purity and potency.  Problems included improper labeling and residual levels of solvents and pesticides.  This points to the need for federal regulation to standardize cannabinoid molecule extraction and product manufacturing.  Nevertheless, with analyst predictions for industry growth ranging as high as 55% per annum, this is a category to carefully consider adding to your investment portfolio.
Here is the approach we take with our clients for risk mitigation prior to presenting cannabinoid investment prospects:
First, we ascertain if the company and founders have backgrounds in biopharma in order to emerge in a leadership position in the direction the cannabis industry is heading. Without this background chances of success are greatly diminished.
Second, we ensure that the prospect is thoroughly familiar with and focused on meeting, as a minimum, EU cGMP requirements for pharmaceutical grade cannabinoids. If they are not, we move on because the company is not likely to meet rigid FDA standards when that agency's regulations are finalized.
Third, we assess the regulatory regime in the company's home market relative to target markets across North America. We analyze the ability of the company to scale in the context of near, medium and long-term market expansion.  In our opinion it is critical for a properly positioned pharmaceutical grade cannabinoid company to have the ability to scale rapidly in order to capitalize on the dynamic global market potential.
How We Can Help
At Highway 33 Capital Advisory we are standing by with the expertise and experience to provide guidance with investments in the strongly emerging CBD/cannabinoid market.  We excel at structuring deals to meet client investment strategies in trending segments like cannabis and CBD/Hemp as well as our core expertise with highly regulated markets in the fields of biopharma, healthcare, agtech, as well as technology companies. We specialize in thoroughly vetted companies that are looking to drive growth and enterprise valuations through M&A, non-dilutive debt financing and/or capital investments ranging from $5M to $100M+.
Let's talk about putting the power of this expertise to work for you as a Sell or Buy-side client.