Investor Takeaway The Midwest – The Hottest Emerging U.S. Cannabis Sales Region
Projections for the future of the cannabis industry vary from sales reaching from $40B to $57B in 2030. Legalized Adult-use cannabis generated more than $3.7B in tax revenue in 2021. Within those totals one region of the country, the Midwest, stands out as the current "Capital of Cannabis in the U.S." Why?
The established markets of Michigan and Illinois are constantly among the top states in cannabis sales revenue.
Learning from this has put other Midwest states ahead of the learning curve while enacting their own programs.
Missouri is on track to reach $360M cannabis sales this year.
Ohio's medical cannabis sales are projected to come in at over $400M this year.
Momentum continues to grow for Adult-use coming to these other Midwest states, some forecast as early as this year.
In that supercharged environment this week's EDGE Briefing summarizes the potential in the markets of greatest interest to our network of strategic investors as a guide for determining the best fit for their portfolio investment strategy.
Where Is The US Cannabis Industry Headed? The Midwest – The Hottest Emerging U.S. Cannabis Sales Region
The U.S. cannabis industry is projected to be worth $40B Billion by 2030 according to Grand View Research (see the third article in this week's EDGE for a summary of the full report).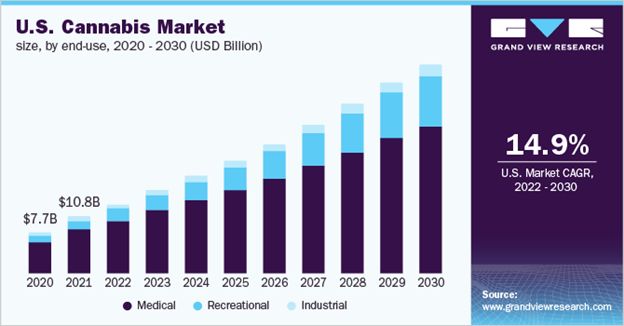 New Frontier Data steps up this forecast by projecting U.S. cannabis sales to escalate to $57B by 2030, the fastest growth in the history of new industries in the U.S. What's more, if the 18 additional states that seem likely to activate their Adult-use markets that figure could grow to $72B.
Technical420.com reports that although the legalization of cannabis in the US has taken longer than expected, new recreational markets are opening in conservative states. Another motivating factor for accelerating actions by non-legal, or Medical-only states is:
The growth of the money going to local municipalities also went up from 2021 by more than 75% from $82.8 million to $146.2 million.
And, according to the Marijuana Policy Project, legalized recreational cannabis generated more than $3.7 billion in tax revenue in 2021.
We expect the amount of recreational cannabis sold in the US to increase in 2022 and believe the trend will not only continue but accelerate in future years.
Which Are the Strongest Emerging U.S. Markets?
The banner headline in MJBizDaily recently was, Marijuana Momentum in 2022? Look to the Midwest. This was stated as the case because while momentum is coming in the Northeast, with New York alone projected to be a $2B sales market within 4 years, that momentum is turning out to take a longer period of time than the industry projected. Midwestern states, with some already exceeding $1B in cannabis sales, have the ability to learn from other states such as Michigan and Illinois how to gear up their cannabis programs at a more accelerated pace.  As well as Michigan and Illinois are performing in terms of cannabis sales relative to the slower start of Northeastern states, MJBizDaily states that the Midwest remains "America's Cannabis Capital."  In the final analysis that pace will be determined by the number of municipalities that opt into the program requirements in each state. The Midwest just may be ahead of that learning curve.
Let's take a look at progress being made in key Midwestern markets. The Midwest – The Hottest Emerging U.S. Cannabis Sales Region
MICHIGAN
The Market
MJBizDaily reports that in its second year Michigan's Adult-use sales doubled in 2021 with combined Adult-use and Medical marijuana sales reaching $168M. This puts Michigan ahead of cannabis sales in Colorado (with November sales in that state of $158M), putting Michigan on a path for a final sales total for the year to exceed $1.5B. This places the state second only to California in total sales in the U.S. And this generates, according to state estimates, $42.2M that will be distributed among 163 municipalities and counties in Michigan with each municipality and each county receiving $56,400 for every licensed retailer and microbusiness located in the jurisdiction.
A key development in Michigan in 2021 was the purchase of indigenous operator Gage by MSO TerrAscend in a deal worth $545 million. This marked the beginning of large MSO's consolidating the rapidly growing Michigan market. Michigan is an open cap state. The good news, though, as reported by bridgemi.com is that the notorious illegal cannabis markets in the state are gradually being absorbed into the legal market.
For example, in 2020, the Anderson Economic Group found that Michigan's state-regulated cannabis market accounted for less than one third of the total amount of cannabis being sold in the state. Illicit markets, or sales that take place outside of licensed dispensaries, made up the difference.
The legal share of the pot market in the state jumped to 56 percent by the end of 2021. The Midwest – The Hottest Emerging U.S. Cannabis Sales Region
The challenge and the immense opportunity in the state stems from the fact that Michigan's 1,764 municipalities have the final decision as to how many and what types of licenses are granted in each jurisdiction. In the case of Adult-use, only a little over 100 municipalities have opted-in up to this point in time. (Currently there are over 500 medical cannabis dispensaries and over 470 recreational ones in Michigan, supported by more than 1,000 growers and processors.)
MISSOURI
The Market
The Medical cannabis market in Missouri is thriving ahead of growing support for an Adult-use Initiative. The Riverfront Times reports that Missouri's 182,000 medical cannabis patients accounted for $31M in sales June. This is the fourth month in a row that sales have topped the $30M mark. And the Times reports that recent polling conducted by SurveyUSA indicates that some 62 percent of Missouri voters are in favor of recreational weed. If recreational weed is legalized in the state, sales numbers for the industry are predicted to skyrocket. BDSA, a market research firm for whom the legal cannabis industry is its primary focus, projected $360 million in annual sales for Missouri in its 2022 Market Forecast — and with 2022's total so far just over $178 million, the industry is right on track to hit those numbers. But if adult-use recreational consumers are included in the picture, that number jumps to a whopping $650 million.

Each month since January of this year, the state has brought in about $1 million in sales tax on over $20 million in taxable sales every month of this year.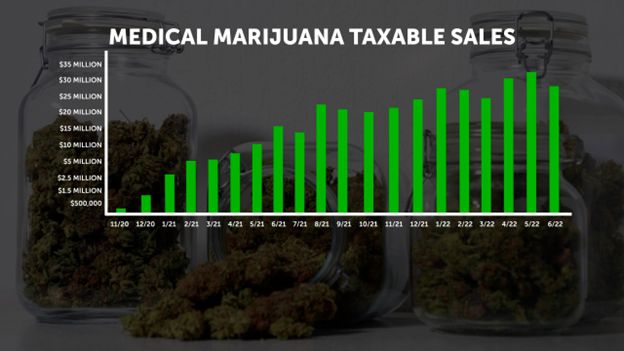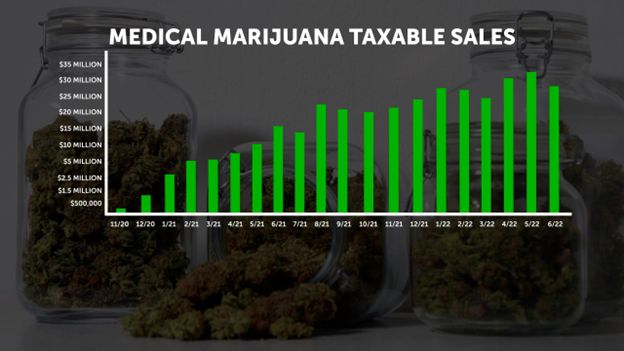 State income from medical marijuana goes to the Missouri Veterans Coalition under Article XIV of the Missouri constitution.
Cultivation license, $5.4M. CLICK HERE for more details about this and other Midwest opportunities.
OHIO
The Market
What makes Ohio an appealing investment destination for strategic investors? Well, MJBizDaily reports that the state is on track to generate >$400 million in Medical cannabis sales this year.
The market is appealing because of its limited licensing structure, its large population – roughly 12 million people – and prospects for Adult-use legalization in the not-so-distant future.
NORML.org reports on an Ohio State University economic analysis that estimates that Ohio could yield as much as $374M in annual tax revenue:
Researchers projected that licensed retailers could raise between $276 million and $374 million annually by year five of operations. They described their estimates as "conservative."
According to an analysis by the Marijuana Policy Project, tax revenues derived from the licensed retail sale of state-legal, adult-use cannabis products grew by more than 30 percent between 2020 and 2021, totaling over $3.7 billion last year. Adult-use sales generated the greatest amount of revenue in California ($1.3 billion), followed by Washington ($631 million), Illinois ($424 million), and Colorado ($396 million). 
Since neighboring Michigan launched its recreational marijuana program in late 2019, and Pennsylvania is considered likely to legalize Adult-use, is predicted that Adult-use is in the near future of Ohio.
Operating Tier 2 Cultivation and MIP by craft grower with solventless production and established retail brands. Business valued at $18M. Owner wants partner for up to 51%. Ideal for investor to come into limited-license state as a JV partner to further build the business.
CLICK HERE
for more details about this and other Midwest opportunities.
ILLINOIS
The Market
Illinois ranks as the 5th largest state in the U.S. with its 13 million residents. The state began a medical marijuana program in 2013 and has built a patient base of over 150,000. Then, in January 2020, the state legislature legalized recreational use. The interesting significance about this is that Illinois was the first state where Adult-use legalization was initiated and implemented by the state legislature rather than by voter initiative. As a result, from zero in early 2020 the state surpassed $1B in total Adult-use revenue in mid-year 2021
While Illinois is primed for private investors and M&A opportunities, a tax rate of 41% on certain Adult-use products may be inhibiting the real potential in the state. And slowing the growth of the market has been legal battles over the issuing of new retail licenses to expand distribution beyond the medical marijuana operators.  These operators were given first approval for adult-use sales. The easing of legal entanglements has attracted large MSOs now investing heavily in the state. Ayr Wellness Inc., a vertically-integrated MSO, has acquired Herbal Remedies Dispensaries LLC, a licensed operator in Illinois since 2013. Parallel, one of the largest privately held MSOs has acquired Windy City, a leading operator of adult-use and medical cannabis dispensaries in the state, in a cash and stock deal for the dispensary holdings of Windy City's. Late last year MSO Ascend Wellness Holdings brought the popular California pre-roll Lowell Smokes brand of products into the Illinois market.
In March and April, the state reported more than $130 million of recreational cannabis sales. This marks the first time Illinois exceeded this amount in back-to-back months.
Springfield IL Social Equity retail license. Can be attached to a retail location secured by the buyer. CLICK HERE for more details about this and other Midwest opportunities.
How We Can Help
At Highway 33 Capital Advisory we excel at structuring deals to meet client investment strategies in emerging opportunities with our core expertise in Cannabis along with other highly regulated markets in the fields of Pharma, Biotech, Healthcare, Agtech, Clean/ClimateTech, and CBD/hemp companies. We specialize in thoroughly vetted companies looking to drive growth and enterprise valuations through M&A, non-dilutive debt financing and/or capital investments ranging from $5M to $100M+.
Let's talk about putting the power of this expertise to work for you as a Sell-side or Buy-side client.