As many of you know, the partners of Highway 33 Capital Advisory attended the MJBizCon last week and were a sponsor of the FinanceForum that preceded the conference.  We enjoyed meeting with many of you there. Speakers at the Forum gave their views on the future of the cannabis industry. Before we give you insights on their views we thought we'd take a look at the ways others see the future to compare with the presentations at the FinanceForum. So, we'll provide you with perspectives on the industry's future in two parts. This first part in this issue of The EDGE will review general trends. In the following issue we'll detail the views of the key FinanceForum speakers. The Future of the Cannabis industry 2021 – Part I
Market Size Predictions
The majority of the U.S. population now resides in states where cannabis is legalized in some form. 37 states, the District of Columbia, Guam, Puerto Rico, the Northern Mariana Islands, and the U.S. Virgin Islands allow for comprehensive public medical marijuana programs. 18 of those states and DC have approved cannabis for legal adult consumption. The Future of the Cannabis industry 2021 – Part I
As a result of that geographic growth, here's a look at the size the market for the cannabis industry is predicted to be by significant industry pundit and researchers:
With U.S. market sales last year hitting $17+ billion, Michael Lavery, Senior Research Analyst at investment bankers Piper and Sandler, feels the market has the potential to reach $115 billion by 2030. He states that "…even without federal legalization, 2030 cannabis sales could still be above $50 billion, considering that even 'mature' states like Colorado and Oregon are still experiencing sales growth of 10%-15% this year."
In Cannabiz Media, Susan Gunelius quotes the 2021 Annual Marijuana Business Factbook, which reported U.S. cannabis sales will climb to $48.4 billion in 2021 – a 31% increase over 2020 sales ($36.9 billion). The majority of sales (54.55%) will happen in the adult-use market ($26.4 billion) with the medical market not far behind ($22 billion). This means that cannabis sales at that volume would surpass the craft beer industry in 2025 by as much as $20 billion in sales, $45.9 billion vs. $27.28 billion.
Marijuana Business Daily reports the total economic impact of the industry in 2020 was as much as $70 billion. Their calculation is that the impact on the total economy will increase by 31%, as high as $92.4 billion in 2021. By 2025 the projected impact of the cannabis industry on the U.S. economy is expected to jump to $160.7 billion.
An important part of this economic growth comes through the large number of jobs that the legal cannabis industry brings to the country. It's estimated that cannabis businesses employed as many as 415,000 full-time workers in 2021, and that number will climb to 670,000 in 2025. To put that number into perspective, more people work in the cannabis industry in 2021 than there are firefighters (335,000 in 2020) in the U.S.
Public acceptance, as this chart from Prohibition Partners shows, continues to increase.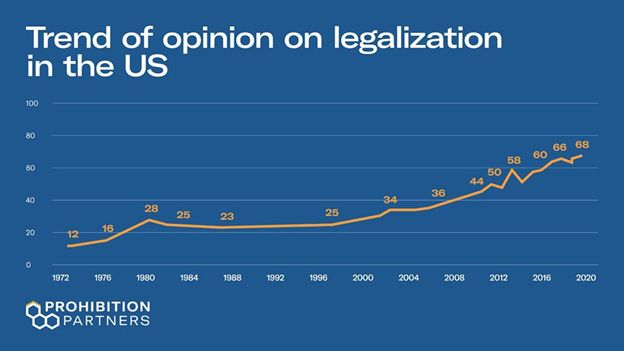 Meanwhile the Brightfield Group predicts a $22 billion market for CBD by 2022. They say that "There are sure to be some problematic regulations and bumps along the way. But there is too much momentum, too much demand, and too much potential for this industry not to explode."
Industry perspectives – Challenges
Looming over the industry continues to be the classification of cannabis as a Schedule I controlled substance with operators facing unclear regulations affecting their potential growth from domestic sales and import/export of cannabis products and the resulting price fluctuations this could cause. The Future of the Cannabis industry 2021 – Part I
The Issue of Federal Legalization
While there are a number of compelling factors favoring legalization at the federal level, this is simply another case of follow-the-money – of the potential of free-flowing tax revenue, that is, as the federal government examines ways to profit from legalization. The irony is that this revenue factor, above all others, is the element that literally guarantees legalization. As is done with cigarettes and alcohol, legalized cannabis will be heavily regulated and taxed. For one example of the tax revenue bonanza is what the Colorado Sun reports about tax revenues in that state since legalization.  Since legalization in the state in 2014, marijuana sales have topped $10 billion. Tax and fee revenue realized by the state have exceeded $1.63 billion to date. The Future of the Cannabis industry 2021 – Part I
On a less cynical note, however, there are gross market inefficiencies that federal legalization would cure. Internal Revenue Code Section 280E, for one, has been precluding cannabis businesses from realizing federal tax deductions and credits because of the Schedule I classification of cannabis.  This forces cannabis businesses to pay a far greater share of net income as taxes, compared traditional businesses. The prohibitions against banks dealing with cannabis businesses has compounded many problems the cannabis industry faces.  Private investors have also been dissuaded from entering an industry where access to bankruptcy protections is completely unavailable as long as cannabis businesses operate in a Schedule I industry. Only with the advent of alternative forms of financing, in the form of M&A transactions and debt funding, have breathed new life into the industry. The Future of the Cannabis industry 2021 – Part I
Another disadvantage the cannabis industry is struggling through is the lack of intellectual property (IP) protection. Because the IP and trademarks of cannabis firms fall outside the protections of the Lanham Act, brands, recipes, extraction and manufacturing processes are all susceptible to infringement. Federal legalization would provide a path to resolve these issues as well.
Federal Legalization vs. the Localized Cannabis Industry
However, there are dissenters out there who would argue on the side of leaving the regulation of cannabis up to the individual states. Those that support this States' rights argument fear that federal lawmakers will overlook crafting legislation that protects the local small marijuana operators who pioneered the space in the first place. In the law-of-the-jungle where Big-Eats-Small, these operators who bootstrapped their way into business and struggled through the expensive and arduous process of becoming licensed would now face the inevitable treat of big businesses consuming the market.  Keeping the power to regulate at the state and local levels could protect what these small businesses have contributed to their communities. Back to a cynical tone, the argument is that the federal government has never gotten it right yet on laws regarding cannabis, why would one believe they will get national legalization right?
Regarding the rapid pace of the current growth of legalization on the state-by-state basis, WealthManagement reports that it usually takes as much as two years for a cannabis market to start gaining traction in newly legalized states. Due to the enormous need for increased revenue that every state faces coming out of the pandemic, more states are streamlining the sanctioning process, even down to the municipality level, to expedite the flow of new tax revenue. The Future of the Cannabis industry 2021 – Part I
An Industry Buffeted by Controversy
Beginning in the '70's, Big Tobacco ignored warning signs that a crisis of far-reaching proportions would shake their industry to its foundation.  That crisis, the specter of secondhand smoke.  The tobacco industry has paid a high price for not addressing the issue effectively. Now, consumer advocates are beginning to put vapes under the same microscope – to determine any potentially harmful effects of secondhand smoke from the use of vaporizer devices.
And on March 8th a Colorado State University study, was published in Nature Sustainability. The study found that indoor cannabis cultivation is a major generator of GHG emissions. In just the state of Colorado alone the researchers at the university estimated that indoor cannabis grows emitted 2.6 million tons of GHG emissions annually. This accounts for 1.3% of the state's total GHG emissions. For context, coal mining in the state accounts for only 1.8%. These are issues that require addressing before the full potential of the bold predictions for the industry's future will be realized.
Industry Perspectives – The Upside
Susan Gunelius in Cannabiz Media provides this analysis:
It's safe to assume that cannabis sales will be driven by a handful of key states in the coming years. Based on estimated 2021 sales from the 2021 Annual Marijuana Business Factbook, the states with the highest legal cannabis sales this year will account for 28% of overall sales in the country:
California: Up to $5.7 billion
Colorado: Up to $2.5 billion
Illinois: Up to $1.9 billion
Massachusetts: Up to $1.7 billion
Washington State: Up to $1.7 billion
On the flip side, the five states with medical and/or recreational cannabis markets that are expected to have the lowest sales in 2021and account for just 1.6% of overall sales in the country are:
Iowa: Up to $6 million
North Dakota: Up to $13 million
Vermont: Up to $14 million
Washington, DC: Up to $21 million
Virginia: Up to $25 million
With new adult-use programs opening in states like New York and New Jersey in the coming years, it will be interesting to see how these numbers continue to evolve.
Founders Institute points out that the onset of COVID-19 quickly established cannabis as an essential business in most markets where medical marijuana is legal. This locked in the ability of cannabis to help people deal with the stresses and challenges of the pandemic. FI identifies the following trends affecting future growth of the industry:
Delivery is a hot market right now where cannabis is already legal, because consumers don't want to touch cash, or interact with their once over-the-counter 'bud tenders' in the same close proximity as pre-COVID.
Data analytics is increasingly important to cannabis. To see where the rapidly-developing industry is going, ERP (Enterprise Resource Planning) systems are becoming a necessity. Big developers have avoided the cannabis industry in the past, but will probably be coming in, and looking to acquire upstarts in the space. 
Point of Sale is hugely important to cannabis's transition through the COVID era. Developing APIs in a tech stack that position a cannabis payments or point of sale business for acquisition is smart opportunity. AI and blockchain opportunities on the contract and compliance sides of the business are also hot areas of interest, according to CEO of the Arcview Group Kimberly Kovacs. 
Edibles have now surpassed flower in terms of growth of products within the industry. There has been a marked decrease in vaping and smoking of flower since the onset of the pandemic, largely because COVID is a respiratory illness and so inhalation of cannabis is seen as less appealing now by consumers. 
New market segment growth is shifting older, towards the Baby Boomer generation, many of whom may be trying cannabis products for the first time. 
Impact of Canadian Pubco's
The major Canadian publicly traded companies enjoy a nationally legally market with less securities regulation constraints than in the U.S. This, of course, has given them greater access to capital to begin buying their way into the U.S. market through M&A transactions.  The recent acquisition by Canopy Growth (NASDAQ: CGC) of Wana Brands, the best-selling edibles brand for $297.5 million, and the merger earlier this year of Aphria by Tilray (NASDAQ: TLRY), are prime examples. This trend will continue to increase the capital flow into the U.S. cannabis industry to continue the fuel the explosive growth pundits are projecting.
Alternative Financing for Capital Constrained Industry
The projections previously cited point to 2021 becoming the most lucrative year in the history of legal cannabis in the U.S.  Along with this market growth is the ever-increasing volume of consolidation – M&A transactions in the industry. YTD 2021, over 144 transactions have been announced or closed, compared to 32 in the same period last year. The recent Trulieve/Harvest Health acquisition is seen by the industry as having more far-reaching affect than merely the size of the transaction. This deal between two of the largest most profitable publicly-owned MSO's proves that any cannabis operator is in play.
On another front, recent multimillion-dollar debt funding among cannabis industry leaders shows that debt as a capital source is a rational use of capital, not a sign of business distress. So, the rapid pace of legalization across the has opened up an entirely new lending market. For cannabis operators debt can play vital role in the capital structure of a company in order to preserve equity and to facilitate long term growth. Still the lack of federal legalization complicates the traditional lending model because bankruptcy is not an option and there is no consistency in state-by-state licensing and ownership standards. In this complicated, nuanced industry an experienced advisory team with specific industry experience is required to provide the value added in facilitating a debt transaction.
Investor Takeaway
With states seeing legalized cannabis raking in unprecedented revenues, and with the industry promise of jobs and investment opportunities, the pace of legalization across the country continues to accelerate. Because of increasing public acceptance of legalization and with cannabis operators being classified as essential businesses during the pandemic, new alternative sources of capital continue to drive industry growth. These prospects will only become more attractive to legislatures as the economic costs of the coronavirus pandemic impact state and local budgets. Public opinion has shifted decisively in favor of legalization. And with industry pundits and researchers projecting the potential of the industry to reach as high as a market size of $115 billion by 2030, the future of the cannabis industry continues to present exciting investment opportunities. There are clouds gathering on the horizon in the form of secondhand smoke and GHG Emissions concerns. Along with the lack of clarity of federal as well as state regulations being seen as potential speedbumps, cannabis is maintaining substantial growth. The smart money will always turn to advisory sources with extensive industry experience before making portfolio strategy decisions.
How We Can Help
At Highway 33 Capital Advisory we excel at structuring deals to provide access to capital while meeting client investment strategies in emerging 2021 opportunities with our core expertise in Cannabis along with other highly regulated markets in the fields of Pharma, Biotech, Healthcare, Agtech, Clean/ClimateTech, and CBD/hemp companies. We specialize in thoroughly vetted companies looking to drive growth and enterprise valuations through M&A, non-dilutive debt financing and/or capital investments ranging from $5M to $100M+.
Let's talk about putting the power of this expertise to work for you as a Sell-side or Buy-side client.