Software as a Service (SaaS) – where software providers host applications for customers, giving them access over the Internet – is another key industry that can't be overlooked in your investment portfolio.  Gartner Inc., the original technology industry research resource, estimates that profits of SaaS companies will reach $287.3 billion next year, yielding a CAGR of over 13%.  Why is that of such special significance?  With over 80% of all enterprise workloads now shifted to the cloud the service provider Better Cloud predicts that it won't be long before companies are running purely on SaaS soon. The Future of IT Services Delivery is Solely on SaaS
From revenue-management solutions to blockchain to secure-payment apps for high-risk industries, thousands of SaaS providers are disrupting the speed, flexibility and affordability of IT services delivery.  New entrants into the marketplace every day are challenging the three major brands, Microsoft, Adobe and Oracle, that dominate the industry.
Private and VC investment in the industry as measured by Pitchbook continues to expand the size of SaaS deals and the size of pre-money valuations.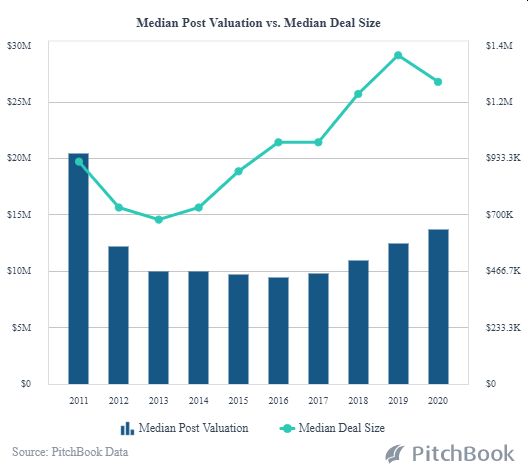 Navigating the investment opportunities in this vast and volatile market requires our team to stay abreast with the dizzying pace of rapidly changing industry trends.  We are now looking most closely at revenue generating companies that are leading the market in these trending segments:
Artificial Intelligence and Machine Learning
AI, itself, is an industry several sources report being worth $15.7 trillion.  Yes, that's "trillion," as AI optimizes business processes and, combined with Machine Learning, increases productivity and efficiency of repetitive tasks – presenting innovative options that enhance the speed and creativity of the human decision-making process.
Vertical SaaS
Vertical SaaS is cloud computing designed to provide high customization and targeted solutions for specific industries.  This brings a variety of benefits within their niche from software products tailor-made to suit their previously underserved needs.
Micro-SaaS
Here all the benefits of SaaS are condensed into packaged-sized units for focus on dedicated user bases within niche markets instead of a full SaaS enterprise product.
Brand Development
SaaS designed for creating a consistent brand narrative along all consumer touchpoints with a customer's brand.
API Solutions
Allowing customers direct access to apps in their own systems, which SaaS developers had left to third parties in the past, is now fertile ground for the rapidly growing number of startups providing Application Programming Interface.  These startups "Unbundle" full featured SaaS products in order to package software solutions for quick adaptation to customer enterprise platforms.
Mobile First
The companies that represent the highest potential are those that offer a Mobile interface because, true to the IT market in general, mobile devices are already surpassing their desktop counterparts. 
Guidance Into This Fast-Paced Territory
The basis of our vetting process before making recommendations to our clients is to look carefully at these key issues:
The Right Playing Field
The first step is an assessment of the product a company intends for the industry segments attracting the largest share of capital. The Future of IT Services Delivery is Solely on SaaS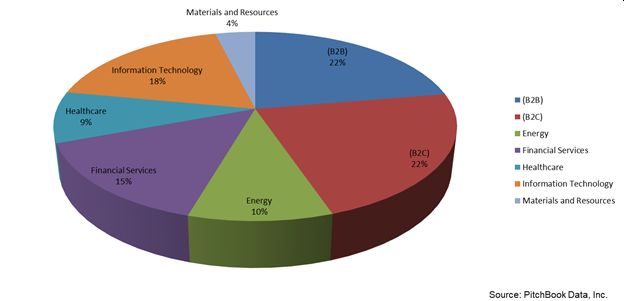 The Right Team
From executive management to developers and designers, does the team have solid experience in creating effective cloud-based software and understanding the key metrics behind operating successfully in the SaaS industry? 
An MVP
Do they have a Product – a product that started as a Minimum Viable Product (MVP) – a prototype with sufficient features to appeal to the needs of early adopters?  Have they taken the steps, in other words, to get the feedback for the most precise understanding of how their software solution will serve the needs of the intended target audience?
Customer Engagement
Does the SaaS solution created fulfill the technical and business requirements of the company while creating the best user experience?
Is It Scalable ?
From the companies we assess, the platform we seek is one that is most readily scalable. To provide the best customer service over time requires serverless architecture and a strong devops – continuous integration and delivery tools to increase the speed, quality and customer control of their tailored SaaS solution.  Too often we see cases where the SaaS software starts off strong, but lacks the resources to sustain quality as customer needs increase.
Key Metrics
Are metrics defined in the business plan for the company to follow the customer's use of the software?  Listening to customers is most vital in the software industry; and, competitive advantage can be established by approaching product development and improvement from a keen understanding of the user's perspective. The Future of IT Services Delivery is Solely on SaaS
Pricing Policy
Traditionally, the business model of SaaS companies was to offer flexible pricing structures focused, though, on adequately covering their own development and design costs as the foundation of the model.  Today, however, competition, industry saturation and the rapidity with which SaaS platforms can be developed has caused the shift for pricing models to be based on the needs of the customer.  We look for pricing structures that are based on customer metrics for more customer-centric pricing solutions.
The future of SaaS is clearly in improving not only business procedures, but also creating customer intimacy along their journey toward brand loyalty.  In the final analysis, of course, we are looking for value in assessing SaaS opportunities.  Value that is best represented by the software solution that meets customer needs on a sustainable basis and has the potential of being the most sustainable return until exit for our investors.
At Highway 33 Capital Advisory we excel at structuring deals to meet client investment strategies in SaaS and other IT segments as well as our core expertise with highly regulated markets in the fields of Pharma, Biotech, Healthcare, Agtech, Cannabis and CBD/hemp companies. These are thoroughly vetted companies looking to drive growth and enterprise valuations through M&A, non-dilutive debt financing and/or capital investments ranging from $5M to $100M+. Let's talk about putting the power of this expertise to work for you as a Sell or Buy-side client