From previous issues of The EDGE Briefing you recall the numbers we are reporting on the strength of the cannabis industry (a record $17.5B in legal sales in 2020 – a 46% increase from 2019). And now World Money Reports has tracked nearly $9 billion invested in the industry globally YTD, with equity raises in the U.S. up 19% over 2019, at $647 million, and debt raises in 2020 taking a huge jump over 2019, up 53% to $505 million.  M&A transactions are on the rise as SPACs are bringing substantial liquidity to maintain sales growth and provide cannabis companies with the competitive advantage of more quickly getting to market.  According to KMPG, SPACs in total raised a record $76.2 billion in 2020. In the cannabis industry Green Wave Advisors estimates that just as of July this year SPACs have raised more than $3.6 billion through IPOs, of which $1.8 billion has already been "de-SPAC'd" (meaning that capital raised by the SPAC has now been deployed in a qualifying transaction that has closed and the company invested in is now a publicly traded entity on its own). SPAC Activity in Cannabis 2021
Special Purpose Acquisition Companies (SPACs)
As you recall from our previous articles on this subject, although being around for decades as an alternative finance tool, SPACs, also called "blank check companies," are formed to raise money through an IPO specifically to buy another company. At the time of an IPO filing a SPAC needs neither existing business operations, nor even a stated target for acquisition. By the end of two years the SPAC must complete an acquisition (a "de-SPAC') or return all funds to all investors.  SPAC investors, therefore, have no idea into which company their money will be invested, requiring confidence in an experienced management team and/or sponsor.
SPACs engage underwriters and institutional investors before offering shares to the public. Funds cannot be disbursed except to complete a specific acquisition.  And, after the de-SPAC the acquisition is commonly listed on a major stock exchange.  Founding management team and sponsors typically invest in a 20% interest in the SPAC with the remaining 80% interest held by public shareholders of "units" of the IPO – a common share of stock along with a fraction of a warrant. All shares have similar voting rights.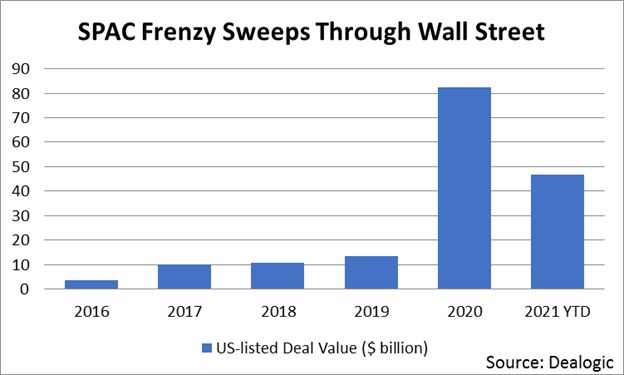 Recently in Seeking Alpha, Professor Aswath Damodaran of the Stern School of Business, New York University in an article entitled: The Rise Of SPACs: IPO Disruptors Or Blank Check Distortions? summarizes the current situation with SPACs in this manner:
In 2020, SPACs accounted for more than half of all deals made, in terms of dollar value, and SPACs are running well ahead of that pace in 2021.
In sum, SPACs are as much a reflection of the times that we live in, as they are a potential solution to the going-public problem.
In an ironic twist, the SPAC process, designed to disrupt the traditional IPO, may be seeing the beginnings of a disruption of its own.
After a thorough comparison of the IPO versus the SPAC process and results, Professor Damadoran states:
Put simply, the traditional IPO process takes too long, costs too much and leaves both issuing companies and investors dissatisfied, the former because the process takes too long and is too inefficient, and the latter because they feel that only a select few can partake at the offer price.
One of the unique aspects for SPACs, at this point in time, is that they provide forward-looking statements to investors; IPO companies are restricted from doing the same.
SPACs in the Capital-Constrained Cannabis Industry
The industry has matured to the point where major players are now focused on strategic acquisitions, efficient operations, and generating EBITDA.  With what has traditionally been timid PE investors and little to no participation by FDIC-insured bank lenders, cannabis companies were running out of options to raise capital for growth opportunities.  SPACs create a route toward access to capital that has previously been unavailable.
Interestingly, SPACs are playing a major role in Canada as well as the U.S. where a shakeout is forecast among public companies that will be forced to either merge for survival or face the prospect of bankruptcy. SPAC Activity in Cannabis 2021
SPACs allow companies to gain quicker access to liquidity. An IPO, the traditional approach to go public, can take up to a year to fully execute.  A SPAC, however, can shorten that process, negotiating and closing included, to just a few months.  So, in reality, SPACs do afford unmatched benefits over IPO's to both sponsors and targets.
Owners of smaller-size companies can gain greater access to funding, often enjoying a significantly higher selling price than private equity transactions, and receive what amounts to an expedited IPO process by an experienced acquisition management team.
Sponsors can not only receive a high rate of return relatively quickly from a de-SPAC, but can also be guaranteed a large war chest to invest in targets, required in a short period of time.
In addition, a study by the Warrington College of Business at the University of Florida found that it can be shown that IPOs, in general, very often underdeliver. It was found that in the last decade IPOs were underpriced by as much as 21%.  From their calculations an average of $37M went unrealized.
While SPACs have the advantage of abbreviating the IPO process they may add dilution for shareholders that are associated with sponsor ownership, warrants and rights.  And the U.S. SEC, as you have probably read, is concerned about transparency in the SPAC process. SPAC sponsors have come under government scrutiny for a disproportionate share of a deal's economics.  Investors, though, have the potential to benefit from outsized returns, as you will see in some of the valuation ratios reported below.  And SPACs in cannabis yield a more favorable risk/reward profile than other industries because of its hockey stick growth trajectory.
Recent SPAC Activity In Cannabis
SPAC activity in the cannabis industry continues at a rapid pace even during the doldrums of summer primarily due to the basic reason cannabis firms choose this route to access public funding.  As long as cannabis remains a Schedule I substance by the U.S. Drug Enforcement Agency firms in this industry have no other access to the public markets.  Here is some of what we have seen lately in SPAC transactions in cannabis: SPAC Activity in Cannabis 2021
Seeking Alpha reports that the SPAC Silver Spike Acquisition Corp. will take Weedmaps public. Weedmaps is a widely use cannabis industry tech resource that provides dispensary locations and menus as well as other industry information. The firm was valued at $1.5 billion at an estimated $10 per share price, but early trading was at $24 per share which would equate to a $3.6 billion market cap. That huge valuation, the equivalent of 17x 2021 revenue, made Seeking Alpha a little hesitant about the stock at this time.
Last week Merida Merger Corp. I announced the signing of a deal to acquire the cannabis industry information source Leafly. Leafly boasts of over 120 million annual visitors to their site and >10 million monthly active users. Reed Smith LLP reports that the valuation for Leafly was calculated as 5.9 x 2022 estimated revenue. This, they say, is within the range they have been seeing in cannabis M&A recently.
The Street reports that Century City-based private equity firm Ceres Group Acquisition Corp. has made a $1.9 billion acquisition to take multistate operator (MSO) Parallel public. Ceres is reported to have brought $120 million to the deal and $225 million of Private Placement in Public Equity (PIPE) investment was also included for a total of $430 million at closing.
(More about the significance of PIPE in de-SPAC transactions is reported below.)
In March it was announced that Cresco Labs CEO, Joe Caltabiano, had moved on to Choice Consolidation Corp.(NEO: CDXX.UN.U) with the stated intention of building a best-in-class cannabis operator. The Choice Consolidated SPAC began trading on the NEO exchange in Canada in February having raised $150 million in its initial offering.
And, 420Intel.com reports that UK SPAC Plc, a London-listed shell company, had recently agreed to a reverse takeover with Hellenic Dynamics, a European medical cannabis cultivation company in a deal valued at USD 62.5 million. According to 420 Intel:
The transaction combines two of the hottest trends in public markets over the last few years: SPACs and cannabis. Both corners of the market have attracted huge amounts of investor attention, as well as some concerns about hype and froth.
Choosing the Cannabis Target for Acquisition
Typically, the hurdles facing a cannabis SPAC are the same faced by traditional M&A transactions.  In cannabis the SPAC will need to comply with state and municipality licensure requirements before closing.  And additional rules will need to be followed when applying for a listing on a stock exchange.  With the reluctance of U.S. exchanges to list U.S. holders of cannabis licenses, major transactions in the industry pre-SPACs have transpired only on the Canadian exchanges.
What will the SPAC look for as an ideal cannabis target?  Here are key factors that are, in fact, similar to any cannabis M&A transaction: SPAC Activity in Cannabis 2021
Knowledgeable Shareholder Base.
Critical for a knowledgeable shareholder base to understand the business/technology being acquired.
Management with Proven Operational Experience.
Preferably operational experience negotiating through the compliance, regulatory and financial issues specific to the cannabis industry.
M&A Strategy Fulfilling the Vision for Future Growth.
Precise Financials and Attainable pro formas.
This is vital valuation of assets the merger provides.
Planned Integration of Company Cultures.
Maintaining employee retention when a deal occurs is always critical. And ongoing policies that promote ESG (Economic, Social and Governance) issues are becoming a standard requirement in current M&A transactions.
SPAC Investor Considerations
The capital and legal restraints the cannabis industry has experienced have shown the flaws in traditional approaches for a new industry to raise funds. Particularly in the case of the banker-centric IPO process.  SPACs appear to be the answer for a better route for cannabis companies to follow to access public markets.  And, SPACs are thriving in the hot marketplace cannabis investing has become.  Yet, IPO's have experienced hot and cold market swings.  Is it inevitable, as some predict, that SPACs/Cannabis SPACs will experience the same cycles? SPAC mergers often depend on funds coming from Private Investments in Public Equity (PIPE) deals. PIPE investors often step in to replace capital from IPO investors who opt out of a SPAC merger.  Some have voiced the concern that there may not be enough resources to go around for all the potential SPAC deals as funding from PIPE investors dries up.  As the SEC is requesting, likely improvements will be forthcoming in the SPAC process in order to more tightly follow the IPO disclosure process, and reduce the deal underwriting costs, which often run as high as 5 to 6 %.
Investor Take Away
In 2021, coming off a year where more cannabis was consumed than ever before – a record $17.5B in legal sales – a 46% increase from 2019, SPACs are bringing substantial liquidity to maintain sales growth and provide cannabis companies with the competitive advantage of more quickly getting to market.  According to KMPG, SPACs in total raised a record $76.2 billion in 2020. In the cannabis industry Green Wave Advisors estimates that just as of July this year SPACs have raised more than $3.6 billion through IPOs, of which $1.8 billion has already been "de-SPAC'd." In many cases this SPAC merger process can take place in a substantially shorter period of time than the traditional IPO timeline – proving to be the only route available to U.S. cannabis companies to access public markets. Yet IPO's have experienced hot and cold market swings. Is it inevitable, as some predict, that SPACs/Cannabis SPACs will experience the same cycles? In the final analysis, the most important factor in decisions about a SPAC investment is the caliber and trust embodied in the sponsor and the senior management of the SPAC; and the seasoned advisors who can assist with critical due diligence required to make a sound investment. SPAC Activity in Cannabis 2021
How We Can Help
Once the vetting process is completed our contact list numbers in the tens of thousands of PE firms, MSOs, Pubcos, HNW, Family Offices and other qualified investors. They are contacted, sign our Non-disclosure agreement, are supplied with an Executive Summary about the opportunity, and invited for a full presentation of an informative pitch deck and financials. SPAC Activity in Cannabis 2021
At Highway 33 Capital Advisory we excel at mitigating investor risk through extensive due diligence and structuring SPAC transactions to meet client investment strategies in emerging 2021 opportunities – with our core expertise in Cannabis along with highly regulated markets in the fields of Pharma, Biotech, Agtech, Clean/ClimateTech, and CBD/hemp companies. We specialize in thoroughly vetted companies looking to drive growth and enterprise valuations through M&A, non-dilutive debt financing and/or capital investments ranging from $5M to $100M+. SPAC Activity in Cannabis 2021
Let's talk about putting the power of this expertise to work for you as a Sell-side or Buy-side client.