In previous EDGE Briefings we have provided in-depth assessment of the capital flowing into the cannabis industry, particularly mergers and acquisitions transactions. This week's article provides a view of the impact M&A deals are having/will have on Pharma-Life Science (PLS) in 2021. M&A in Pharma – Life Sciences 2021
The Market
2019 was a record-setting year for M&A in Pharma in both deal volume and deal value.
In 2020, the market action shifted to IPOs with a quiet first half of the year for M&A.  Then in Q3 the pace of M&A transactions picked up dramatically led by the purchase of Immunomedics by Gilead Sciences, a $21 billion deal.  In total in Q3 and Q4, 219 deals were announced, $173 billion in total deal value. While impressive, PwC calculated that total PLS deals for the full year 2020 dropped nearly 50% in value compared to 2019.  Now PwC projects that M&A transactions in 2021 will grow to between $250 and $275 billion. From the nature of the targets during the past two years it appears that oncology and infectious diseases will continue to dominate biopharma M&A deals. The predicted growth in this second half of 2021is based on the facts that major Pharma companies have strong balance sheets and capital is readily available to be deployed through M&A. In addition, PLS companies continue to show strong valuations as SPACs continue to gain a foothold as the M&A alternative to IPOs. SPACs, in fact, accounted for the majority of deals in the PLS sector.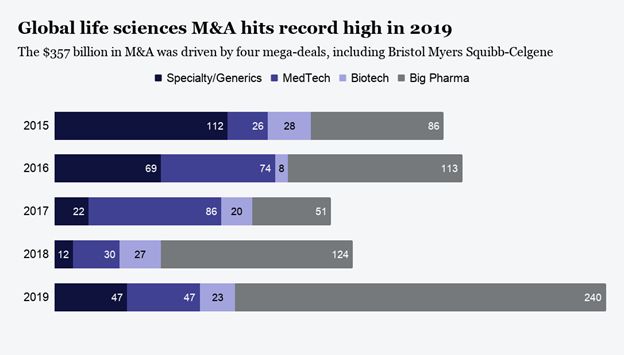 What's Driving M&A in Pharma-Life Sciences:
PwC states that (PLS) industries have two main drivers of value: innovation in treatments, and enhancing the customer experience and ecosystem – focusing on building specialty platforms and moving away from being pharma conglomerates. Capital is readily available through such fresh sources as private equity firms, infrastructure investment funds and family offices.  Private equity fund managers with ample reserves are under pressure to find good investments. Globally, China's economic plan for 2012 – 2025 emphasizes biotech acquisitions.  While U.S. dealmakers a placing greater and greater emphasis on Environmental, Social and Governance (ESG) issues when selecting future deals.
Perhaps most significant, though, is the adoption of digitalization advances affecting everything from patient-care delivery and practice management to the development of advanced precision therapeutics. Digitalization is causing the industry to reexamine business models and to seek out cross-sector M&A opportunities.
Pharma business models are changing to become more patient-centric. Traditional long-term strategies are becoming more focused on specialization. M&A is being used strategically to fill gaps in innovation.
Many of these M&A transactions are driven by the digitalization of all sectors in BioPharma, particularly bring consumer focused digital companies into PLS. Digital technologies are rapidly driving systemic change. This transformation is seen in the increasing patient-centered diagnostics and therapeutics outcomes that Millennials, on one end of the spectrum, and the aging Baby Boomer population, on the other, are demanding. And, in R&D the top industry priority is striving for more cost efficiencies as this expense is growing faster than the rate of market growth.
AI – As the complexities grow in clinical trials in product development, the industry is turning to AI to expedite the timing of the development process in order to satisfy demands for more sophisticated medications.  For investors this means improved operational and development transparency and protection against the loss of vital regulatory substantiation data. For R&D based companies this means having the advantage of optimizing best patient insight data in identifying rapidly the most appropriate candidates for clinical trials.
The Cloud – Cloud technology facilitates this integrity of data by bringing the potential of greater, more consistent compliance with good practice quality guidelines. Of particular advantage to early-stage startups, running applications through the Cloud eliminates the need for expensive computer systems, narrowing the focus of company resources to project development and clinical testing.
Cyber Security – Transmission of data into the cloud storage, however, brings with it the potential of putting patient records at risk.  This has led to the rapid rise in cyber security advancements. M&A in Pharma – Life Sciences 2021
The general consensus is that PLS companies need to build digital capabilities now or risk being left behind.
The life blood, so to speak, of PLS being the ownership of Intellectual Property (IP), is driving companies to acquire targeted acquisitions with IP and a strong, secure supply chain. M&A strategies are being employed to use IP protection to delay/block competitive innovation being first to market.
M&A is now becoming so much more prevalent in PLS is also attributable to the search for reduced drug prices while developmental costs keep rising. In this climate, more major players are pursuing the path of finding lower-cost generics and biosimilars through potential acquisitions.
Why M&A is essential for Growth
In the case of megadeals, consolidation between manufacturers can provide capital to fund the increasing expense of new drug R&D. In previous EDGE briefings we have cited estimates that Biopharma companies typically invest from $2 to $4 billion annually to keep a new product development program competitive. The challenge of raising revenue to cover this investment in the face of price pressure, product failures, and challenging/changing regulations is forcing manufacturers to seek M&A for partners that bring new revenue streams or substantial cash reserves. This is also leading to consolidation among Contract Research Organization (CROs) and Contract Development and Manufacturing organizations (CDMOs). More demanding requirements across the full product development cycle are coming from pharmaceutical manufacturers that are attempting to simply their supply chain by reducing the number of outsourcing partnerships. 
Changing Nature of M&A Deals:
Last year, blockbuster deals in the segment included the $34 billion acquisition of medical device maker Medline Industries by the investment groups Hellman & Friedman, Blackstone Group, and The Carlyle Group for one; and the $21.9 billion purchase of PPD, Inc. by Thermo Fisher Scientific  as another.  More prevalent, however, were many smaller deals exemplifying the trend stated above in this article where smaller strategic acquisitions of specialty bolt-ons were pursued – GenMark Diagnostics being acquired by Roche for $2 billion and Five Prime Therapeutics purchased by Amgen for $1.9 billion are prime examples.
While the largest pending deals this year is AstraZeneca's $39 billion bid for Alexion Pharmaceuticals, Inc.  and the potential $96 billion bid by AstraZeneca for Gilead Sciences, Inc., this year the trend toward the acquisition of specialties in rare diseases continues. The two biggest deals in that regard being Jazz Pharmaceutical's $7.2 billion acquisition of GW Pharmaceutical's for cannabis-based treatment of rare epileptic seizures, a drug that is already on the market, and Horizon Pharmaceutical's $3 billion buyout of Viela Bio for its approved drug treatment for a disease attributed to the cause of vision loss.
Other major transactions from Q1 include Boston Scientific's $1.2 billion acquisition of Preventice Solutions, developer of remote cardiac monitoring; Merck's announced $1.9 billion acquisition of Pandion Therapeutics, for its autoimmune therapy candidate; and Phillips acquisition of the medical device manufacturer Capsule Technologies for $635 million.  
Inhibiting Factors:
As in all highly regulated industries like PLS investments need careful scrutiny. A closely watched factor that could impact the accelerating pace of M&A transactions grows out of the concern about drug pricing.  More extensive antitrust reviews are promised by the Federal Trade Commission (FTC), the EU, and the attorney generals in certain states with the key focus put on drug pricing. This is not necessarily the most pressing issue that these agencies will be dealing with in the short term. But, this remains a key factor in investor scrutiny of the industry.
Deloitte Insights – Tracking Digital Transformation  points out that innovative therapies, like gene and cell therapies, come at such a high price that public and private payers are not likely to absorb the costs.  These developments coming at a time of heightened policymaker scrutiny signals the likelihood of drug manufacturers and PLS startups moving beyond just selling therapies to entering the business of healthcare financing in order to bring innovation to drug pricing and payer reimbursement.
Guidance Toward the Right Choice in PLS Investing
For our investor clients, here is the advice we provide as they assess the plethora of healthcare opportunities that cross our desks.  These are some of the aspects of basic due diligence that simply let's the investor know exactly what is being purchased. 
The technology – critical, naturally, to thoroughly understand the PLS technology and its place in the client's investment strategy.
Pre-Money Valuation – This is essential for the investor's understanding of the equity stake being bought into.
The team – how comfortable is the investor with the caliber and experience of the management team and how convincing is the team's dedication to change/ improve people's wellbeing? And, are they resilient?
Credible funding plans – is there a clear and attainable path toward profitability?

Beyond the allure of the pro forma, what are the obligations and liabilities being assumed.

Risk Assessment – what is the type of risk the investor is willing to take?
Timing – is investment prudent now before the onset of future risks?
Exit – understand the company completely from their patent protection to the acumen of their management team to accomplish their exit strategy.
Legal advice – consult with a law firm skilled in structuring legal documentation associated with the level of risk of the investment being contemplated.
A Competent Investment Advisory – preferably an advisory experienced in PLS that is thoroughly familiar with the industry trends that will affect the future ROI.
What It Takes to Make It Over the Finish Line 
The Vision of the Parties

All stakeholders to the M&A transaction must have a clear vision as to the direction toward profitability the marriage of the parties will take. This requires good advice about the fundamental legal and business issues that will arise and the judgement calls that will have to be made during the process to keep a clear vision for the post-closing entity.
Commitment

Once the decision is made that a buyer's objectives are better served by acquiring rather than taking the path of organic growth, all key management team members must fully buy into that direction regardless of hurdles that will arise along the way.
Culture – The Critical Role it Plays in Realizing the Value in an M&A Deal

Successful transition requires comprehending into to very essence of the deal the shared values and behaviors in Environmental, Social and Governance Policy (ESG) that shape employee experience, interaction and morale within an organization. Understanding the Culture Equation avoids differences that are likely to become too hard to manage after the transactions is completed.
For our clients, once the vetting process is completed the outreach process begins to all potential qualified acquirers.  Our contact list numbers in the thousands of PE firms, MSOs, Pubcos, HNW, Family Offices and other qualified investors. They are contacted, sign our Non-disclosure agreement, are supplied with an Executive Summary about the opportunity and invited for a full presentation of an informative pitch deck and financials. M&A in Pharma – Life Sciences 2021
Investor Takeaway
The PLS industry has become on of the most active for M&A transactions. Coming off the down year for M&A transactions in 2020, industry sources predict 2021 to will be a banner year in the race for innovative drugs. Global Data confirms that M&A deals are the core driver of growth in PLS accentuated by COVID-19 innovations.  The challenge of raising revenue to cover huge product development cycle investment, to keep a pipeline of go-to-market candidates, price pressure, product failures, and challenging/changing regulations are forcing manufacturers to seek M&A for partners that bring new revenue streams or substantial cash reserves. Digitalization and AI – that are already changing business efficiencies, patient treatment and medical data security, and expediting the development and clinical testing of new drugs – are causing the industry to reexamine business models and to seek out cross-sector M&A opportunities. Transactions in Q1 have already shown that investors are motivated by the momentum established at the end of 2020.  Like all investments, though, following a thoughtful due diligence process aided by experienced advisers is recommended for this rapidly evolving, highly regulated industry. M&A in Pharma – Life Sciences 2021
How We can help
The key is to treat M&A as another business activity and provide expert support, either in-house or through a third-party service. A dedicated team with knowledge of not just regulatory requirements, but standardized processes and efficient approaches to integration, can facilitate mergers, acquisitions, and divestments throughout their full life cycles. This type of multifunctional team should be able to work with all of the different individuals and groups impacted by transactions to minimize disruptions and speed the process. M&A in Pharma – Life Sciences 2021
At Highway 33 Capital Advisory we excel at structuring deals to meet client investment strategies in trending segments like BioPharma as well as our core expertise in highly regulated markets that include; PLS, Cannabis, CleanTech, FinTech CBD/Hemp, SaaS, and ancillary technology companies.  We provide investors with thoroughly vetted companies looking to drive growth and enterprise valuations through M&A, non-dilutive debt financing and/or capital investments ranging from $5M to $100M+. M&A in Pharma – Life Sciences 2021
Let's talk about putting the power of this expertise to work for you as a Sell-side or Buy-side client.