Investor Takeaway Hot Cannabis Markets for Strategic Investors 2022
While stock market performance for publicly traded cannabis companies has been declining steeply since Q1 2021, and even more so into 2022, substantial strategic investment in cannabis operators continues unabated. There were over $10 billion in capital raises in first three quarters last year. So far into the new year over $476 million in cannabis M&A transactions have been recorded. And more MSOs with strengthened balance sheets are turning to debt rather than equity financing. In that supercharged environment this week's EDGE Briefing summarizes the potential in the markets of greatest interest to our network of strategic investors as a guide for determining the best fit for their portfolio investment strategy. Hot Cannabis Markets for Strategic Investors 2022
The Industry Into 2022
We all know that it has not been a pretty picture for investors in cannabis publicly traded companies for several quarters. Since Q1 2021 cannabis stock prices have continued their slide, while the general trend of the S&P 500 has been upward. Cannabis stocks have declined by another 20% since the first of the year, while the dip for the S&P 500 has been only 5%. Hot Cannabis Markets for Strategic Investors 2022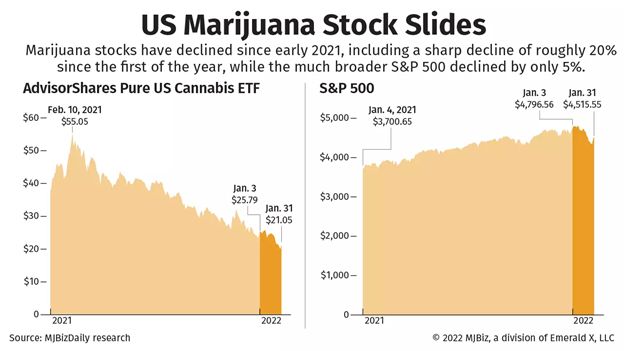 The consensus among analysts is that the decline is still tied to fading expectations among the general public that federal legalization will happen anytime soon.  Why that matters to stock performance is that the industry will continue to have limited access to capital markets and higher taxes and higher costs of debt than traditional businesses.  Adding to this is the declining rate of sales the industry has experienced since the second quarter 2021 when the COVID-19 stimulus is given credit for the sales boost.  Will this decline and the specter of inflation continue to slowdown the industry and diminish stock value? Most analysts point out the substantial difference between the current market and the significant market pull back from cannabis stocks in 2019. That is, that now these companies have restructured their balance sheets emphasizing EBITDA over often irrational market share growth. Hot Cannabis Markets for Strategic Investors 2022
Strategic Investment Outlook
Nevertheless, strategic investment in the industry continues unabated. M&A activity in 2021, as we have previously reported, dwarfed the volume of transactions in 2020. And, Viridian Research reports that there have been over $476 million in cannabis M&A transactions so far since the first of the year.  (One of our own negotiated transactions is included in that total already this year.) Regarding debt funding, the $425 million debt raise at 8% interest by Curaleaf at the end of last year substantiated the trend away from equity to debt financing due to the major MSOs cleaning up their balance sheets and solidifying their market expansion.
In December New Frontier Data in partnership with FTI Consulting published a cannabis industry study, Cultivating Capital: Cannabis Finance & Investment, which found that since 2019 capital raises in the cannabis industry have totaled $25.6 billion, with $10.1 billion in the first three quarters of 2021 alone. The report attributes this to "…reflecting recent investment in product innovation, improved therapeutic applications and technology-enabled solutions commensurate with a mainstream industry." Hot Cannabis Markets for Strategic Investors 2022
Hot Markets for Strategic Investment in 2022
In that continuing supercharged environment, here is a summary of the markets generating interest among our network of investors into 2022.
New Jersey
Among the newcomers to the legalization of recreational use cannabis, New Jersey stands out for its potential, particularly as it stays ahead of developments at its big neighbor, New York. Recreational adult-use was legalized in November 2020, with a statutory mandate of launching this phase of the state's cannabis program in February 2022.  Delays in the legislative process have now pushed that date forward to March 15, 2022.  When rec sales finally begin, analysts are still predicting the state can reach $1 billion in annual cannabis sales by 2024. This may well depend, however, on just how quickly New York implements its own adult-use legalization. A strong indication of just how much interest the state is attracting from MSOs is the sizzling hot market for retail and industrial cannabis real estate ahead of the opening of rec sales. Hot Cannabis Markets for Strategic Investors 2022
According to attorney Bill Caruso of Archer & Greiner law firm quoted in NJ Advance Media:
 "The governor and his administration are working to ensure there are opportunities for everyone in the emerging cannabis industry — opportunities for large multistate operators and small-craft cannabis entrepreneurs, including and in some cases prioritizing, women, minorities and ex-offenders.  2022 is shaping up to be a huge year for cannabis in New Jersey."
Massachusetts
Since 2019, when the Massachusetts Cannabis Control Commission enacted new legislation that expanded cannabis business opportunities for adult-use dramatically, WCVB TV reported at the end of last year that the adult-use marijuana market has growth to a total of $2.5 billion in sales in a little more than three years. That legislation in 2019 resulted in 724 licenses being awarded that included 298 retailer, 221 cultivator, 170 manufacturer, 17 microbusiness, 9 transporter and 9 testing laboratory licenses, requiring all medical marijuana operators to be completely vertically integrated. Subsequently Massachusetts regulators eased that requirement and have licensed more than 160 adult-use retailers and by the end of 2021 the state had approved and additional 900 adult-use marijuana applications.
A development we are watching is that cannabis companies have a heavy tax burden, an excise tax of 10.75% and a state sales tax of 6.25%. However, now that major MSOs are descending on the state, and as the state takes advantage of being far ahead of its surrounding neighbors, more expansive growth will accelerate after the state's initial slow start.
Arizona
In November last year the Arizona voters approved adding recreational use to the state's already decades old medical use program. By the end of 2021, medical marijuana and recreational cannabis sales reached a total of $1.23 billion.  And that, according to MJBizDaily, includes $528 million in recreational use sales. October, in fact, set a record $58 million with the state benefiting from "transaction privilege taxes" (sales taxes applied to medical marijuana sales) of nearly $5 million and another $9.7 million from the excise tax added to the sale of marijuana products for recreational use.
With the limited number of licenses authorized by the state, ownership of a license in Arizona can be worth millions. That is generating license sales with large MSOs positioning themselves for their assault on the market. The record-setting $425 million debt transaction by Curaleaf, at an 8% interest rate, is an example of a major MSO planning for leverage in the state. The likely result from this vast potential in Arizona being in the hands of such a few licensees is that more MSOs and others will be looking to buy their way in.
Michigan
MJBizDaily reports that in its second year Michigan's adult-use sales doubled in 2021 with combined adult-use and medical marijuana sales reaching $168 million. This puts Michigan ahead of cannabis sales in Colorado (with November sales in that state of $158 million), putting Michigan on a path for a final sales total for the year to exceed $1.5 billion, This places the state second only to California in total sales in the U.S.
A key development in Michigan in 2021 was the purchase of indigenous operator Gage by MSO TerrAscend in a deal worth $545 million. This marked the beginning of large MSO's consolidating the rapidly growing Michigan market. The challenge and the immense opportunity in the state stems from the fact that Michigan's 1,764 municipalities have the final decision as to how many and what types of licenses are granted in each jurisdiction. In the case of adult-use, only a little over 100 municipalities have opted-in up to this point in time. This opens a vast potential for business development throughout the state.
Pennsylvania
The state has one of the fastest growing cannabis sales growth rates among its 681,000 medical marijuana patients. This appears to be the largest patient base in the U.S. The state's limited license structure allows one company to open as many as 15 dispensaries through five dispensary permits. (Three storefronts are allowed per dispensary permit.) Six storefronts are allowed per a vertically integrated licensing. This limited license appeal and the abounding growth of the Mid-Atlantic market is seeing local cannabis operators selling out to large MSOs. Major MSOs already active in the state are Chicago-based Green Thumb Industries, Cresco Labs, TerrAscend, Trulieve and Verano Holdings.
Governor Tom Wolf, a Democrat, has advocated for adult-use of marijuana in Pennsylvania, but Republicans control both chambers of the Legislature, so legalizing recreational marijuana — unlocking an estimated $100 million to $200 million in new tax revenue, as reported in the Pittsburg Post-Gazette — has stalled to this point in time.
Illinois
Illinois ranks as the 5th largest state in the U.S. with its 13 million residents. The state began a medical marijuana program in 2013 and has built a patient base of over 150,000. Then, in January 2020, the state legislature legalized recreational use. The interesting significance about this is that Illinois was the first state where adult-use legalization was initiated and implemented by the state legislature rather than by voter initiative. As a result, from zero in early 2020 the state surpassed $1 billion in total adult-use revenue in mid-year 2021.
While Illinois is primed for private investors and M&A opportunities, a tax rate of 41% on certain adult-use products may be inhibiting the real potential in the state. And slowing the growth of the market has been legal battles over the issuing of new retail licenses to expand distribution beyond the medical marijuana operators.  These operators were given first approval for adult-use sales. The easing of legal entanglements has attracted large MSOs now investing heavily in the state. Ayr Wellness Inc., a vertically-integrated MSO, has acquired Herbal Remedies Dispensaries LLC, a licensed operator in Illinois since 2013. Parallel, one of the largest privately held MSOs has acquired Windy City, a leading operator of adult-use and medical cannabis dispensaries in the state, in a cash and stock deal for the dispensary holdings of Windy City's. Late last year MSO Ascend Wellness Holdings brought the popular California pre-roll Lowell Smokes brand of products into the Illinois market.
Maine
Now into its second year of adult-use sales, Maine reached nearly $60 million last year, according to data released by the Maine Office of Marijuana Policy. This is a rapidly growing complement to the state's $250 million medical marijuana sales in 2020. Total sales into Q4 last year exceeded the previously projected $300 million for that period.
In a state where tourism, 12.1 million visitors, accounted for an economic impact of $8,968,595,900 in 2020, this aggressive growth trajectory is expected to be maintained as the state now has 171 stores, 77 manufacturing facilities, 159 cultivation sites and two additional labs in various stages of the approval process. The opportunity, as yet only 47 of the states 500 municipalities have opted-in to adult-use sales, a total of 29% of Maine residents. In Portland, Maine's largest market, there are currently 16 active dispensary licenses with another 24 conditional licenses pending. A ballot measure that passed in the state last November makes it easier for municipalities to opt-in to adult-use sales. This market appeal has attracted the attention of major MSOs with the first, Curaleaf, purchasing indigenous operator CR Holdings for $850 million last July.
Connecticut
Connecticut can't literally be classified as a limited license state for adult-use, but it will start awarding licenses this month on a limited lottery basis for general and social equity licenses. The significance of this small state is that it is likely to get its adult-use program started sooner than it large neighbor, New York.  That has led MJBizDaily to project adult-use sales to reach $250 million in the first full year and $750 million annually by year four. The start dates for the first lottery 90-day application period are listed below.  A second lottery is anticipated by mid-year.
Cultivators in disproportionately impacted areas: Feb. 3 (nonlottery)
Retailers, 12 licenses: Feb. 3
Micro-cultivators, four licenses: Feb. 10
Delivery services, 10 licenses: Feb. 17
Hybrid retailers, four licenses: Feb. 24 (permitted to sell to medical marijuana patients as well).
Food and beverage manufacturers, 10 licenses: March 3 (incorporates THC into food and beverages).
Product manufacturers, six licenses: March 10
Packagers, six licenses: March 17
Transporters, four licenses, March 24
According to state Department of Consumer Protection (DCP) Commissioner Michelle Seagull, "The initial number of available licenses is not a cap, but a starting point for opening the adult-use cannabis market in an effective, measured and thoughtful way,"
The DCP states that it will hold multiple lotteries on an ongoing basis. DCP will announce the number of available licenses before each application round.
New York
The Government of the State of New York prides itself on the innovative approach being taken to protect small community businesses to enable them to compete with the giant MSOs when they start arriving. With programs that see half of all licenses going to those marginalized communities most damaged by the War on Drugs, and other innovations designed to remove the stigma of the use of cannabis, New York has structured its inclusive legislation to provide what is describe as creating the healthiest cannabis markets in the U.S. Yet, as the publication The City describes it, while NYC has opted-in, adult users will still be "waiting a while to inhale." With bureaucratic delays and the resignation of advocate Governor Andrew Cuomo, the potential volume of rec sales continues to be pushed forward to later in 2022.
The legislature set the deadline of December 31, 2021, for every municipality to decide whether they will opt-in or opt-out of recreational use cannabis operations in their jurisdictions. Those that do not opt-out by then will be consider as having opted-in by decision or by default. The count going into the EOY 2021deadline is that of the 1,500 municipalities, 572 have rejected at least one the categories of licensing of rec operations, while 272 have said "yes" to one or more of the licensing option alternatives. This compares to 70% of jurisdictions in New Jersey that opted-out of licensing category options they faced.
Obviously, interest is piqued in the entire cannabis industry as this drama unfolds.
Rhode Island
Well, once again Governor Dan McKee has included a proposal for legalizing adult-use marijuana as part of his annual budget.  Rhode Island's problem, as reported by Marijuana Moment from the wording in the budget proposal:
"Regional and national shifts in cannabis policy have increased access to legal cannabis and marijuana products for Rhode Islanders in other states, the sale of which benefits the residents of the providing state while providing no funds to the State of Rhode Island to address the public health, safety and welfare externalities that come with increased access to cannabis, including marijuana."
All eyes are on the legislators now who have engaged in debate for months trying to reconcile competing proposals from the House and Senate to finally agree on the adult-use policy.
And then there are California and Florida
Reporting on these states requires a separate article devoted to their enormous potential fraught with frustrations. California, even with its immense sales and its tax revenues, revenues that are higher than the total cannabis sales of any other state (measured by New Frontier Data from September 2019 to August 2021, California raised $2.3 billion in tax revenue from $9.1 billion in sales), still underperforms relative to every other state for revenue on a per capita basis. Florida meanwhile, the third largest state in the U.S. with the fourth largest economy has only 22 medical marijuana licensees. Both states will be the subjects for future discussion.
Finding The Right Fit for Your Investment Strategy
What we have concluded is that 2022 offers an array of opportunities in most existing and emerging cannabis states across the country.  What we advise our investors as they assess the market in which they see as the most advantageous boils down to this:
Finding the right fit for your strategic investment portfolio, or the correct way to appeal to a source for your growth funding, comes down to clarifying the investment needs and objectives of all parties, determining real value in the business by calculating a well-substantiated valuation, and matching the right investors with the right funding opportunity – the right operators whose objectives and scalability are a fit for investors' portfolios.
Investor Takeaway
While stock market performance for publicly traded cannabis companies has been declining steeply since Q1 2021, and even more so into 2022, substantial strategic investment in cannabis operators continues unabated. There were over $10 billion in capital raises in first three quarters last year. So far into the new year over $476 million in cannabis M&A transactions have been recorded. And more MSOs with strengthened balance sheets are turning to debt rather than equity financing. In that supercharged environment this week's EDGE Briefing summarizes the potential in the markets of greatest interest to our network of strategic investors as a guide for determining the best fit for their portfolio investment strategy.
How We Can Help
At Highway 33 Capital Advisory we excel at structuring deals to meet client investment strategies in emerging opportunities with our core expertise in Cannabis along with other highly regulated markets in the fields of Pharma, Biotech, Healthcare, Agtech, Clean/ClimateTech, and CBD/hemp companies. We specialize in thoroughly vetted companies looking to drive growth and enterprise valuations through M&A, non-dilutive debt financing and/or capital investments ranging from $5M to $100M+.
Let's talk about putting the power of this expertise to work for you as a Sell-side or Buy-side client.