There is no denying the explosive growth of the cannabis industry. From a study in May the Digital Journal reports that a year ago, the global legal cannabis market was valued at USD 17.5 billion. In 2027, the market value is predicted to reach a staggering USD 65.1 billion. Predictions like these are attracting investments into this previously capital- constrained industry at a record pace. Through May, capital raised in the cannabis industry totaled over $6.6 billion, compared to only a little over $2.3 billion during that same period in 2020. The industry is, in fact, transitioning – from its volatile beginnings just a few years ago to becoming more like a traditional CPG marketplace. Hemp-CBD Investment Potential
For cannabidiol (CBD), the global CAGR is predicted by Global Market Insights to be a breathtaking 52.7% in a market size that exceeded USD 2.8 billion in 2019 and could climb as high as USD 89 billion in 2026.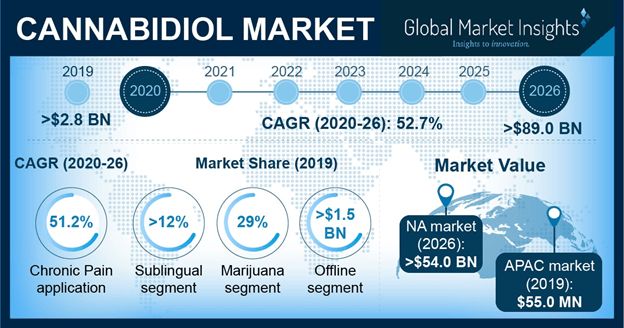 The pace of that market growth is substantiated by other industry sources. Grand View Research in its latest cannabinoid market size report found the global cannabidiol market size valued at $2.8 billion in 2020. Their forecast is for the market to expand at a CAGR of 21.2% from 2021 to 2028. The major factor to which they attribute this growth is the demand for cannabidiol for health and wellness purposes and the rising acceptance and use of products due to the approval of the Farm Bill in 2018. Hemp-CBD Investment Potential
An even rosier picture is painted by CBD Insider that predicts that the market will soar to $19.5 billion in 2025, a CAGR reaching nearly 37% over that period.  They point out, however, that their estimate is contingent upon the U.S. Food and Drug Administration (FDA) finally approving CBD as a legal additive during 2022.  The prediction that the FDA will make this industry-stimulating move is made by the noted cannabis market research firm BDSA. In spite of the fact that CBD was legalized as a result of the U.S. Department of Agriculture (USDA) Farm Bill    in late December 2018, there remain no FDA-approved drug products that contain CBD. Hemp-CBD Investment Potential
Tracking Market Demand
Demand has been rising not only prompted by the passage of the U. S. Farm Bill but also by the UN removing cannabis from its Schedule IV category for restricted substances, and the World Health Organization (WHO) reporting on the health benefits in the treatment of anxiety, depression, insomnia as well as conditions such as epilepsy. And, another development the industry is monitoring closely is the progress through the U.S. House of Representatives of H.R. 841 – the bill that would allow the use of hemp, cannabidiol derived from hemp, or any other ingredient derived from hemp in a dietary supplement, provided that the supplement meets other applicable requirements.
As readers of the EDGE Briefing you know from our previous coverage that CBD is the second most active ingredient of cannabis (tetrahydrocannabinol, THC, being the first).  It is derived from the hemp plant, that with its 5-pointed leaf is distinguished from the 7-pointed leaf of the marijuana plant.  It is noted for its potential health benefits as distinguished from the "high" that THC induces. Hemp-derived oil and CBD are sourced from these industrial hemp plants and is differentiated from marijuana by the fact that is it is legally mandated by the Farm Bill to contain no more than 0.3% THC.
Hemp-derived CBD is legal in every state in the U.S., with the exception that there is a gray area of its legality in the State of Louisiana.  No matter where you look CBD has found place in the food, cosmetics, and pharmaceutical industries.  While its use is notable in providing promised relief from chronic pain and its application in epilepsy therapy, its pervasiveness is shown by its use in more, let's say, unusual products.  These consumer products range from powdered eye shadow to CBD-infused active wear, bed sheets, and turmeric-CBD health capsules that are available in major chain pharmacy, health food stores, and online. Hemp-CBD Investment Potential
Pop Culture, Beverages, Pets, and Social Media
From being a relatively obscure substance just a few years ago CBD is now firmly embraced in pop culture.  Cannabis Wire reports on this segment of an interview with Beyonce in this month's Harper's Bazaar:
"During quarantine, I went form overindulgences to creating positive rituals drawing from past generations and putting my own spin on thins.  I discovered CBD on my last tour, and I've experienced its benefits for soreness and inflammation.  It helped my restless nights and the agitation that comes from not being able to sleep. I found healing properties in honey that benefit my children.  And now I'm building a hemp farm and a honey farm. I've even got hives on my roof!"
The major beverage companies are preparing plans to enter the CBD market. Constellation Brands invested $4 billion into the large cannabis company Canopy Growth.  Coca-Cola is rumored to be in talks with the Canadian cannabis giant, Aurora Cannabis, to create a CBD beverage.  Even Starbucks is examining various avenues to extend its branded products into CBD. This movement in the beverage industry is driven by the finding by Prohibition Partners that one in five current and potential consumers of cannabis or CBD/hemp-infused beverages do so/would do so as a replacement for alcohol beverages. Hemp-CBD Investment Potential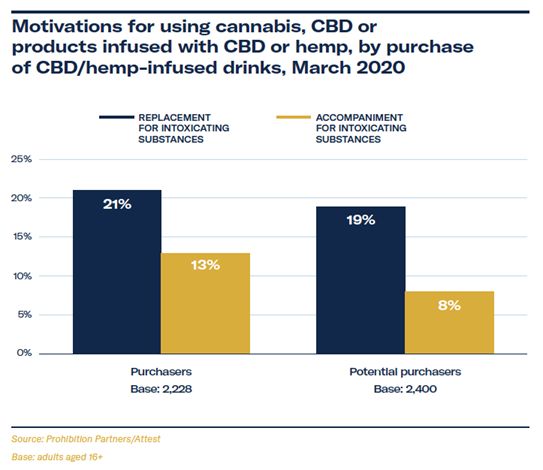 The global size was of the CBD pet market, according to Grand View research, is expected to reach US$ 399.2 million by 2027, expanding at a CAGR of 40.3%.  Owners projecting perceived benefits of cannabis on to their pets and a preference for natural pet supplements have led to an upsurge in market growth. Hemp-CBD Investment Potential
As began during the pandemic it is expected that cannabis companies will continue to thrive in the telemedicine industry as patients seek easier and efficient forms of access to their medications.
And, it is substantiated that the new consumer turning to CBD is not at all seeking a psychoactive reaction.  Instead, they are looking for the cannabis derivative that can increase cognitive functions, provide relaxation and improve health and wellness.  The new customer is typified by what CBD Advertising has found from studies by major social media.  Reddit, for one, includes 66,000 subscribers who regularly discuss various CBD products/manufacturers.  Virtually the same can be found on Facebook, Instagram, and Twitter.  According to studies among the major social media, over 40% of people aged 21 years and above have indicated that they will try CBD products.
Following the Smart Money in CBD Investments
Much like is happening in the cannabis industry in both the U.S. and Canada, in the CBD market Mergers and Acquisitions are being implemented as consolidation is seen as the best way to solidify a position in the industry. In recent years, major names engaged in cannabidiol-based product manufacturing M&A transactions: Hemp-CBD Investment Potential
Last year, Charlotte's Web (NASDAQ: CWBHF), marketer of hemp-derived CBD products, after receiving approval from the U.S. Hemp Authority and National Animal Supplement Council for its CBD supplements, tinctures, and topicals for pets, acquired Abacus Health Products (CSE: ABCS), a leader in OTC hemp extract topicals, in order to improve its product portfolio.  The acquisition will result in a new entity with an estimated $190 million in 2020 sales and a market cap of some $450 million.
Yunnan Lvxin Biological Pharmaceutical Co. bought Hemp Foods Australia, the hemp subsidiary of Elixinol Global giving Yunnan Lvxin the rights to the intellectual property (IP) of Elixinol and license to distribute products in Taiwan and mainland China.
CBD Unlimited, Inc. (OTC PINK: EDXC) recently acquired Kush, Inc., a New York based media driven entity that builds brands and also owns net.
And, in a market expanding development reported in the Stock Market Press:
Not only can M&A activity in CBD mean more sales and market cap in a consolidated business, but it can also mean the entry into the industry of mainstream names. 
For example, the recent move by mainstream firm Colgate Palmolive (NYSE: CL) to acquire Hello Products and its line of oral hygiene products — CBD-infused toothpastes, toothbrushes, mouthwashes and lip balms. Colgate Palmolive is a trusted, mainstream and established brand. Its entry into CBD-infused product in the oral hygiene area raises the profile of CBD on the shelf. The Hello Products line consists of seven products: three CBD-infused toothpastes, two mouthwashes and two lip balms. Hello Products is an oral care brand based in New Jersey.
Disrupting the Tobacco Industry
Hemp Industry Daily reports that Nielsen projects that sales in the smokable-hemp market are currently running at the rate of $70 to $80 million per year. By 2025, Nielsen expects the smokable-hemp market to reach $300 million to $400 million, representing roughly 5% of the potential $6 billion to $7 billion hemp-derived CBD consumer products category.
A company that is taking on the tobacco industry head on with their hemp cigarettes as the natural alternative to nicotine-free smoking is Hempacco, Co. Inc. the leading manufacturer of hemp cigarettes in the US.  Instead of "Tobacco," the company name is "Hempacco."  In a whitepaper produced by the company they report that tobacco cigarette sales in the U.S. is a $47.8 billion per year industry.  According to the National Association of Convenience Stores (NACS) early 40% of total sales accounted for in convenience stores are cigarettes. These are not impulse purchases, but consumers intent on a smoking experience.  They promote their hemp cigarette brand as a more healthful alternative creating a double benefit for hemp smokers:
…with the delivery of CBD together with the potential of quitting tobacco cigarettes the main value of hemp cigarettes is faster delivery of CBD and CBG. This makes hemp cigarettes the new functional smokable. Smokers can feel the effects of high yielding CBD and CBG hemp cigarettes within one minute.
Mitigating Risk and Maximizing Upside in this Investment Space 
The evidence continues to mount that phenomenal growth is ahead for the cannabidiol (CBD) segment of the cannabis industry. However, the FDA is still reluctant to give CBD the green light for use under the definition of a New Dietary Ingredient (NDI).  Once again last week, as reported in Cannabis Wire, two separate applications for the use of CBD as a dietary supplement were rejected by the agency.  Ironically, complicating the approval process is the fact that the agency is now holding new applications for CBD use as a medicine or as a nutrition supplement up to the rigorous standards that the first cannabis plant extract-based drug, Epidiolex, had to meet for approval back in June 2018. This still, though, prevents the cannabis industry from being given a clear set of guidelines to open the market for even wider expansion for the use of hemp-based CBD.
Especially in emerging markets, due diligence is key to identify the real opportunities and the real players from the pretenders.  Here is the approach we take with our clients for risk mitigation prior to presenting cannabis investment opportunities:
First, we ascertain if the company and founders have backgrounds in cannabinoid-based science and marketing. Without this background the chances of success are greatly diminished.
Second, we ensure that the company is familiar with and focused on meeting EU cGMP requirements for manufacturing pharmaceutical grade products. This is likely to become a competitive advantage, at least, and most likely a regulatory requirement in the future. If a standard like this is not in place, we typically advise moving on because the lower quality companies are a dime-a-dozen, and destined for commoditization.
Third, we assess the regulatory regime in the company's home market, and in the target markets. And we analyze the ability of the company to scale in the context of near, medium and long-term market expansion as new major international markets come online. In our opinion it is critical for a properly positioned cannabis company to have the ability to scale rapidly in order to capitalize on the massive global market potential.
Investor Takeaway
Along with cannabis sales, in general, the CBD market is roaring along at a CAGR pace higher than the explosive growth rate of the marijuana side of the cannabis business – a 52.7% CAGR in a global market size that could climb as high as US$ 89 billion in 2026. The passage of the Farm Bill in 2018 gave CBD companies a major breakthrough, the cultivation, manufacture, distribution, and dispensing hemp was now allowed and CBD production was made legal under certain restrictions specified in the Bill. Thus, the supercharged CBD market began in earnest.  While the industry remains fragmented with few major national brands yet surfacing, major investment through M&A transactions and trusted CPG companies, such as Colgate-Palmolive, are prompting the market growth potential. Major questions remain unanswered in this young segment of the cannabis industry. Which of the vast range of CBD-infused consumer and medical products will find lasting market acceptance?  Can hemp-CBD cigarettes disrupt Big Tobacco?  For investment into this volatile cannabis industry segment we recommend thorough due diligence of a hemp-CBD company's ability to meet more sophisticated standards applied to pharmaceutical grade products and the ability to scale to meet the exponentially growing consumer demand.
How We Can Help
At Highway 33 Capital Advisory we excel at structuring deals to meet client investment strategies in emerging 2021 opportunities with our core expertise in CBD/Hemp and Cannabis along with other highly regulated markets in the fields of Pharma, Biotech, Healthcare, Agtech, Clean/ClimateTech, and SaaS.  We specialize in thoroughly vetted companies looking to drive growth and enterprise valuations through M&A, non-dilutive debt financing and/or capital investments ranging from $5M to $100M+.
Let's talk about putting the power of this expertise to work for you as a Sell or Buy-side client.