Election Day did clarify one thing, now nearly 33% of the total U.S. population live in states where recreational use of marijuana is legalized.  With the addition now of Arizona, Mississippi, Montana, New Jersey and South Dakota, 15 of the 38 states (70% of U.S. population) where medical marijuana is legal now permit recreational use as well. Following the Smart Money into Recreational Cannabis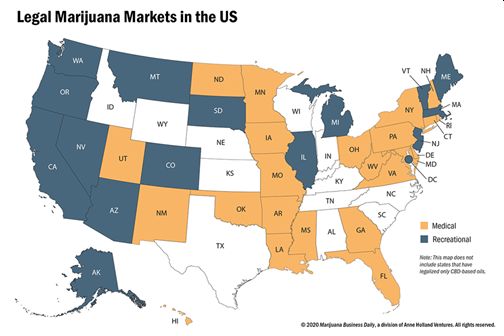 What recreational use legalization in last Tuesday's vote looks like is this:
Arizona
Adults 21+ can now possess one ounce of marijuana and a licensing system is established for retail sales, starting with medical marijuana dispensaries, for the program to begin in March, 2021.
Mississippi
Voters passed a two-part measure allowing medical marijuana use, and another that authorized more broad use of medical cannabis. Following the Smart Money into Recreational Cannabis
Montana
Montana, also with two ballot initiatives passed marijuana use as a county-by-county option, along with a 20% tax, and set the minimum age for use at 21.
New Jersey
Adult use will become legal as soon as the state's Legislature and Cannabis Regulatory Commission passes a decriminalization bill.
South Dakota
Legalized possession and distribution of up to one ounce for adults 21+, beginning in July, 2021.
These developments are indicative of a Gallop poll in late 2019 that found 68% of Americans favor the passage of marijuana legalization. And, this past April, a YouGov survey projected that 54% of Americans believe state-based legalization programs have been successful. The unparalleled grow of the industry does not mean, however, that it is any closer to legalization at the Federal level. One bright spot in this regard is the advancement through Congress of the SAFE Banking Act, which would open access for Federally insured banking to all state-legal marijuana businesses. Democrats in the House of Representatives had the Act inserted into their COVID-19 relief package back in September. Now, it has a chance of being included in the revised version of the relief package in the February timeframe.
How Smart Money Sees this Opportunity
Global legal cannabis sales totaled nearly $15 billion in 2019, according to industry research from the ArcView Group, up from $10.2 billion, 46%, in 2018. The U.S. market holds by far the largest share of the worldwide sales at some $12.2 billion, even with the Federal classification as a Schedule I illegal drug.
It is this restrictive Federal status that continues to prohibit cannabis operators from obtaining funding from traditional institutional investment sources.  And, it is this status that prohibits operators from transporting their marijuana products across state lines.  The fact that separate operations must be established or acquired in each state in order to grow their business, successful operators are prime candidates for Mergers and Acquisitions.
Taking a look at M&A funding, in general, we see that while deal count may be down…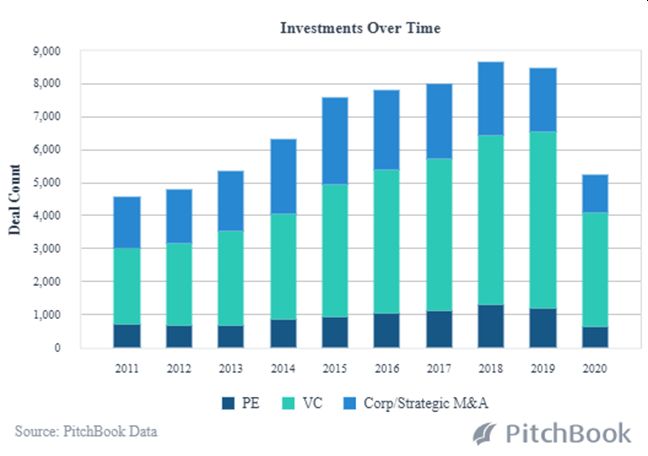 … Pitchbook still shows that valuations and deal size have grown significantly this year.
M&A in Cannabis 2020
In Cannabis, M&A transactions are giving large operators access to companies across state lines as a primary means of divesification.  M&A will also be the likely route Big Pharma, Big Tobacco, and Big Beverage/Liquor take when more hurdles are cleared for those forces to make an even more disruptive entry into the cannabis marketplace.  It is axiomatic that when you combine restricted capital markets with burgeoning potential and solid valuations, the invitation for M&A transactions is wide open. Cannabis is certainly no exception. Following the Smart Money into Recreational Cannabis
To scale operations cannabis companies will either be looking for cultivation and processing/manufacturing assets in their current state or be looking for multi-state expansion opportunities.
What's going on with M&A deals in cannabis, Cannabis Business Times cites these recent industry transactions as examples:
Trulieve Cannabis Corporation of Florida enters its 5th state with two acquisitions in Pennsylvania – Pure Penn LLC and Solveo Wellness. The reported benefits of this transaction are:

Delivers an accretive transaction on an EBITDA basis
Broadens Trulieve's multi-state footprint to Pennsylvania, the fifth most populated and limited-license state, adding to Trulieve's existing operations in Florida, California, Massachusetts and Connecticut
Expands Trulieve's cultivation footprint with the addition of one of Pennsylvania's leading cultivators and producers with 35,000 square feet of existing cultivation, with planned expansion to 90,000 square feet by Q1 2021
Adds three fully operational dispensaries in premier Pittsburgh-area locations to Trulieve's rapidly growing retail footprint of 60 dispensaries nationally
Provides Trulieve with the ability to enter the Pennsylvania market with existing vertical operations
Further strengthens Trulieve's experienced leadership with engaged and aligned local management teams

Columbia Care of New York signs agreement to acquire California-based Project Cannabis.  The reported benefits of the transaction:

The acquisition of Project Cannabis enables Columbia Care to materially increase its scale throughout California and position its wholesale and manufacturing operations as one of the leading suppliers in the state. Going forward, Columbia Care's new state of the art 45,000-square-foot manufacturing facility in San Diego will manufacture and package all extracted products and concentrates for Project Cannabis. Leveraging its distribution network of more than 100 dispensaries throughout the state, Project Cannabis will continue to sell its entire brand portfolio while simultaneously cross-selling Columbia Care's medically focused products, recently acquired products and brands from the TGS acquisition, and several new consumer oriented product lines such as the Amber Live Resin portfolio, Columbia Care's fastest growing product in California.
Risks and Rewards
The goal of a cannabis company in an M&A transaction, of course, is to secure the funding for growth while obtaining from a merger the regulatory compliance, sales and marketing expertise for the ongoing commercialization of an expanding product line.  But mergers and acquisitions can be risky.  They are not always welcomed by shareholders, and state/local governments may impose prolonged reviews and approvals.  Yet, when these deals succeed, they can deliver instant gains to stakeholders of the company being acquired.  These gains that investors can realize by holding on through acquisitions is compensation for the all-too-prevalent risk of a deal falling through. This zeal for potential profitability of successful mergers has created a highly competitive deal market as more and more cannabis operators are being bought and sold. Following the Smart Money into Recreational Cannabis
Sorting Through the Right Investment to Meet Your Portfolio Strategy
For our clients, here is the advice we provide as they assess M&A opportunities in the cannabis industry:
Know what the organization is getting into– Detailed due diligence and proper integration planning are core to identifying potential issues that may arise in the process.
Get the right people involved– Determine essential stakeholders early and get them involved. By doing so, retention and change issues will be minimized.
Know what the organization wants out of the deal– Set in stone the objective business decision criteria to minimize political issues and the impact of personal preferences.
Get it done right – Devote the necessary resources even if the company is "running lean." Transaction execution and integration are together a full-time job.
Know what success means– Establish a performance measurement process to measure the success of integration activities.
Don't underestimate the nature of the corporate climate– The focus of the parties should be on Organizational Development with a passion for human capital development through transparent communication to increase operational excellence and achieve corporate strategy through effective leadership development.
Over-communicate– Personnel will be forgiving at first and will not expect all the answers. They will, however, expect strong leadership that has a vision and a plan for how to get there – how to blend the cultures of the merging organizations into a compatible, inclusive growth-oriented environment.
What's It Really Worth?
Once it is confirmed that legal/compliance requirements are met then the next major step is conducting a realistic valuation of the merged businesses.  Your investment banking advisor should positively understand the idiosyncrasies of the cannabis industry to identify a valuation range that ensures the buyer is not overpaying and that the seller's proformas are verifiable.
What It Takes to Make It Over the Finish Line
The Vision of the Parties

All stakeholders to the M&A transaction must have a clear vision as to the direction toward profitability the marriage of the parties will take. This requires good advice about the fundamental legal and business issues that will arise and the judgement calls that will have to be made during the process to keep a clear vision for the post-closing entity.

Commitment

Once the decision is made that a Buyer's objectives are better served by acquiring rather than taking the path of organic growth, all key management team members must fully buy into that direction regardless of hurdles that will arise along the way.
How we can help
At Highway 33 Capital Advisory we excel at structuring deals to meet client investment strategies in trending segments like Cannabis and CBD/Hemp as well as our core expertise in highly regulated markets that include; Biotech, Pharma, Healthtech, Agtech, SaaS, FinTech, and ancillary tech companies.  We provide investors with thoroughly vetted companies looking to drive growth and enterprise valuations through M&A, non-dilutive debt financing and/or capital investments ranging from $5M to $100M+.
Let's talk about putting the power of this expertise and our network to work for you.