Overview Following PE and VC Heathcare Investment Post COVID-19
While it is projected that COVID-19 vaccines sales will reach as high as $15B this year, it is not just these treatments that will thrive. Healthcare in various fields related to biopharma will fall under this halo effect. While records set in IPO and venture financing in 2020 have some analysts seeing funding in the category drying up, investors appear to continue to be motivated, betting on high stakes takeovers on the heels of the substantial M&A deals at the end of 2020. Following PE and VC Heathcare Investment Post COVID-19
The reasons for this optimism, albeit depending on the speed at which the pandemic is overcome, include the number of blockbuster deals that vary from Alzheimer's breakthroughs to therapies on the cutting edge of genome technology that could be approved by increasingly cooperative regulators. In the stock market the Nasdaq Biotechnology Index is recovering at a faster pace than the mixed-sector S&P 500 as early stage biopharma companies continue the 2020 trend of being able to float at valuations that far outpace other industry offerings. SPACs continue to be a major factor in providing biopharma companies a potentially faster and more efficient route to public trading than the traditional IPO process. Following PE and VC Heathcare Investment Post COVID-19
The venture funding boom in the category, which continues to set records year over year, is spurred on by the phenomenon of the shrinking time to exit. And, recent multibillion-dollar buyouts, of which Gilead's $21B acquisition of Immunomedics at a 111% premium is an example, substantiate that this trend is likely to continue throughout 2021. According to Pitchbook, the picture of PE and Venture Backed buyouts in Healthcare looks like this: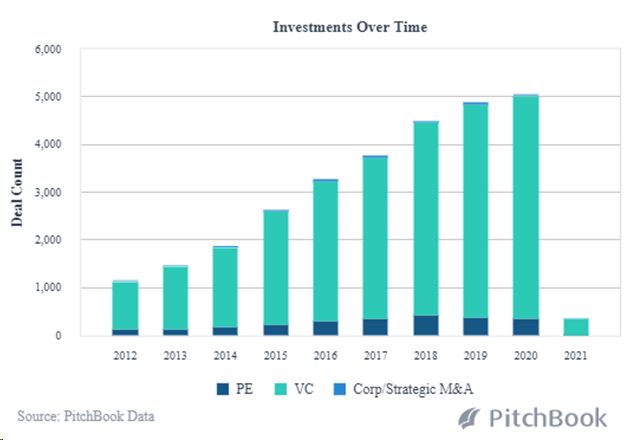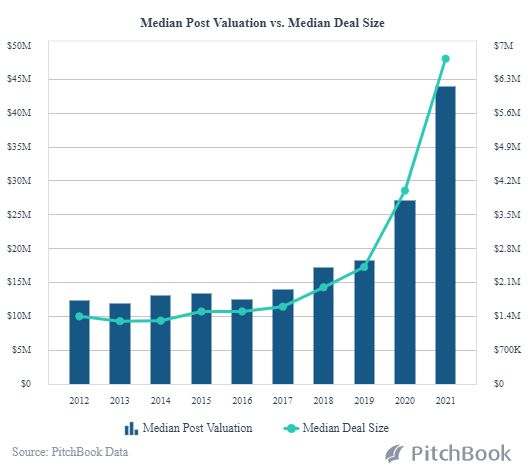 Under the Halo Effect
Oncology
Among those segments under the COVID-19 halo, oncology will continue to be a major driver of the healthcare industry's topline growth in 2021.  By 2026, Coherent Market Insights predicts this will be a $196B market.  It is an undisputed fact that cancer drugs will dominate the list of best-selling drugs in 2021.  Six of the drugs from the top 10 list for this year are for various cancer treatments, with the Merck product, Keytruda, forecast to become the world's best-selling drug by 2023.  The driving force behind these predictions is the targeted and precise nature of these drug therapies making immune-oncology treatments the hottest biotech segment in healthcare industry. Following PE and VC Heathcare Investment Post COVID-19
Human Genome Research
In concert with the advancements that cancer research is bringing to fulfill the promise of precision medicine is the exponentially growing class of gene-editing drugs known by the acronym CRISPRs (clustered regularly interspaced short palindromic repeats).  They are a family of DNA sequences used to detect and destroy DNA from certain bacteria during subsequent infections. They play a key role in the antiviral defense system. Basically, new tools to destroy diseases as biotech stalwarts, as well as startups, are pairing drug development with genetic diagnostic tests. One forecast puts the CRISPR market at $6 billion by 2025.  The impetus here is the plummeting cost of analyzing human DNA.  30 years ago it cost nearly $3B to read all the DNA in a single human – $3 Billion! The cost now at around $1,000 is projected to be reduced to as low as $100 in the near future.
Digitalization
Digital technologies are rapidly driving systemic change in the Healthcare industry.  This transformation is seen in the increasing patient-centered diagnostics and therapeutics outcomes that Millenials, on one end of the spectrum, and the aging Baby Boomer population, on the other, are demanding.  Because of this the top industry priority is striving for more cost efficiencies as the expense of R&D is growing faster than the rate of market growth.
AI – As the complexities grow in clinical trials in product development, the industry is turning to AI to expedite the timing of the development process in order to satisfy demands for more sophisticated medications. For investors this means improved operational and development transparency, and protection against the loss of vital regulatory substantiation data. For R&D based companies this means having the advantage of optimizing best patient insight data in order to rapidly identify the most appropriate candidates for clinical trials.
The Cloud – Cloud technology facilitates this integrity of data by bringing the potential of greater, more consistent compliance with good practice quality guidelines. This is of particular advantage to early-stage startups; since running applications through the Cloud eliminates the need for expensive computer systems, narrowing the focus of company resources to project development and clinical testing.
Cyber Security – Transmission of data into the cloud storage, however, brings with it the potential of putting patient records at risk. This has led to the rapid rise in cyber security advancements.
M&A in Healthcare AI
A panel of industry experts conducted by M&A Community concluded that these segments of the healthcare industry have the highest revenue growth potential: BioTech, MedTech, Digital Health, and AI.
While leading-edge technology has always been an integral part of healthcare advancements, AI and Machine Learning are now decreasing the time it takes to get a new product to market.  The scope, scale and cost-efficiencies of R&D are expanding along with improvements in the manufacturing process.  Data analysis from clinical trials enables biotech companies to more rapidly predict medication effectiveness.  Our Pitchbook analysis shows 2021 to be off to a fast start with PE and Strategic M&A transactions in 2021; deal size and median post valuations are already rising dramatically at this early point in the year.
PE and VC Backed Healthcare Buyouts in AI and Machine Learning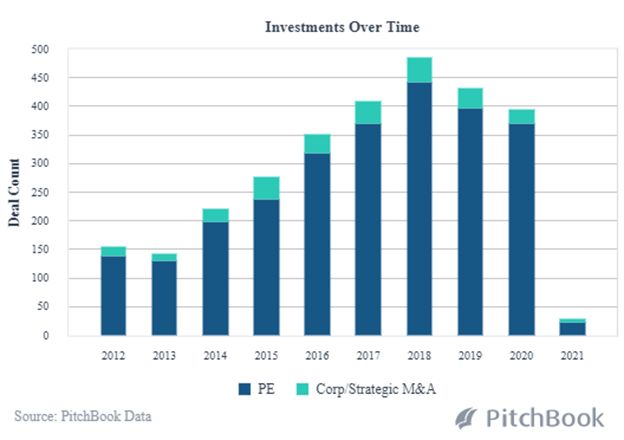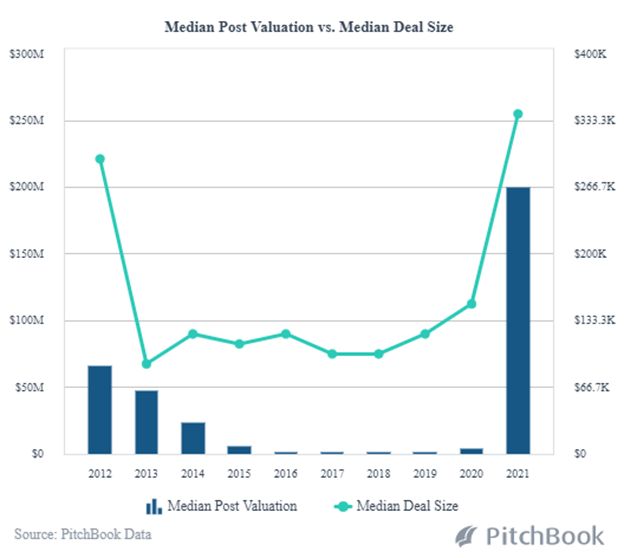 Digital Transformation in Healthcare
Faced with the potential of dramatic return on investment from advancements in treatments and therapies that make it to market much more rapidly than in the past, here are the characteristics we encourage our investors to look for in the healthcare companies that are realizing the benefits of digitalization.
A leading healthcare company should be leveraging relationships with data partners to create breakthroughs by the preemptory application of data. Finding the causes and potential treatments of complex diseases will require a diligent effort to access new data sources.
The cornerstone of the technology investment by a heathcare company should be an enterprise architecture structured to meet the increasingly complex challenges of scalability, flexibility and increasing speed-to-market while decreasing the costs to get there.
AI/Machine Learning is critical to more rapidly determine drug/therapy treatments by more effectively identifying potential positive and negative effect through digital modeling in order to better understand effects on the human body prior to entering clinical trials.
And, as in every directional change an organization undertakes, the culture of the healthcare company needs to be nurtured into becoming not just a science company, but one that is now adopting a digital mentality.
Guidance Toward the Right Choice in Healthcare Investing
For our investor clients, here is the advice we provide as they assess the plethora of healthcare opportunities that cross our desks:
The technology – critical, naturally, to thoroughly understand the technology and its place in the client's investment strategy.
Pre-Money Valuation – This is essential for the investor's understanding of the equity stake being bought into.
The team – how comfortable is the investor with the caliber and experience of the management team and how convincing is the team's dedication to change/improve people's wellbeing? And, are they resilient?
Credible funding plans – is there a clear and attainable path toward profitability?
Risk Assessment – what is the type of risk the investor is willing to take?
Timing – is investment prudent now before the onset of future risks?
Exit – understand the company completely from their patent protection to the acumen of their management team to accomplish their exit strategy.
Legal advice – consult with a law firm skilled in structuring legal documentation associated with the level of risk of the investment being contemplated.
A Competent Investment Advisory – preferably an advisory experienced in healthcare that is thoroughly familiar with the industry trends that will affect the future ROI.
Investor Takeaway
Continuing the momentum established in Q4 2020, there will be an even larger wave of consolidation in the healthcare industry in 2021.  Digitalization and AI are already changing business efficiencies, patient treatment and medical data security, and expediting the development and clinical testing of new drugs.  With venture funding booming in the category and M&A transactions heading toward a banner year, investors are motivated by the momentum established at the end of 2020.  Like all investments, though, following a thoughtful due diligence process aided by experienced advisers is recommended for the rapidly evolving healthcare industry.
How We can help
At Highway 33 Capital Advisory we excel at structuring deals to meet client investment strategies in trending segments like Healthcare as well as our core expertise in highly regulated markets that include; Biotech, SaaS, CleanTech, FinTech CBD/Hemp, Cannabis and ancillary technology companies.  We provide investors with thoroughly vetted companies looking to drive growth and enterprise valuations through M&A, non-dilutive debt financing and/or capital investments ranging from $5M to $100M+.
Let's talk about putting the power of this expertise to work for you as a Sell or Buy-side client.