Before the end of this very chaotic year the pharmaceutical industry is projected, nevertheless, to surpass $1.5 trillion.  Propelling this growth is the increasing demand by consumers, both Baby Boomers on the one hand and Millennials on the other, for health and well-being products and services beyond what traditional provider-based medicines have offered. This means that start up and early stage funding in biopharma continues to set records.  2019, in fact, was the second biggest year on record for venture capital for biopharma startups, $14 billion invested globally.  VC-backed biopharma startups M&A transactions totaled over $37 billion.  The biggest year on record for venture capital, as shown in the chart below, was just the year before, 2018 – $17 billion invested globally in biopharma startups, according to Bay Bridge Bio, from Evaluate Ltd. Vantage analysis, which also showed $37 billion worth of M&A exits that year. Follow the Smart Money in Pharma 2020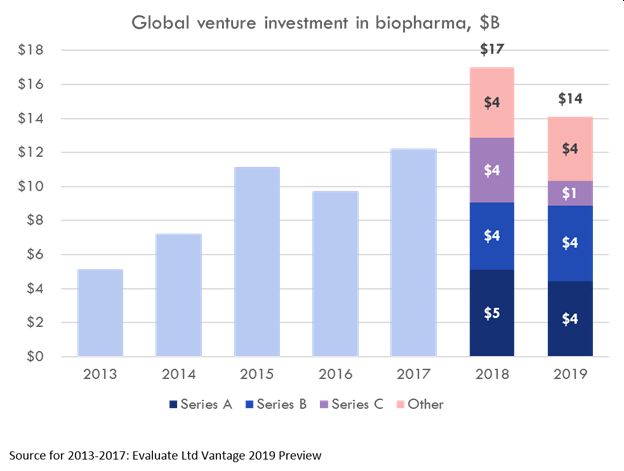 Industry Trends on the Watch List
Follow the Smart Money in Pharma 2020
Trying to keep abreast of this vast and volatile industry is a major task, indeed. But, these are the most significant trends we are following as investment opportunities arise for our clients.
Digital – By all accounts digital technology will be the most disruptive force in healthtech and pharma throughout the year.  Not only are their antiquated paper processes that are being replaced, but also advanced healthcare systems are becoming digitally driven as R&D costs continue to escalate.  An industry top priority is to make R&D more cost effective as this expense is growing faster than the rate of market growth.
AI – As the complexities grow in clinical trials in product development, the industry is turning to AI to expedite the development process timing in order to satisfy demands for more sophisticated medications.  For investors this means improved operational and developmental transparency and protection against the loss of vital regulatory substantiation data. For R&D based companies this means having the advantage of optimizing best patient insight data in rapidly identifying the most appropriate candidates for clinical trials.
The Cloud – Cloud technology facilitates this integrity of data bringing the potential of greater, more consistent compliance with good practice quality guidelines.
Cyber Security – Transmission of data into the cloud storage, however, brings with it the potential of putting patient records at risk leading to the rapid rise in cyber security advancements.
Biosimilars – Success in the off-patent market is exemplified by the biosimilar peg-filgrastim Udenyca – for the production of white blood cells to fight infection in patients undertaking chemotherapy.  It became the largest selling branded medicine in the U.S. ahead of all other biosimilars according to IQVIA audits.  This has led to predictions that the biosimilars market will grow exponentially this year.
Genomics – The ability to treat gene-based diseases is growing rapidly as genetic insight data is becoming a powerful therapeutic tool. This has become particularly significant in therapies for oncology and rare diseases.
Precision Medicine – This sea change for the pharmaceutical industry is occurring because over the course of the past 25 years at least 450 medications have been withdrawn from the market. While the problem for manufacturers exists that more strict specifications call for smaller quantities of medication to be produced in smaller specialized facilities, a rapidly growing number of investors have been attracted to developments in this segment of the industry. 
Blockchain Technology – while still controversial in many circles, the use of blockchain is growing in the financial industry causing others to examine the capability more closely.  If the primary advantage of the technology is to simplify the transaction process while also ensuring security and transparency without the intervention of a third party, then blockchain could be used to streamline pharmaceutical processes.
Contract Development and Manufacturing Organization (CDMO) – From drug development all the way through manufacturing pharma is turning to services employed on a contract basis as divestment of inhouse capability accelerates. Ever since the M&A of Halo Pharma and Cambrex, combining a CDMO specializing in APIs with one noted for dosage formulation, private equity has been looking at this space for the potential of M&A transactions creating the vertical integration of CDMOs to gain competitive advantage in this highly competitive sector of the pharmaceutical industry.
AND, Medical Cannabis – While many healthcare professionals found it difficult in the past to embrace treatment with cannabis, the pharmaceutical companies have been racing ahead with the development of cannabis medications for maladies from chronic pain to vascular disorders.  Not just cannabidiol (CBD), but a number of rare cannabinoids are being researched as Active Pharmaceutical Ingredients (APIs).  This growing interest in medical-grade cannabis has led PharmOut in their Industry Growth Predictions for 2020-2025 to predict that the global medicinal cannabis market will eventually reach $650 billion – making it the third largest worldwide market after oil and arms.
What Makes Biopharma Appealing
Biopharmaceutical startups are the engine that drives turning the latest scientific discoveries into viable treatments.  Without venture capital funding these companies could not endure the long periods of time required for biopharmaceuticals R&D.  They depend on the funding, guidance and patience their venture partners provide.  And, more and more those attributes are provided through M&A transactions that mitigate risks and open the path for the substantial ROI investors expect from the category.
Even as COVID-19 lingers on, the public equity markets took a substantial rebound in Q2 with the S&P 500 gaining 25%. While government stimulus programs influenced much of this gain the healthcare sector, only a little under 3% below its YTD highs, has benefited during the pandemic economic environment by M&A activity. Pitchbook cites the Willis Towers Watson Quarterly Deal Monitor to show that M&A transactions in the biopharma space outperformed their index by over 3 percentage points.  Large acquisitions were still characteristic of the quarter with Gilead Sciences acquiring Forty Seven for $4.9 billion.
The Takeaway
Investors that can identify those biopharma opportunities that can execute on the strength an M&A partnership can bring will be best positioned to win the endurance race in this hyper-competitive space – where technologic advantages and the ability to scale are creating value for an evolving and dynamic customer base. Follow the Smart Money in Pharma 2020
How We Can Help
At Highway 33 Capital Advisory we excel at structuring deals to meet client investment strategies in trending segments like Biopharma as well as our core expertise in highly regulated markets that include; Biotech, Healthtech, SaaS, CBD/Hemp, Cannabis and ancillary tech companies.  We provide investors with thoroughly vetted companies looking to drive growth and enterprise valuations through M&A, non-dilutive debt financing and/or capital investments ranging from $5M to $100M+. Let's talk about putting the power of this expertise and our network to work for you.