After Omry Ben David's wife gave birth via a C-section, the couple received an unexpected medical bill totaling $20,000.Fintech Takes Aim at A $400B
The pair was stunned. Ben David at the time was an investment banker in New York, and he assumed that most of the medical expenses would be paid for by Goldman Sachs' health insurance. It turned out that while the hospital was a part of the health network, one of the doctors was out-of-network and therefore not covered by the policy.
The experience led Ben David to recognize that for average American households, unanticipated medical bills that are much smaller than the one his family faced could be a significant strain.
Now Ben David, a partner with Israel-based Viola Ventures, is part of a crop of VC investors betting on a fintech solution that allows patients to pay for healthcare in small increments over months—or even years. That approach could make the financial burden of large medical bills more manageable, while helping doctors and hospitals increase their payment collection rates.
Ben David led Viola's incubation and a $5 million seed investment in PayZen, a startup that works with healthcare systems to offer patients zero-interest, fee-free payment plans akin to the buy-now, pay-later options provided by companies like Affirm and Klarna.
PayZen, which publicly launched earlier this year, says it almost instantly approves 100% of the loan applicants and in turn pays hospitals upfront a discounted portion of what the patient owes.
Walnut and PrimaHealth Credit are two other buy-now, pay-later startups that work with providers that offer only elective procedures such as dental surgeries and LASIK.
Fintech Takes Aim at A $400B
The US healthcare payments system is ripe for disruption. Just two decades ago, fees paid by patients accounted for only 5% of hospitals and doctors' revenue, but by 2017, that portion was up to 35%. And the patients' burden is expected to grow amid the increasing reliance on high-deductible medical plans and overall rising costs of healthcare.
As a result, out-of-pocket spending stood at more than $406 billion in 2019, a giant market opportunity for fintech startups to tackle.
What's more, healthcare providers collect only a portion of what patients owe, with estimates ranging from 20% to 55%.
For hospitals, trying to collect these fees is expensive and often counterproductive, according to Ben David.
"If I am a patient and my hospital just sent a collections agency after me, then the whole relationship is broken (and) I will never go back there," he said.
Healthcare debt is widely recognized as the No. 1 cause of personal bankruptcies in the US.
In the meantime, with hospitals experiencing mounting financial pressure, increasing collections from patients would help with their cash-flow problems.
"There is a spectrum of activities where fintech companies can help," said Matt Risley, a partner with QED Investors, a financial services-focused VC firm.
Patients are often confused by their medical bills, which come by mail weeks and sometimes months after the actual treatment. Payment startups can alleviate this problem by using digital tools to personalize the patient billing communication process and presenting one easy-to-understand bill, rather than five different bills, like one from the surgeon and another from the anesthesiologist, Risley said.
Among other payments startups focused on healthcare, Cedar was valued at $3.2 billion when Tiger Global led a $200 million investment in March. Norwest Ventures-backed VisitPay earlier this month announced its $300 million acquisition by R1 RCM. Another payments specialist, Flywire, plans to debut on the Nasdaq in the coming days with a potential valuation of $2.4 billion.
All these companies also offer interest-free payment plans, Risley said, but they offer only software and loan administration rather than lending.
Patient payment VC deal activity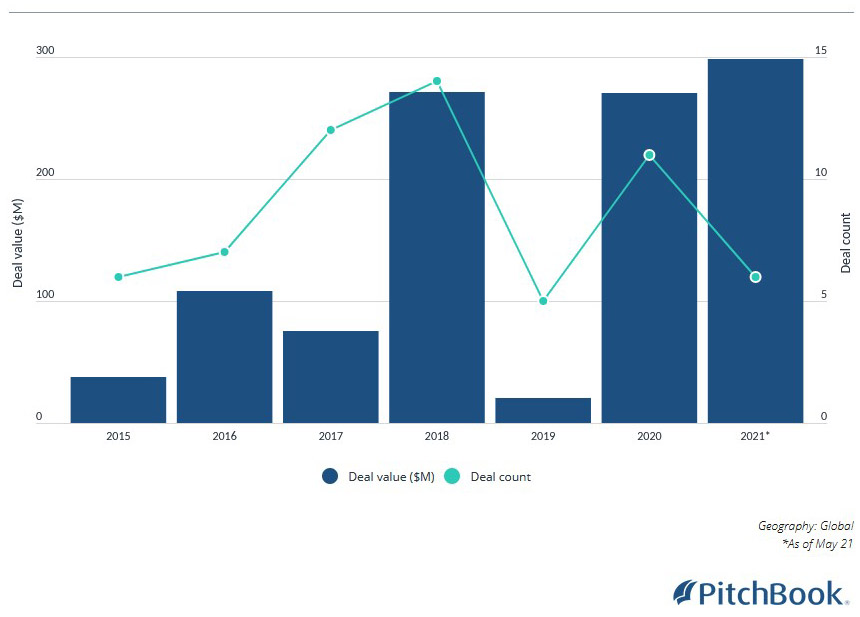 The advantage of partnerships with a lender like PayZen is that hospitals get paid a discounted portion of the entire bill right away and don't need to worry about collecting from patients.
Robert Le, a PitchBook fintech analyst, said that while the buy-now, pay-later model could be a good option for cash-strapped healthcare providers, he doesn't see the payment plan approach as a primary financial solution for patients.
"I think there should be more innovation in the health insurance space to lower costs for the patient," Le said. These companies could focus on preventive measures by incentivizing their customers to lead healthier lifestyles using simple technologies that do things like remind them to get an annual physical or reward them for exercising, he explained.
While they may not be a panacea, payment plans appear to be a win-win for patients and providers. Cedar's data, for example, shows that the usage of payment plans leads to overall higher collections for hospitals and physicians.Fintech Takes Aim at A $400B
The challenge for fintech startups, however, is convincing the health systems, which tend to be very bureaucratic, to adopt new tech solutions.
"Healthcare payments is a huge market, but the reason we don't see big companies like Stripe or Affirm addressing it is because selling to a hospital system is one of the hardest sales that you can make," Risley said. "We will get there. It will just take longer than for other industries."