Digital technologies are rapidly driving systemic change in Biopharma, in particular, and the Healthcare industry as a whole.  This transformation is seen in the increasing patient-centered diagnostics and therapeutics outcomes that Millennials', on one end of the spectrum, and the aging Baby Boomer population, on the other, are demanding.  And, in R&D the top industry priority is striving for more cost efficiencies as this expense is growing faster than the rate of market growth. Digital Transformation in Biopharma
AI – As the complexities grow in clinical trials in product development, the industry is turning to AI to expedite the timing of the development process in order to satisfy demands for more sophisticated medications.  For investors this means improved operational and development transparency and protection against the loss of vital regulatory substantiation data. For R&D based companies this means having the advantage of optimizing best patient insight data in identifying rapidly the most appropriate candidates for clinical trials.
The Cloud – Cloud technology facilitates this integrity of data by bringing the potential of greater, more consistent compliance with good practice quality guidelines. This is of particular advantage to early stage startups since running applications through the Cloud eliminates the need for expensive computer systems, narrowing the focus of company resources to project development and clinical testing. Digital Transformation in Biopharma
Cyber Security – Transmission of data into the cloud storage, however, brings with it the potential of putting patient records at risk.  This has led to the rapid rise in cyber security advancements.
The general consensus is that biopharma companies need to build digital capabilities now or risk being left behind.
Biotechnology Stocks Lead the Market Recovery
With the shock of the spread of COVID-19, as the infection rates rose dramatically and the toll on human lives mounted, the scale of stock market sell off neared panic levels.  Yet, by the end of March the rebound began in earnest.  The NASDAQ Biotechnology index began setting new highs as early as April. By the end of the first half stocks for large and medium market cap pharma companies were up $190 billion since the end of 2019.  During that tumultuous first half, according to Evaluate Pharma, some $9.7 billion flowed into startups in drug development globally which would make 2020 a record-setting year. (MedTech is also experiencing a dramatic influx of venture capital, primarily in the drug-testing segment where the rush is on to develop antibodies for some form of immunity to COVID-19.) Digital Transformation in Biopharma
In the case of VC investment strategies Preqin Ltd. Reports VC dry powder rose for a seventh consecutive year to roughly $276 billion in 2019, while another $21 billion was raised in Q1, 2020.  The vertical categories that garnered the most funding were enterprise SaaS, fintech, life sciences, and Healthcare IT.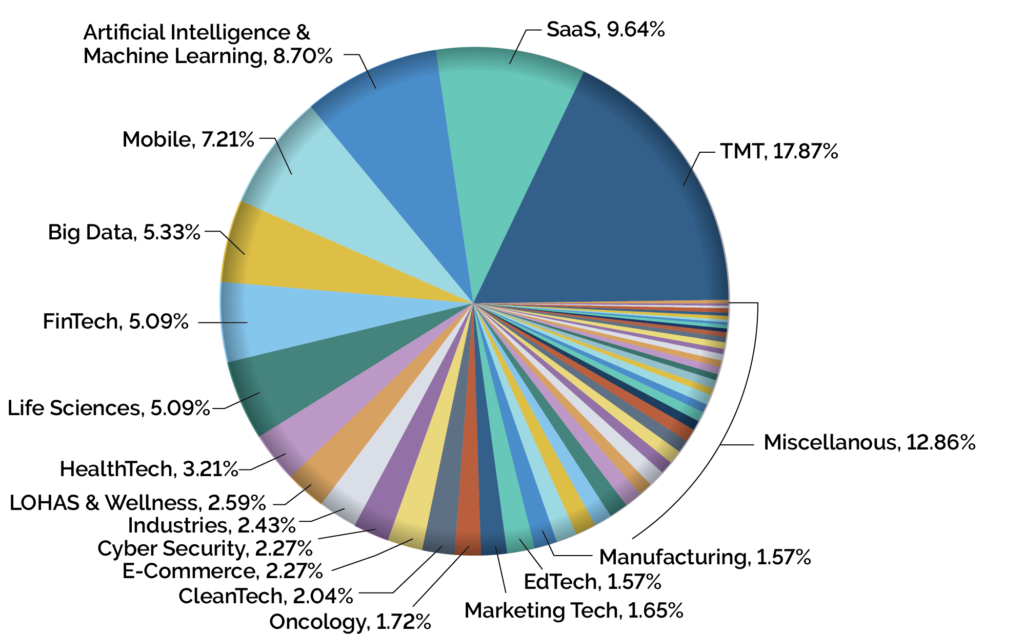 According to Preqin's April 2020 survey, of 100 alternative asset investors, 36% said that they are targeting healthcare-focused investment in 2020 because of the impact of COVID-19.
IT Capital Invested by Primary Industry Sector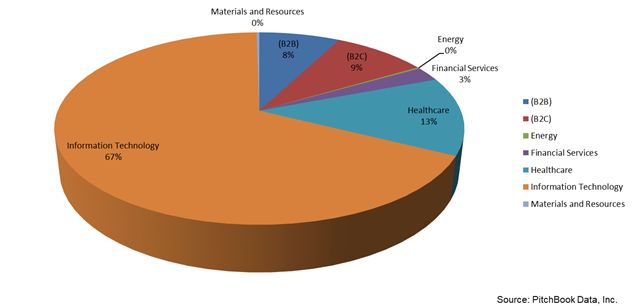 How Bioscience is Becoming Digitalized
While leading-edge technology has always been an integral part of biotechnological advancements, AI and Machine Learning are now decreasing the time it takes to get a new product to market.  The scope, scale and cost-efficiencies of R&D are expanding along with improvements in the manufacturing process.  Data analysis from clinical trials enables Biotech companies to more rapidly predict medication effectiveness. Digital Transformation in Biopharma
Increasing operational efficiency. The demand for precision medicines – small-volume, personalized medicines – is driving manufacturing away from large-scale bulk production to the smart factories of the future with the promise of digital automation solutions. With digitalization, according to Deloitte's Center for Health Solutions, the number of days it takes to release a drug product could potentially be reduced from 100 days to a mere seven.
Data-driven manufacturing is placing renewed focus on quality and productivity. In order to better manage production costs relative to compliance standards, manufacturers are using new automation technologies to track productivity in real time.
Innovative Financing for Innovative Therapies.
Deloitte Insights – Tackling Digital Transformation points out that innovative therapies, like gene and cell therapies, come at such a high price that public and private payers are not likely to absorb the costs.  These developments coming at a time of heightened policymaker scrutiny signals the likelihood of drug manufacturers and biopharma startups moving beyond just selling therapies to entering the business of health care financing in order to bring innovation to drug pricing and payer reimbursement.
Profiting from the Digital Transformation in Biopharma
Faced with the potential of dramatic return on investment from advancements in treatments and therapies that make it to market much more rapidly than in the past, here are the characteristics we encourage our investors to look for in the biopharma companies that are realizing the benefits of digitalization.
A leading biopharma company should be leveraging relationships with data partners to create scientific breakthroughs by the preemptory application of data. Finding the causes and potential treatments of complex diseases will require a diligent effort to access new data sources.
The cornerstone of the technology investment by a biopharma company should be an enterprise architecture structured to meet the increasingly complex challenges of scalability, flexibility and increasing speed-to-market while decreasing the costs to get there.
AI/Machine Learning is critical to more rapidly determine the efficacy of drug/therapy treatments by more effective digital modeling in order to better understand effects on the human body prior to entering clinical trials.
And, as in every directional change an organization undertakes, the culture of the biopharma company needs to be nurtured into becoming not just a science company, but one that is now adopting a digital mentality.
How We Can Help
At Highway 33 Capital Advisory we excel at structuring deals to meet client investment strategies in trending segments like Biopharma as well as our core expertise in highly regulated markets that include; Biotech, HealthTech, SaaS, CBD/Hemp, Cannabis and ancillary tech companies.  We provide investors with thoroughly vetted companies looking to drive growth and enterprise valuations through M&A, non-dilutive debt financing and/or capital investments ranging from $5M to $100M+. Let's talk about putting the power of this expertise and our network to work for you.