The unusual nature of 2020 gave rise to a reciprocally roller-coaster-like cannabis market. Cannabis was cemented officially as an essential industry with the rise of COVID-19, and November elections resulted in even more United States markets welcoming medical and adult-use sales. Cannabis Revival and Year of the SPAC's: What's To Be Expected the Rest of 2021?
The stagnant cannabis stock market of 2019 became a thing of the past by the end of 2020. Throughout the course of last year, bag holders anxiously watched cannabis options creep back up. Now, nearly two years since market decline in 2019, the cannabis stock market is exploding with blank checks and buyout fever. Much of this expectant purchasing is due to Canadian companies considering U.S. market entrance. Combined with the recent surge in the use of special purpose acquisition companies (SPACs) to invest, this has led to an increase in asset prices.
A SPAC is defined as "a company with no commercial operations that is formed strictly to raise capital through an initial public offering (IPO) for the purpose of acquiring an existing company." Though they have existed for decades, SPACs have become popular on Wall Street the last few years because they are a way for a company to go public without the associated headaches of preparing for a traditional IPO. Cannabis Revival and Year of the SPAC's: What's To Be Expected the Rest of 2021?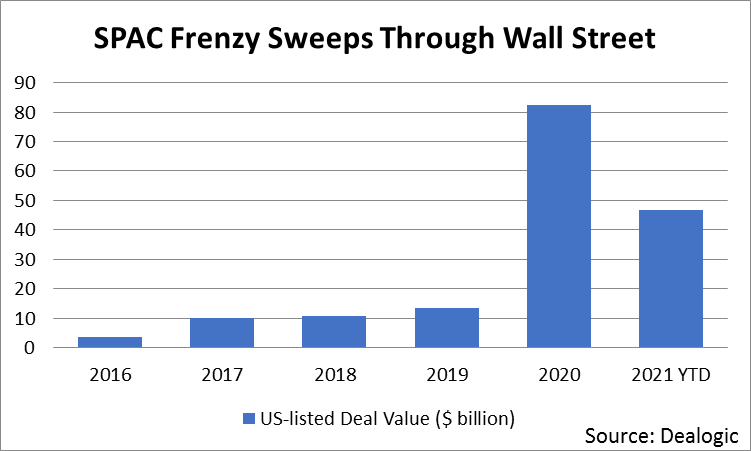 In a SPAC, investors interested in a specific industry pool their money together without knowledge of the company they're starting. The SPAC then goes public as a shell company and begins acquiring other companies in the associated industry. Selling to a SPAC is usually an attractive option for owners of smaller companies built from private equity funds.
The U.S.-Canadian market questions that this rising practice asks are: Can Canadian companies enter a bigger market and be more successful? Is it advisable for U.S. companies to sell their assets to Canadian corporations whose records may be marred by a history of losses and a lack of proper corporate governance? Regardless — if both SPAC's and Canadian bailout money is here, what comes next? Cannabis Revival and Year of the SPAC's: What's To Be Expected the Rest of 2021?
What is Driving this Bull Market?
Underpinning these movements are record cannabis sales internationally, making last year's $15 billion dollars' worth of sales in the U.S. look small in comparison. New markets have opened up in various states and countries throughout 2020, and that trend is only expected to continue. New demographics are opening up, especially among older age groups. This makes sense, as most cannabis sales — even in a recreational setting — are people treating something that ails them like insomnia or aches and pains.
Cannabis is set to take off, and we are entering only the second phase of its market expansion. The world is becoming competitive. Well-run companies that are profitable in key markets are prime targets for bigger, growing companies. At the same time, the world of SPACs will continue to drive valuations. Irrespective of buying assets, growing infrastructure is and will continue to be greatly needed.
The Elusive Profitability Factor
When Canada blew up, one of the biggest changes was companies began focusing the year on cost cutting and — most importantly — profitability. Profitability became the buzzword. But bigger companies are on the search for already-profitable enterprises, not just those that have the potential to be. However, profitability is currently still unobtainable in Canada. Reasonable forecasters should expect this year will show a few companies getting bailed out while many others will be forced to either merge for survival or declare bankruptcy.
An ideal company's finances should highlight not only revenue growth, but also profitability. Attention should be focused on how well businesses are run, and not on how much money they have the potential to raise or spend. Over the years, there have been many prospective companies that spent hundreds of millions only to barely operate, and are now shells in litigation. Throwing money at any deal should have been a lesson learned in the past, but SPACs are tempting because they are trendily associated with new, interesting management styles and charismatic businesspeople.
Companies should be able to present perfect and clear financials along with maintenance logs for all equipment. In today's day and age, books must be stellar and clean. As money pours into SPACs, asset valuations for all qualities of companies will rise. The focus instead becomes about asset plays, which will cause assets to continue rising as money is poured into SPACs.
Once upon a time, if number counters presented a negative review or had to dig too much, executives would turn a cold shoulder on investment. But in the age of SPACs, these standards of evaluation will be greatly undervalued. Aging equipment and reportability of every piece of equipment may or may not be properly serviced and recorded in a fast-moving market. Costs of repair or replacing equipment that isn't properly maintained may be a problem of the past. Because when money comes fast, none care for the gritty details.
Issues for SPACs
Shortage of talent and training has become a big concern already in the era of SPACs. How many quality assets are out there? Big operators in the U.S. are content and don't see Canada as an enticing market to enter. So, asset buys are likely to primarily be in the U.S. Large companies like Aphria may buy out some of the major American players, but most Canadian companies will use new funding rounds to pay down debts. Accordingly, they will then be forced to piece together smaller operators as a strategy.
A cannabis company's personnel and office culture are very important when looking to integrate into a larger corporate culture. Remember, it's not just the brick and mortar that is being invested into, it is also the people that run a facility. Maintaining employee retention when a deal occurs is always critical. Your personnel should be highly trained and professional if you want to exit. Easy to plug-in corporate structures make all the difference in immediately gaining from the sale or having to retool the shed and bring in all new people.
The rise of the SPAC-era and Canadian entry into the U.S. market will cause asset increases, but it is only the second chapter in the market expansion of cannabis. Proper buys will nail profitability, impeccable books, proper maintenance records and will have created an efficient corporate structure with talented personnel. The rest will be overpriced land buys that will require massive infrastructure spending. The basics of a well-run organization don't change. The cannabis market is going to ROAR, but don't worry if the SPACs pass you by- they are buying at the start of cannabis only.