Industry Revenue in 2021 Cannabis Markets to Watch in 2022
While the final numbers are being compiled for the revenue generated in the cannabis industry in the U.S., it continues to appear that sales in 2022 will surpass the record $17.1 billion in 2021, advancing toward a projected >$30 billion in 2022.  Marijuana Business Daily says that this projection by industry analytics firm Headset is based on continued legalization of recreational sales by states new to cannabis legalization, and in major medical marijuana markets.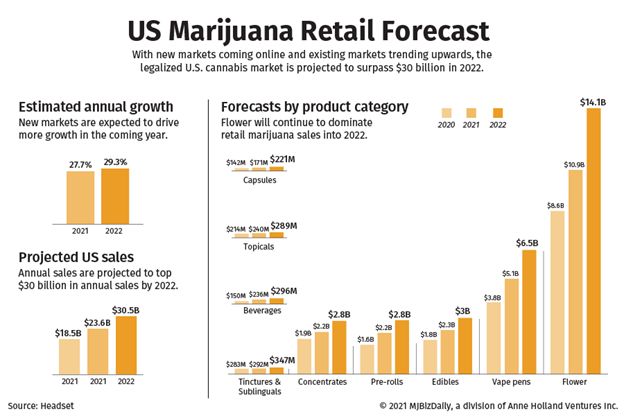 According to Headset, The industry can expect a 29.3% CAGR in 2022, up from the 27.7% expected this year. Cannabis Markets to Watch in 2022
The Hot (and just barely Warm) Markets to Watch in 2022
Which are the hot markets where a huge portion of the growth will come from in the coming year?  We continue to follow closely the states listed below and provide our rationale for doing so.  And, we look at the likely potential such gargantuan markets as New York, New Jersey and Florida will have in 2022. Cannabis Markets to Watch in 2022
Cannabis Market Profile – Michigan
Michigan is advancing toward becoming the second largest cannabis market in the U.S. Into Q2 ValueTheMarkets.com tracked total medical and recreational-use cannabis sales to be $513 million.  That is more than double for the same period last year. That puts the state on a path for sales to exceed $1.5 billion in 2021 which could eclipse Colorado to become second only to California in total legal cannabis sales.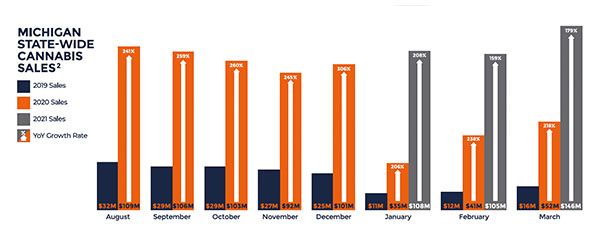 Other key facts about the strength of the cannabis market in Michigan:
The regulated cannabis industry generated $169 million in tax and fee revenues in 2020.
There are 400 licensed medical cannabis provisioning centers throughout the state; 300 licensed adult-use retailers.
Michigan's long history of acceptance of cannabis and a huge patient base are driving forces of the state's record-setting sales pace. At over 330,000, Michigan has the largest medical cardholder patient base in the U.S.; larger in fact than the entire country of Canada prior to adult use being adopted there.
A key development in Michigan in 2021 was the purchase of Michigan operator Gage by MSO TerrAscend in a deal worth $545 million. This marked the beginning of large MSO's consolidating the rapidly growing Michigan market. The challenge and the immense opportunity in the state stems from the fact that Michigan's 1,764 municipalities have the final decision as to how many and what types of licenses are granted in each jurisdiction.  In the case of adult use, only a little over 100 municipalities have opted-in up to this point in time.  This opens a vast potential for business development throughout the state. Cannabis Markets to Watch in 2022
Cannabis Market Profile – Massachusetts
While voter approval for opening the state for recreational cannabis use occurred back in 2016, dispensary and delivery options are just now open, as of March, throughout the state. At a daily sales rate at the beginning of the year at over $2.8 million, when illegal sales are deducted that still puts the state, with its 700,000 potential users, on a path to become a $1 billion sales market this year. A major development in the state is that Massachusetts' largest cannabis operator, NETA, and parent company Parallel, are preparing to go public after entering a SPAC agreement with Ceres Acquisition Corp. Cannabis Markets to Watch in 2022
In 2019, the Massachusetts Cannabis Control Commission enacted new legislation that expanded cannabis business opportunities dramatically in the state.  As a result 724 licenses have now been awarded including 298 retailer, 221 cultivator, 170 manufacturer, 17 microbusiness, 9 transporter and 9 testing laboratory licenses.  One potential drawback is now under examination by the state.  That is, that medical marijuana operators are required to be completely vertically integrated.  Easing this requirement along with the other favorable conditions in the state mentioned here evince the fact that cannabis is rapidly becoming a major player in the state's economy. As one industry observer stated regrading market sales growth potential, "it all comes down to access to capital." As the major MSOs begin to descend on the state, and as the state takes advantage of being far ahead of its surrounding neighbors, more expansive growth will accelerate from the state's initial slow start. Cannabis Markets to Watch in 2022
Cannabis Market Profile – Arizona
In November last year the Arizona voters approved adding recreational use to the state's already decade old medical use program.  Now, through October, medical marijuana and recreational cannabis sales reached a total of $1.1 billion.  And that, according to Marijuana Moment, with about $641 million in medical marijuana and $466 million in recreational, contributed $175 million in state taxes. October, in fact saw a sales record set of $58 million with the state benefiting from "transaction privilege taxes" (sales taxes applied to medical marijuana sales) of nearly $5 million and another $9.7 million from the excise tax added on to the sale of marijuana products for recreational use. Cannabis Markets to Watch in 2022
At that time in November 2020, pundits predicted the marijuana business in Arizona would explode. That, indeed, has turned out to be the case even though the state is still experiencing the loss of tourism business due to the lingering nature of the COVID-19 flare ups. Cannabis Markets to Watch in 2022
With the limited number of licenses authorized by the state, ownership of a license in Arizona can be worth millions. That is generating license sales as you can read about in the article below, on the one hand. On the other hand, the large MSOs are positioning themselves for their assault on the market in the record-setting debt transaction by Curaleaf for leverage in the state. The likely result from this vast potential in the state in the hands of such a few licensees is that more MSOs and others will be looking to buy their way in. Cannabis Markets to Watch in 2022
Cannabis Market Profile – Illinois 
Illinois ranks as the 5th largest state in the U.S. with its 13 million residents. The state began a medical marijuana program in 2013 and has built a patient base of over 150,000. Then, in January 2020, the state legislature legalized recreational use. The interesting significance about this is that Illinois was the first state where adult-use legalization was initiated and implemented by the state legislature rather than by voter initiative. So from zero in early 2020 the state surpassed $1 billion in adult-use revenue in May.
According to investing news source Benzinga:
Q1 2021 saw additional (sales) records reached with $86 million in tax revenue, surpassing the liquor industry's $72 million.
And, New Cannabis Ventures reports that Illinois adult use cannabis sales reached $121.9 million in August, down 4.6% from a record $128.8 million in July and up 91% from a year ago.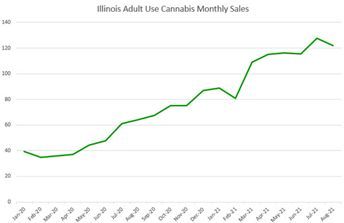 While the state is prime for investors and M&A opportunities, a tax rate of 41% on certain adult-use products may be inhibiting the real potential in Illinois. And slowing the growth of the market has been legal battles over the issuing of new retail licenses to expand distribution in the state beyond the medical marijuana operators who were first given approval for adult use sales. The easing of legal entanglements has attracted large MSOs now investing heavily in the state. Ayr Wellness Inc. (CSE: AYR.A, OTCQX: AYRWF), a vertically-integrated MSO, has acquired Herbal Remedies Dispensaries, LLC, a licensed operator in Illinois since 2013. Parallel, one of the largest privately-held MSOs has acquired Windy City, a leading operator of adult use and medical cannabis dispensaries in the state, in a cash and stock deal for Windy City's dispensary holdings. And last month MSO Ascend Wellness Holdings brought the popular California pre-roll Lowell Smokes brand of products into the Illinois market.
Illinois has also received commendation nationally for its program of restorative justice grants. Nearly 25% of all taxes raised for marijuana sales, $31million as of May, are being invested in social equity grants, exemplifying the impact revenue from marijuana sales can have via the economic stimulation of these grants.
All this points to the fact that more investment in cannabis opportunity is now accelerating in a state with very high cannabis sales potential.
Cannabis Market Profile – Pennsylvania
Well, the word Marijuana Business Daily uses for the current M&A activity in Pennsylvania is "sizzling!" More than $400 million in M&A deals have been announced just since March alone.  With the abounding growth of the Mid-Atlantic market, local cannabis operators are selling out to large MSOs. Of those the most active in the state are Chicago-based Green Thumb Industries, Cresco Labs, TerrAscend, Trulieve and Verano Holdings.
MJBizDaily states these as the factors driving these deals:
A fast-growing medical cannabis market that could reach or even exceed $1 billion in sales this year.
A limited-licensing structure that nevertheless allows one company to open up to 15 dispensaries through five dispensary permits. Three storefronts are allowed per dispensary permit. Six storefronts are allowed per a vertically integrated licensing.
One of the highest number of registered medical marijuana patients of any state in the country – 528,000, according to the current MJBizFactbook. Only Florida is higher with 551,000 registered patients.
High consumer purchase averages.
Perhaps the biggest factor, though, is the potential of the state to approve adult use early next year.
Cannabis Market Profile – Florida
What if someone told you that the third largest state in the U.S. with the fourth largest economy had only 22 medical marijuana licensees? I know you know to which state I am referring.  And the Florida Supreme Court recently upheld the State law that limits the number of these vertically integrated licenses issued.
Florida medical marijuana sales are dominated by three of six major MSOs, Trulieve, Surterra Wellness, and Curaleaf.  The current  2021 MJBizFactbook projects Florida medical marijuana sales to climb as high as $1.3 billion this year on the way to an estimated $2 billion annually by 2025. Trulieve's revenues of nearly $500 million account for almost half of the state's total current sales revenue. Throughout the state there are currently over 300 dispensaries where the state's 570 million cardholders can access medical marijuana.  This total is projected to grow to 500 dispensaries by 2023.
While this sets high barriers for new entrants that would be restricted to dealing with this limited number of license holders, a recent clarification of the Florida law, evolving out of the case brought by plaintiff Florigrown, could result in the Florida Department of Health issuing 15 new vertical licenses as early as the end of this year. The mere size of the state's population and the eventual potential of adult use legislation being enacted continues to draw investor interest.  This fall, Eaze, a formerly troubled cannabis delivery service, became a major national player by purchasing the Green Dragon dispensaries in Florida, adding to their dispensary operations in Colorado and Michigan. Investor News Network (INN) reports on the prediction made by BDS Analytics that recreational cannabis could be legal by 2023. INN reflects the common sentiment among the investment community that:
regardless of whether adult use gets the green light that soon, investors should still consider the Sunshine State as a premier cannabis jurisdiction.
Cannabis Market Profile – Maine
Small but Mighty – Adult Use Sales Soar in Maine
Now into its first year of Adult Use sales, Maine reached nearly $60 million, according to data released by the Maine Office of Marijuana Policy. This is a rapidly growing complement to the state's $250 million medical marijuana sales in 2020. Total Sales this year are already exceeding the previously projected $300 million
In a state where tourism, 12.1 million visitors, accounted for an economic impact of $8,968,595,900 in 2020, this aggressive growth trajectory is expected to be maintained as the state now has 171 stores, 77 manufacturing facilities, 159 cultivation sites and two additional labs in various stages of the approval process.
The state's adult use dashboard reports that 58 licensed adult-use retailers reported 788,551 sales transactions totaling over $58.5 million. That is a contribution to state tax revenues of approximately $5.8 million. According to Erik Gundersen, Director of the Marijuana Policy office:
"Since the launch of Maine's adult use cannabis industry, our licensees have proven to be both innovative and resilient," Gunderson said in a statement. "We maintain the highest standards for public health in our adult-use program, and, on the anniversary of this industry's launch, are encouraged to see that more and more consumers are choosing the tested, tracked, and well-regulated market over the illicit market."
The opportunity, as yet only 47 of the states 500 municipalities have opted-in to Adult Use sales, a total of 29% of Maine residents. Currently In Portland, Maine's largest market, currently 16 active dispensary licenses with another 24 conditional licenses pending. A ballot measure that passed in the state last month makes it easier for municipalities to opt-in to Adult Use sales. This market appeal has gotten the attention of major MSOs with the first, Curaleaf, purchasing indigenous operator CR Holdings for $850 million last July.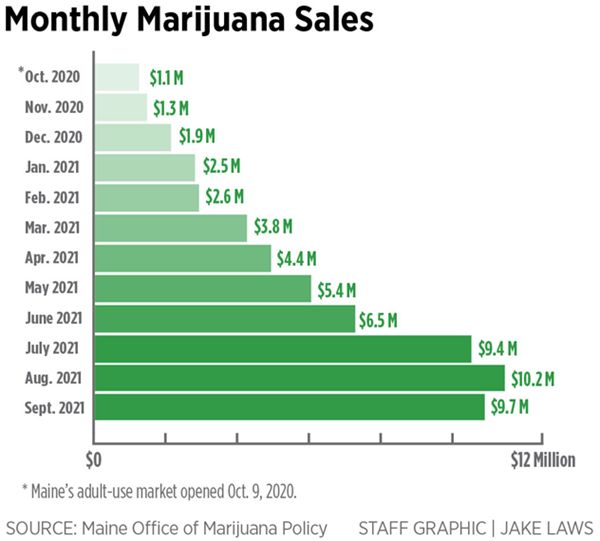 What's Hot in Maine – Here is a Hot Listing We are Handling

Top Medical Dispensary Maine Ready for Adult Use Expansion

High volume, high gross dispensary established in 2016, with solid cash flow and large patient base now licensed and ready for Adult Use expansion

Gross Revenue: $1,410, 626
Cash Flow: $565,570
9,000+ Patients base
Expansion with five-year lease potential, would immediately double usable retail sales space
Prime High Traffic site located off major highway
Seasoned, solid supply chain and vendor relationships. All revenue and earnings verified by the company for review.

All financials are verified and ready for review with signed NDA and Proof of Funds before any other detailed information is released, along with the company's location.

(For further information on this rare opportunity contact Highway 33 Capital Partner Vincent Dipas at: vincent.Dipas@Highway33.com or call: 303.591.7919.)
Cannabis Market Profile – New Jersey
Among the newcomers to the legalization of recreational use cannabis, New Jersey stands out for its potential, particularly as it stays ahead of developments in its big neighbor, New York. Recreational adult use was legalized in November 2020, with a statutory mandate of launching this phase of the state's cannabis program in February 2022.  Delays in the legislative process have now pushed that date out to March 15, 2022.  When rec sales finally begin, analysts are still predicting the state can reach $1 billion in annual cannabis sales by 2024. This may well depend, however, on just how quickly New York implements its own adult use legalization. A strong indication of just how much interest the state is attracting from MSOs is the sizzling hot market for retail and industrial cannabis real estate ahead of the opening of rec sales.
Cannabis Market Profile – New York 
The Government of the State of New York prides itself on the innovative approach being taken to protect small community businesses to enable them to compete with the giant MSOs when they start arriving. With programs that see half of all licenses going to those marginalized communities most damaged by the War on Drugs, and other innovations designed to remove the stigma of the use of cannabis, New York has structured its inclusive legislation to provide what is describe as creating the healthiest cannabis markets in the U.S. Yet, as the publication The City describes it, while NYC has opted-in, adult users will still be waiting a while to inhale. With bureaucratic delays and the resignation of advocate Governor Andrew Cuomo, the potential volume of rec sales continues to be be pushed back to later in 2022. Now, though, the legislature has set the deadline of December 31, 2021, for every municipality – city, town, or village – to decide whether they will opt-in or opt-out of recreational use cannabis operations in their jurisdictions. Those that do not opt-out by then will be considered as having opted-in by decision or by default. The count going into the EOY deadline is that of the 1,500 municipalities, 572 have rejected at least one the categories of licensing of rec operations, while 272 have said "yes" to one or more of the licensing option alternatives.  This compares to some 70% of jurisdictions in New Jersey that have opted-out of licensing category options they faced.
Obviously, interest is piqued in the entire cannabis industry as this drama unfolds.
And Then There's California 
Well, as the state with the longest history of legal, and undoubtedly illegal, sales in the U.S. what could possibly go wrong with it maintaining sales that far outstrip the entire country of Canada? After all, the state first legalized the use of medical marijuana way back in 1996. That is a time when those of legal consumption age now were not even born yet. Recreational use became legal in 2016, and since then total cannabis sales have been on a tear. Revenues of $4.4 billion were generated in 2020.  While in Hollywood a long line of high-profile celebrities have lined up to enter the industry, with Justin Bieber being the latest to introduce his own line of joints.
Nevertheless, the latest headline coming out of California reads like this: "California cannabis business leaders warn state of 'collapsing' industry"
How can that be?  Well, in a letter signed by the CEO's of California cannabis operators and/or advocacy groups, to Governor Gavin Newsom and legislative leaders just recently, the complaint was put quite simply that the licensed marijuana market is on the verge of total collapse unless drastic action is taken.
The letter reads: "An unwillingness to effectively legislate, implement, and oversee a functional regulated cannabis industry has brought us to our knees." "The California cannabis system is a nationwide mockery; a public policy lesson in what not to do."
Specific steps requested:
Eliminate the state Marijuana cultivation tax, which is even slated to increase on Jan. 1, 2022.
Implement a three-year suspension of the state's 15% cannabis excise tax.
Expand the number of marijuana retailers in the state.
The letter asks for these items to be included in the state's budget that is due to be released on January 1oth.  In response the California Department of Cannabis Control head, Nicole Elliot, said that the agency simply needs more time to improve on the regulatory framework. While there is indeed imbedded "regulatory framework" that must be taken into consideration, Elliot wrote that she "remains committed to further refining the California regulatory system."
Generously, all that can be concluded about the health of the legal cannabis industry is yet to be conclusively legislated.  While, on the other hand, and for some reason, the state's illegal industry thrives unabated.
Finding The Right Fit for Your Investment Strategy
What we have concluded is that 2022 offers an array of opportunities in most existing and emerging cannabis states across the country.  What we advise our investors as they assess the market in which they see as the most advantageous boils down to this:
Finding the right fit for your strategic investment portfolio, or the correct way to appeal to a source for your growth funding comes down to clarifying the investment needs and objectives of all parties, determine real value in the business by calculating a well-substantiated valuation, and matching the right investors with the right funding opportunity – the right operators whose objectives and scalability are a fit for investors' portfolios.
Investor takeaway
All indications, of course, point to another banner year for the industry in 2022. After all, new states will be legalizing voter approved medical cannabis programs, while existing legal medical cannabis states will or have been extending legalization to adult use. So, which are the hot cannabis markets likely to show the most substantial revenue growth going into 2022? This week's final EDGE Briefing issue of the year takes a look at the primary states that are of interest to our investors. Rationale for this is provided for states including Michigan, Massachusetts, Arizona, to name a few. And we report on some problematic developments in other states of high potential, concluding with what operators and advocacy groups claim is going wrong in California. In sorting out the real potential for investors who are considering deals that are compatible with their strategic investment portfolio, and for operators seeking growth funding, we also provide the basic guidance we follow to fulfill their objectives.
How We Can Help
At Highway 33 Capital Advisory we excel at structuring deals to meet client investment strategies in emerging opportunities with our core expertise in Cannabis along with other highly regulated markets in the fields of Pharma, Biotech, Healthcare, Agtech, Clean/ClimateTech, and CBD/hemp companies. We specialize in thoroughly vetted companies looking to drive growth and enterprise valuations through M&A, non-dilutive debt financing and/or capital investments ranging from $5M to $100M+.
Let's talk about putting the power of this expertise to work for you as a Sell-side or Buy-side client.