Each week the EDGE Briefing will report on the conditions and trends in key cannabis markets across the country as we assess opportunities of interest to our investors in those markets. Cannabis Market Profile – MICHIGAN
This week's focus…
Michigan is advancing toward becoming the second largest cannabis market in the U.S. Into Q2 ValueTheMarkets.com tracked total medical and recreational-use cannabis sales to be $513 million. That is more than double for the same period last year. That puts the state on a path for sales to exceed $1.5 billion in 2021 which could eclipse Colorado to become second only to California in total legal cannabis sales.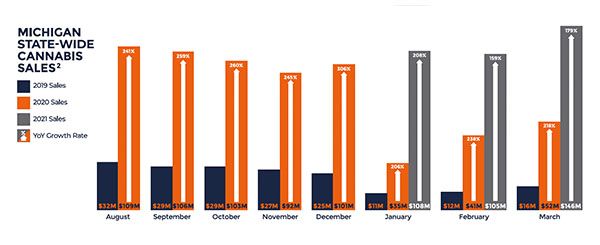 Other key facts about the strength of the cannabis market in Michigan:
The regulated cannabis industry generated $169 million in tax and fee revenues in 2020.
There are 400 licensed medical cannabis provisioning centers throughout the state; 300 licensed adult-use retailers.
Michigan's long history of acceptance of cannabis and a huge patient base are driving forces of the state's record-setting sales pace. At over 330,000, Michigan has the largest medical cardholder patient base in the U.S.; larger in fact than the entire country of Canada prior to adult use being adopted there.
The challenge and the immense opportunity in the state stems from the fact that Michigan's 1,764 municipalities have the final decision as to how many and what types of licenses are granted in each jurisdiction. In the case of adult use, only a little over 100 municipalities have opted-in up to this point in time. This opens a vast potential for business development throughout the state.
What's Hot in MI
At Highway 33 Capital Advisory we are assessing several new pocket listings in Michigan, including the listing you will see below. These are opportunities with carefully vetted cannabis companies that exhibit significant revenue and EBITDA. We will be providiing our qualified investors with access to these opportunities. Other current listings available now can be found at the link to our listings page in the last section of the EDGE, below. Cannabis Market Profile – MICHIGAN