Cannabis Market Profile – Illinois
Each week the EDGE Briefing will report on the conditions and trends in key cannabis markets across the country as we assess investment opportunities in those markets.
This week's focus – Illinois
Illinois ranks as the 5th largest state in the U.S. with its 13 million residents. The state began a medical marijuana program in 2013 and has built a patient base of over 150,000.  Then, in January 2020, the state legislature legalized recreational use.  The interesting significance about this is that Illinois was the first state where adult-use legalization was initiated and implemented by the state legislature rather than by voter initiative.  So from zero in early 2020 the state surpassed $1 billion in adult-use revenue in May.
In late July, in the first of three lotteries the state issued 55 new "social equity" cannabis dispensary licenses in response to approximately 600 applicants.  With the final lottery, held August 19th, the state has issued a total of 185 dispensary licenses, and the state will hold a fourth smaller lottery to address six applicant groups wrongfully excluded earlier.  The licenses—which are yet to be formally issued due to a Cook County judge's order following a suit claiming application grading created a special class for veterans—span 17 regions within Illinois.
Not surprisingly, buyers are lined up for the new licenses.  Values are unclear.  One lottery winner estimated between $3 million and $15 million, depending on the region of issuance.  Another source estimated between $1 million and $3 million by comparing the retail licenses to the going rate of $4-$5 million for each of the 40 new craft cultivation licenses announced last month.
According to investing news source Benzinga:
Q1 2021 saw additional (sales) records reached with $86 million in tax revenue, surpassing the liquor industry's $72 million.
And, New Cannabis Ventures reports that Illinois adult-use cannabis sales reached $121.9 million in August, down 4.6% from a record $128.8 million in July and up 91% from a year ago: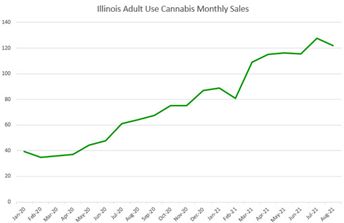 Bolstering those sales figures is the increasingly important role non-resident sales play.  The state is bordered by Wisconsin and Indiana where adult-use is not legal.  In August non-resident sales accounted for a record 33%, the highest percentage since legalization in Illinois, of total marijuana sales.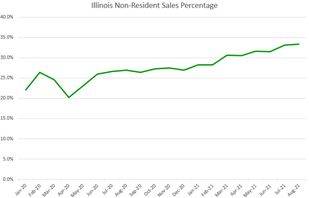 While the state is prime for investors and M&A opportunities, a tax rate of 41% on certain adult-use products may be inhibiting the real potential in Illinois.  And slowing the growth of the market has been legal battles over the issuing of new retail licenses to expand distribution in the state beyond the medical marijuana operators who were first given approval for adult-use sales.   The easing of legal entanglements has attracted large multi-state MSOs now investing heavily in the state. Ayr Wellness Inc. (CSE: AYR.A, OTCQX: AYRWF) a vertically-integrated MSO has acquired Herbal Remedies Dispensaries, LLC, a licensed operator in Illinois since 2013.  Parallel, one of the largest privately-held MSOs has acquired Windy City, a leading operator of adult use and medical cannabis dispensaries in the state, in a cash and stock deal for Windy City's dispensary holdings.  And last month MSO Ascend Wellness Holdings brought the popular California pre-roll Lowell Smokes brand of products into the Illinois market.
Illinois has also received commendation nationally for its program of restorative justice grants.  Nearly 25% of all taxes raised for marijuana sales, $31million as of May, are being invested in social equity grants, exemplifying the impact revenue from marijuana sales can have via the economic stimulation of these grants.
All this points to the fact that more investment in cannabis opportunity is now accelerating in a state with very high cannabis sales potential.
What's Hot in Illinois
At Highway 33 Capital Advisory we are assessing several new pocket listings in Illinois – opportunities with carefully vetted cannabis companies that exhibit significant revenue and EBITDA.  We will be providing our qualified investors with access to these opportunities soon.  Other current listings available now can be found at the link to our listings page in the "What's Hot" section of the EDGE below.