You know that we are all-in to the predictions that 2022 will be a year of further consolidations in the cannabis industry. In this issue of the EDGE Briefing, in fact, we have published one of the successes we are experiencing in that regard. The rationale we've cited in previous issues for continued/accelerated consolidations coming next year: Cannabis Industry 2022 – Opportunities for Strategic Investment
The U.S. cannabis market is leading in the race to make the cannabis industry the largest consumer products industry – in the world. Capital infusion through consolidation is fueling that race.
Leadership to market dominance typically does not happen by slow, steady organic growth. The consolidation of Trulieve just recently acquiring Harvest in a $2.1 billion deal to form the world's most profitable MSO substantiates that premise.
That Trulieve/Harvest Health acquisition is seen by the industry as having more far-reaching affect than merely the size of the deal. This M&A between two of the largest cannabis MSO's that are publicly-owned puts literally all cannabis companies in play for an M&A transaction.
In Canada, investors want strategic ways to gain greater access to the U.S. cannabis market. M&A transactions, as exemplified by the pending Aphria-Tilray reverse acquisition, are expected to play a greater role.
The emergence of SPACs in the industry with over 20 cannabis SPACS going public in the U.S. and Canada in the last 18 months.
Forbes sums up the key drivers propelling industry growth as regulations, marketing and scale. Inconsistent laws state-by-state and restrictive tax regulations limit the ability of an individual operator to scale. This choking effect on margins provides further impetus for consolidation in the industry
After the three-part series we published on the future of strategic investment in the cannabis industry, in this issue of the EDGE Briefing we look at what others are predicting to provide additional perspective. Cannabis Industry 2022 – Opportunities for Strategic Investment
Trends to Watch
Founders Institute points out that the onset of COVID-19 quickly established cannabis as an essential business in most markets where medical marijuana is legal. This locked in the reputation of cannabis helping people deal with the stresses and challenges of the pandemic. FI identifies the following trends affecting future growth of the industry:
Delivery is a hot market right nowwhere cannabis is already legal, because consumers don't want to touch cash, or interact with their once over-the-counter 'bud tenders' in the same close proximity as pre-COVID.
Point of Saleis hugely important to cannabis's transition through the COVID era. Developing APIs in a tech stack that position a cannabis payments or point of sale business for acquisition is a smart opportunity. AI and blockchain opportunities on the contract and compliance sides of the business are also hot areas of interest, according to CEO of the Arcview Group Kimberly Kovacs. 
Edibles have now surpassed flower in terms of growth of productswithin the industry. There has been a marked decrease in vaping and smoking of flower since the onset of the pandemic, largely because COVID is a respiratory illness and so inhalation of cannabis is seen as less appealing now by consumers. 
And a major factor in the maturation of the industry, Data analytics is increasingly important to cannabis. To see where the rapidly-developing industry is going, ERP (Enterprise Resource Planning) systems are becoming a necessity. Big developers have avoided the cannabis industry in the past, but will probably be coming in, and looking to acquire upstarts in the space.

An interesting side note regarding delivery is that Chris Walsh, CEO of MJBiz notes that Amazon has joined the conversation about becoming a potential delivery source. Walsh, however, is not convinced such a move would be a productive development for the industry as a whole. Cannabis Industry 2022 – Opportunities for Strategic Investment
Cannabis product manufacturers will be catering to/following the trends set by Millennials and even Gen Z.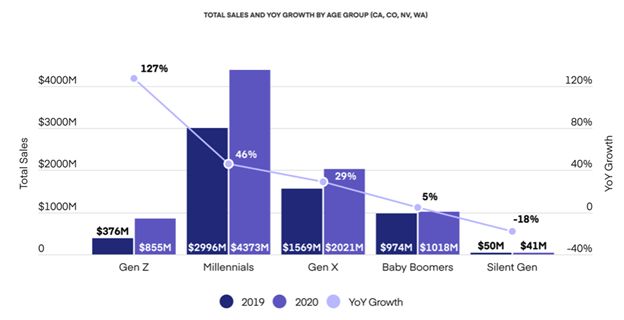 Industry research firm Headset reporting on the percentage increases in consumption by generations found a 127% increase in coming-of-age GenZ, born 1997 to 2012, while Millennials, 1981-1996, continue to account for the largest share of total sales, ahead of GenX, 1965-1980, next. These younger generations feel far less of the stigma of the use of cannabis products than older generations. Generations that faced severe legal penalties prior to the spread of legalization across the country. Product trends that will appeal to the tastes of the younger generations, particularly the patients and users new to cannabis, will be closely watched by Big Pharma, Big Tobacco, and Big Alcohol as they begin their tentative moves into cannabis.
Trending in alternative financing – recent multimillion-dollar debt funding among cannabis industry leaders shows that debt as a capital source is a rational use of capital, not a sign of business distress. So, the rapid pace of legalization across the country has opened up an entirely new lending market. For cannabis operators, debt can play a vital role in the capital structure of a company in order to preserve equity and to facilitate long term growth. Still, the lack of federal legalization complicates the traditional lending model because bankruptcy is not an option and there is no consistency in state-by-state licensing and ownership standards. In this complicated, nuanced industry an experienced advisory team with direct domain expertise is required to provide the value added in facilitating a debt transaction.
What About CBD?
New Frontier Data estimates CBD – the cannabinoid derived from the hemp, rather than from the marijuana plant, will become a $1.3 billion market in 2022.  The Brightfield Group says the hemp CBD market can reach as much as $22 billion by 2022. The global CAGR is predicted by Global Market Insights to be even higher, at a breathtaking 52.7% in a market size that exceeded $2.8 billion in 2019 and could climb as high as $89 billion in 2026. Cannabis Industry 2022 – Opportunities for Strategic Investment
Cannabidiol is a compound found in hemp plant which is being utilized due its therapeutic properties in humans and animals. The growing trend among individuals to treat a variety of ailments such as anxiety, nausea, stress, chronic pain, neurological conditions and seizures is booming. This is due to the antibiotic and analgesic properties present in cannabidiol. CBD is sold as an ingredient in oils, oral sprays, creams, pills, or edibles like gummies and lollipops. Some claim CBD has even been linked to helping people living with cancer. Although such products are generally prohibited to be introduced in interstate commerce, the FDA has not been vigorously enforcing this restriction and has been giving hints of easing these prohibitions in the near future.
Cannabinoid APIs
Keeping an eye on developments with cannabinoid Active Pharmaceutical Ingredients (APIs) is a smart investment strategy in our view.
Cannabis contains active ingredients called cannabinoids. The first and second most abundant of these are tetrahydrocannabinol (THC) and the popular cannabidiol (CBD).  These are just two, however, of the approximate 144+ cannabinoids that can appear in trace amounts in a marijuana plant.  Many of these cannabinoids are soon to be making their way as APIs in medications for the treatment of chronic pain, glaucoma, epilepsy, and the growing body of research in the treatment of HIV/AIDS, Lupus, and MS. This along with promising developments as an anti-proliferative effect on different types of cancer cells. And, cannabinoids as APIs are also being introduced into medications that hold the promise of reducing the dosages of opioids and prompting the discovery of treatments for Alzheimer's Disease.
According to the GMP compliance consultancy PharmOut in their Industry Growth Predictions for 2020- 2025 the global demand for cannabis, medical and recreational, is increasing consistently at a growth rate of 17% to 23% per annum.  And, while true medical-grade cannabis will be influenced by supply/demand and cost pressures as well as by stringent cultivation, processing and export regulations, it is not unreasonable as some analysts predict for the global medicinal cannabis market to eventually reach $650 billion – making it the third largest worldwide market after oil and arms.
Markets to Watch
At the MJBizCon in October, Chris Walsh predicted that 2022 would be the biggest year for M&A.  And he saw these as the primary markets to watch to continue to spur the growth of the industry and the attention of the MSOs:
States opening for the first time for Medical Marijuana – Nebraska, Idaho and potentially Wyoming.
States expanding to legalized Recreational use – Arkansas, Maryland, Missouri, Ohio, Oklahoma, North and South Dakota.
And, the potential of a major development in 2022 in one of the largest U.S. markets is being watched closely. That is, when Florida adopts much anticipated Recreational Use.
According to Industry Leaders…
Two weeks ago Business Insider interviewed 9 CEOs of the largest cannabis companies ( including names like Curaleaf, Aurora Cannabis, Tilray, Columbia Care, and others) to get their take on key projections for 2022.  Among the most prominent comments:
These industry leaders are not waiting for the US federal government to legalize cannabis while they focus on growing their businesses. Their consensus was that a narrower banking bill may be the extent of federal legislation passed in 2022 as opposed to full-scale legalization.
They are expecting the "Green Wave" sweeping over the Northeast to attract consumer and investor action.
They will be watching closely the progress with the European, LATAM and Asian countries that are contemplating cannabis reform.
Similar to what we pointed out earlier in the article about APIs, owning IP around genetics, putting cannabis formulations in drinks, even biosynthetic cannabis would be critical to establishing competitive advantage.
And, they affirmed that consolidation would indeed continue to be the watchword in 2022.
An Industry Still Buffeted by Controversy
Beginning in the '70's, Big Tobacco ignored warning signs that a crisis of far-reaching proportions would shake their industry to its foundation. That crisis, the specter of secondhand smoke. The tobacco industry has paid a high price for not addressing the issue effectively. Now, consumer advocates are beginning to put vapes under the same microscope – to determine any potentially harmful effects of secondhand smoke from the use of vaporizer devices.
And on March 8th a Colorado State University study, was published in Nature Sustainability. The study found that indoor cannabis cultivation is a major generator of Greenhouse Gas (GHG) emissions.  In just the state of Colorado alone the researchers at the university estimated that indoor cannabis grows emitted 2.6 million tons of GHG emissions annually. This accounts for 1.3% of the state's total GHG emissions. For context, coal mining in the state accounts for only 1.8%.
These are issues that require addressing in 2022 before the full potential of the bold predictions for the industry's future will be realized.
Mitigating Risk and Maximizing Upside in this Investment Space
The evidence continues to mount that phenomenal growth is ahead for the cannabis industry with the potential of MSOs leading the way into the future, both before and after federal legalization. However, especially in emerging markets, due diligence is key to separate the potential winners from the contenders – by evaluating the prowess and the passion of the executive team. By assessing the competitive advantage of the company and how quickly they can scale for growth. And how well they are ready for the regulatory regimen in their home and target growth markets. These steps we take before presenting a cannabis company to our extensive list of investment resources. Cannabis Industry 2022 – Opportunities for Strategic Investment
Investor takeaway
The U.S. cannabis market is leading in the race to make the cannabis industry the largest consumer products industry – the largest in the world. Capital infusion through consolidation is predicted to continue to dominate industry financial transactions in 2022. With maturation and with the advent of digitalization leading to business and marketing efficiencies, cannabis is rapidly evolving into a traditional CPG model. This is also the case with particular emphasis on AI and Blockchain opportunities. Technologies more commonplace to the Millennials and Gen Z target audiences. Hot geography is predicted to be the areas where the "Green Wave" is sweeping over the Northeast, and other areas where Recreational Use will be legalized. Garnering IP and confronting pressing issues that could sway the strength of public opinion and forestall the explosive growth projections of the industry are areas that will command attention into the new year. How do these developments play into your strategic investment planning? The smart money will always turn to advisory sources with extensive industry experience before making strategic investment portfolio decisions.
How We Can Help
At Highway 33 Capital Advisory we excel at structuring deals to provide access to capital while meeting client investment strategies in emerging 2021 opportunities with our core expertise in Cannabis along with other highly regulated markets in the fields of Pharma, Biotech, Healthcare, Agtech, Clean/ClimateTech, and CBD/hemp companies. We specialize in thoroughly vetted companies looking to drive growth and enterprise valuations through M&A, non-dilutive debt financing and/or capital investments ranging from $5M to $100M+.
Let's talk about putting the power of this expertise to work for you as a Sell-side or Buy-side client.