Cannabis Commercial Real Estate It is often quoted now in various press sources that, as we reported in March, more cannabis than ever before was consumed in the U.S. in 2020 – a record $17.5B in legal sales – a 46% increase from 2019, according to the cannabis sales data platform BDSA,
Marijuana Business Daily tracks/projects the growth of the industry in this manner…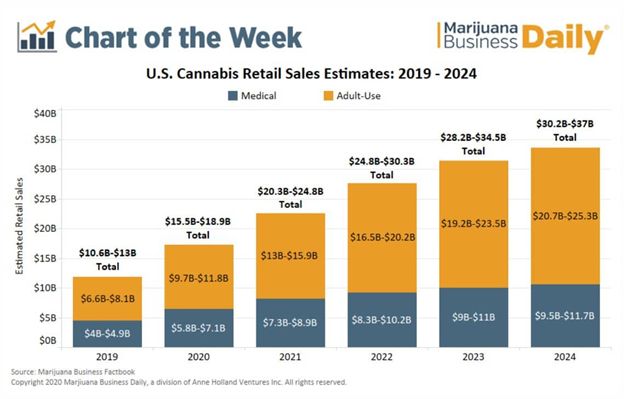 While Pitchbook is seeing dramatically rising median post valuations and deal sizes as we progress into this very active year…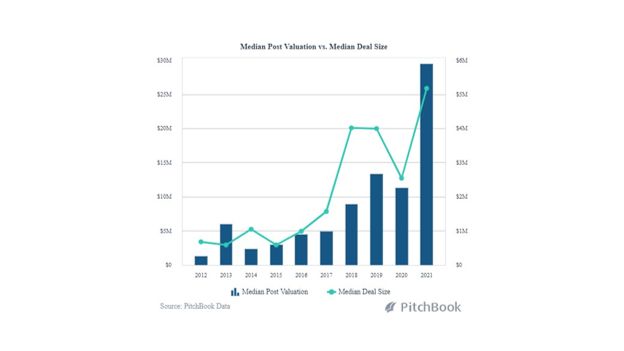 Cannabis Commercial Real EstateHere is what The Insurance Journal published last week in their "New Dawn Risk" report on the cannabis, CBD and Hemp markets:
Over the past seven years, the US legal marijuana market has expanded from zero to over $17.5 billion in 2020 with 321,000 employed in the industry according to Leafly's 2021 cannabis jobs report. Hundreds of thousands of businesses have been set up to service the industry. In Oregon alone there are 16,600 registered growers who are producing at 13,959 grow sites. This does not take account of the companies who retail the products, or who supply services such as packaging, processing, payroll and transport. To put this into perspective, Americans now spend almost as much on legal marijuana products as they do on Coca Cola!
And regarding last month's unofficial cannabis day "holiday" celebrated on 4/20 each year, the Boston Globe reports:
The sector also set an all-time single-day sales record on April 17, the Saturday before 4/20, when the roughly 140 pot shops in Massachusetts sold more than $5.04 million worth of cannabis buds, edibles, vapes, and other products. That surpassed the previous high-water mark of nearly $4.77 million set on April 2, the Friday before Easter.
Cannabis Commercial Real Estate How does this rapid growth translate into opportunities in Commercial Real Estate? In this month's posting by RISMedia they, along with several other media outlets, quote the recently released 51-page report by they National Association of REALTORS®
(NAR) entitled "Marijuana and Real Estate: A Budding Issue," that there is a marked increase in demand among their commercial members for warehouses, land and store fronts used for marijuana production and sales. The report states that although there are a number of reasons why commercial real estate inventory is tight in their areas, one-third of their respondents in legal marijuana states report that the marijuana industry is contributing to this condition.  Not only is this true for areas where cannabis has been legal in the past, but also 23% of respondents say the cannabis industry is already contributing to the tightening of inventory in newly legalized states.  In addition, 29% of commercial members in legal states report that during the past four years there is a significant growth in property purchases as opposed to leasing.
General trends forecast by Forbes for Commercial Real Estate in 2021 will be accommodating for Cannabis CRE transactions:
Forbes predicts there will be more distress asset sales from sectors slow to rebound from COVID-19.
Work from home will put more commercial space on the market.
To continue to aid the economic recovery the Federal Reserve is likely to keep short-term interest rates low throughout the year. This could also be a favorable development for the cannabis industry that has been plagued by being forced to pay higher interest rates on debt in the past.
Another interesting twist coming out of COVID is that real estate investors are seeing capital reallocated to businesses that were classified as "essential." More capital is now flowing to grocery stores, dollar stores, auto parts and service centers, pharmacies, medical companies and fast food. These are considered ideal tenants.  Cannabis is entering that category since cannabis is included as an essential service in 28 of the 36 legal states.
Rapidly Increased State-by-State Adult Use Legalization
Cannabis Commercial Real Estate Indeed, the industry is living up to these promising developments as we progress into 2021.  The passage of Adult Use in New Jersey sent a strong message to all neighboring states.  The slow-to-adopt states of Maryland, Connecticut, Delaware, New York and Rhode Island are all now primed to quickly address legalization.  New York and Rhode Island have just become the first of these states to enact Adult Use legalization.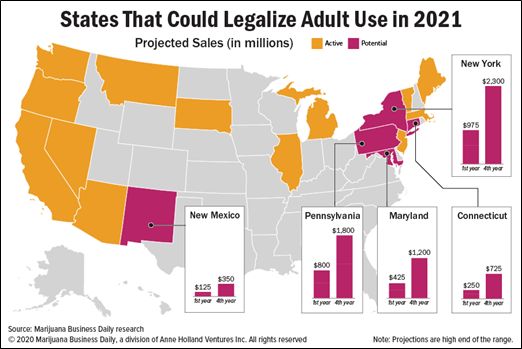 Accelerated Actions on the Federal Level
Cannabis Commercial Real Estate Although full legalization at the federal level is still likely to remain several years away, other promising developments for the cannabis industry continue to advance through Congress. As a minimum, analysts are expecting some version of the act entitled Strengthening the Tenth Amendment Through Entrusting States (STATES) Act to be passed in relatively short order.  While this Act does not legalize interstate commerce in cannabis it does officially sanction the legitimacy of state cannabis legislation.  And a new Act has been introduced in the Senate that parallels the SAFE Banking Act. While SAFE would pave the way for FDIC banks to begin working with the legal cannabis industry, the Clarifying Law Around Insurance of Marijuana Act (CLAIM) will similarly enable insurers to work with the legal cannabis industry to reduce certain insurance risks the industry has had to navigate.
Regarding the rapid pace of the current growth legalization on the state-by-state basis, WealthManagement reports that it usually takes as much as two years for a cannabis market to start gaining traction in newly legalized states. Due to the enormous need for increased revenue that every state faces coming out of the Pandemic, more states are streamlining the sanctioning process, even down to the municipality level, to expedite the flow of new tax revenue.
Smart Money Flowing into Cannabis CRE
The booming marketplace in 2021 is generating renewed interest in cannabis commercial (CRE) investments.  Not only are more debt funding options becoming available to cannabis operators, but also how well the cannabis industry performed during the COVID-19 crisis has shown traditional financing sources and formerly reluctant landlords that the cannabis industry exhibits recession-proof qualities. Neglected store fronts in formerly derelict areas and industrial warehouses continue to escalate in value brought on by industry expansion, particularly into areas dedicated as Green Zones within municipalities.
A Green Zone is an area designated where legal cannabis/cannabis-related businesses are allowed/encouraged to set up cultivation, manufacturing and retailing facilities.  One funding resource, Canna-Hemp Debt Fund, estimates that industrial warehouses they are underwriting that are "green zoned" show at least a 20 to 30% in increase value.  For debt loans the company feels comfortable with LTVs of 60-65% in their green zoned properties.  For investor security, and to be able to offer lower than market rates, personal guarantees and cross corporate guarantees, wherever possible, are required from their borrowers.
Green Zones designated within Qualified Opportunity Zones (QOZs) offer investors the additional benefit of the potential of deferred and reduced taxes on capital gains while building equity in property purchased within the zone.  This provides the benefits of economic improvement and job creation to the surrounding low-income, distressed neighborhood.  While cannabis businesses are still subject to tax code 280E, which eliminates operational business expense deductions for income tax purposes, the current IRS ruling gives the owner of a QOZ property a hold on capital gains taxes if the property is held for a minimum of 10 years.
Because of the vagaries of the federal regulations and the laws in each municipality, and those that pertain to each individual property, the first step in any cannabis CRE investment is to always seek advice from professionals experienced in the nuances of the cannabis industry.
Major Cannabis CRE Transactions
As reported recently by New Cannabis Ventures here are a few of the many major cannabis CRE deals consummated recently:
Trading began on the Nasdaq on March 19 for commercial real estate finance company AFC Gamma Inc. (AFCG), active in the cannabis industry, of the company's IPO of 6,250,000 shares of its common stock, $19.00 per share. The primary intended use for the net proceeds is to "originate and participate in additional commercial loans.". Closing for the offering was set for March 23.
On March 18, NewLake Capital Partners and GreenAcreage Real Estate Corp. announced the closing of their merger, becoming one of the largest cannabis real estate companies. NewLake Capital Partners, owns a diversified portfolio of 24 properties across 9 states with tenants that include cannabis industry giants: Curaleaf, Cresco, Columbia Care and Trulieve. The new company's stated objective:

…be an important long-term real estate partner to our valued tenants. Diversification is the centerpiece of our strategy, and we own some of the highest-quality cannabis properties located in limited license jurisdictions.

On March 11, Innovative Industrial Properties, Inc the only real estate company on the New York Stock Exchange (NYSE: IIPR) that deals in cannabis properties, acquired a 373,000 square foot industrial and greenhouse space in Florida from an MSO, Parallel, with operations in Florida, Mass, Nevada and Texas. Property price was $35.3 million which IIP will enter into a sales and leaseback arrangement with Parallel to continue operating these assets as a medical cannabis cultivation and processing facility.
Earlier, in December, IIP also closed sale-leaseback transactions with subsidiaries of GR Companies Inc.for two properties in Pennsylvania and North Dakota of a total of 105,000 square feet of industrial space for the estimated price of $24.1 million.
Also around that time Acreage Holdings and REIT GreenAcreage announced a total of $70 million from sale and leaseback transactions for facilities in Florida, Mass and Pennsylvania.
What to Look for in Cannabis CRE Properties?
When advising our clients who are considering cannabis CRE investments, here is the guidance we provide: 
Yes, it is about "Location, Location, Location." In the case of cannabis CRE, though, location due diligence is crucial. Not only do the laws on the books relative to the property need scrutiny, but also a clear understanding of the support of community leaders for the cannabis enterprise is essential.
Legal and CPA advice is vital in order to make sure risk and liability is reduced and all the potential tax savings are to be realized from the property.

In certain cases ownership of the property as a separate entity from the cannabis business is a consideration in order to realize the greatest value from the investment.

Local ordinances must be thoroughly comprehended in the operations plan for the property.

Tax requirements vary from municipality to municipality and other ordinances may apply, even including those that may require a prescribed number of employees to be residents of the area in which the cannabis business is located.

Rudimentary loan applicant qualifications met.

Sellers with credit ratings below 799 should work on ways to reduce debt- to-credit ratio to qualify and improve interest rate. This is a process, though, that takes time to improve.

Effective planning and budgeting are crucial to achieving the ROI potential of the property. Some of the main components that a business plan should include are:

What the cannabis business will achieve.
What are the 5-Ps of Marketing that will lead to achieving business goals – the Product, Price, Place (Distribution), Promotion, and the People that will create and effectively manage a new multi-million dollar operation.
Detailed financial analysis, in which cash flow will be a critical measure of expected performance by lenders. And, all anticipated business expenses should be considered, especially those unique to cannabis since many can't be considered deductible expenses under the provisions of tax code 280E– the section of the Internal Revenue Code that denies deductions of business expenses by plant touching businesses, in some cases doubling tax rates and minimizing or eliminating cash flow. Cannabis entrepreneurs must pay more attention to this in their financial projections.
Is risk mitigated by the loan applicant collateral?
Typically, real estate agents aren't attuned to stringent cannabis regulations. Advice from experts who are successfully transacting in the cannabis industry is imperative.
Debt Financing Options for Cannabis CRE
The upward trend began in 2018 and advanced well into 2019 when about 30% of all capital raised in the cannabis industry was through debt financing, compared to only 19% in the boom year of 2018.  We are seeing more groups already in 2021 starting both dedicated debt funds and allocating a portion of funds for cannabis debt deals.
Cannabis Commercial Real EstateWhile the industry has been capital-constrained, borrowing against assets has been a key source available for many cannabis companies to pursue. Vertically integrated cannabis companies often have significant real estate and other assets that can be leveraged. What has changed now, though, is that more debt providers have come online over the past couple of years addressing a range of needs.  This means that cannabis companies now can refinance at more attractive rates – with these financing options available:
Sale and Leaseback Transactions
While Sale-Leaseback (SLB) transactions aren't technically debt they do allow companies to free up liquidity from their balance sheets without dilution. An SLB is the sale of real estate assets to a buyer who then leases them back through a long-term lease.
Asset-Based Lending
Based on the valuation of real estate and equipment assets, a cannabis company can typically borrow from within the range of 40% to 75% of asset value. In the case of development projects, the loan is usually based on project costs. While less typical, there are some working capital debt options in the market as well; though the availability of this option is much less than for real estate and equipment financing.
Convertible Options
Cannabis Commercial Real Estate Up to this point, most debt financing by cannabis companies was found in convertible note options with low conversion premiums – which essentially delay issuance/dilution of equity. The company creates a note that converts to equity at a future date based on a future valuation method. These notes have given investors security that they are repaid before equity holders if something goes wrong. For both the investor and the company this note structure allows the valuation question to be answered in the future while providing needed capital to the company and a more secure instrument to investors.
MTN – Short-Term Solution to Minimize Dilution with Funding at Single Digit Rates.
True, that the three alternatives listed above are considered the standard.  Now, however, a new alternative is emerging, the Medium Term Note (MTN) for companies with relatively strong balance sheets.  An MTN is an alternative to traditional long-term and expensive short-term financing – to aid a company with such objectives as accelerating a growth strategy, facilitating a roll-up M&A strategy.
Investor Takeaway
Cannabis Commercial Real Estate 36 states have now legalized cannabis with Adult Use now legal in 15 of those states and three more with pending legislation. Federal legalization measures continue their slow progress through the U.S. Congress. The industry has matured to the point where major players are now focused on strategic acquisitions, efficient operations and EBITDA.  And, MSOs are estimated to have $1B in dry powder as this formerly capital constrained industry advances toward its $30+ billion potential as early as 2024.  For CRE, in general, there are sectors that have continued to perform – e-commerce warehouses, medical, grocery, selected retail and self-storage facilities. Forbes sees a K-shaped recovery where companies like Amazon, Google, Home Depot and Walmart benefit while mom and pop shops, local restaurants and other service-based businesses will evince slow recovery. This is likely to be the case long after the pandemic.  But, interest is intensifying in the above-market-value in profitable cannabis CRE investments. To make those investments productive requires a resource that completely understands the national, state and municipality laws, the local ordinances, and the attitude of the community in which a property is located in order to expedite the process of a CRE investment destined to achieve a well-planned ROI. Cannabis Commercial Real Estate
How We Can Help
Next Step – Category Expertise Needed
Cannabis Commercial Real Estate After six long years processing millions of dollars in successful sell-side and buy-side transactions, we know the cannabis industry. We excel at structuring deals to meet client investment strategies in opportunities with our core expertise in Cannabis.  And, we transact in other highly regulated markets in the fields of Pharma, Biotech, Healthcare, Agtech, Clean/ClimateTech, and CBD/hemp companies. We specialize in thoroughly vetted companies looking to drive growth and enterprise valuations through M&A, non-dilutive debt financing and/or capital investments.
Let's talk about putting the power of this expertise to work for you as a Sell- or Buy-side client.