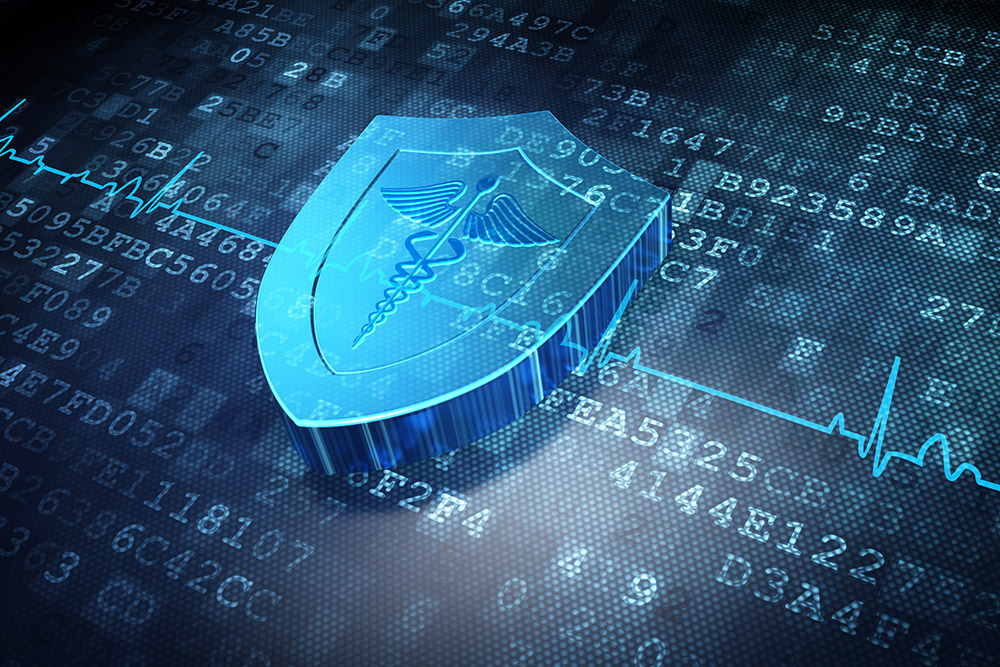 Blockchain, once only associated with the inscrutable beginnings of the cryptocurrency market, is becoming a strategic enterprise priority by the majority of executives in Deloitte's 2020 Global Blockchain Survey. This distributed system of recording and storing transaction records is already attracting millions of dollars of funding. According to a Digital Authority Partners report, blockchain in healthcare market is expected to reach $890.5 million by 2023. Blockchain is being relied upon to solve the widespread problems of siloed data on interoperability and non-standardization in healthcare information systems – increasing the security and privacy of personal healthcare data. Blockchain Brings Database Management to Healthcare
While deal count is down this year of VC and PE investments in healthcare blockchain, the median post valuation level is rising to previous highs.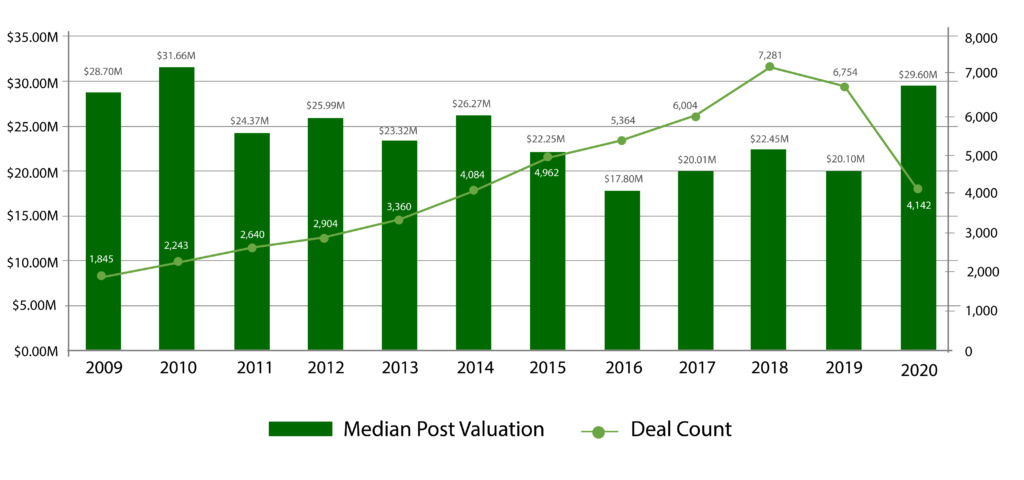 How Blockchain Technology is Changing Healthcare
Blockchain Brings Database Management to Healthcare
The huge interoperability problem throughout the healthcare industry arises out of the fact that there is no common industry standard for identifying patients.  This results to a surprising degree in mismatched patients' electronic health records (EHRs) which can not only lead to errors in patient care but could also lead to harmful treatment outcomes. The Center for Biomedical Information (CBMI) cites that one in five patient medical records are mismatched when that data is transferred between healthcare systems. This led Healthcare Weekly to project that blockchain in healthcare could save the industry up to $100-$150 billion per year by 2025 in costs related to data-breach, misinformation and fraud costs.
Healthcare Industry Benefits from Blockchain
In Pharma
Estimates from PR Newswire approximate the loss to the pharmaceutical industry from counterfeit drugs each year is a staggering $200 billion. This is a result of security breaches within the drug supply chain. Blockchain technology is being used to enable complete visibility and transparency up and down the drug supply chain, tracing drugs to their point of manufacture to help identify fraudulent sources.
Patient-Centric Reporting Structure
Instead of manual entry of patient data across multiple EHR platforms, incurring the potential of duplicate records being created, blockchain can automatically replicate the data to each EHR.  In the case of identifying prospects for clinical trials, once the requirements of the trial are entered into the automated blockchain system, the identifiers in the system can find ideal candidates with greater accuracy and reliability. Blockchain Brings Database Management to Healthcare
Smart Contracts
Smart contracts, digitally verifying the negotiation or performance of a contract without the need for a third party, can be used for secure data transfer, retrieval and analysis via the digital ledger in a blockchain network.
Permissioned Healthcare Blockchain
In this application healthcare organizations would not own a patient's personal data at all.  Instead, a patients' hash ID in the blockchain becomes the patient's unique identifier.
Blockchain in Healthcare Payments
Blockchain as we have seen has grown out of the cryptocurrency stage an into a full-fledged database management methodology.  And, the complex area of payment records is where the innovative solution of networked blockchain databases facilitates more efficient information control – a much easier time tracking patients' payment requirements and history.
What About the Issue of Security?
The single basic key to remember about data security in a blockchain network is that in a decentralized ledger each block of data in the chain is linked by a hash pointer to the previous block.  This makes fraudulent substitutions or extractions of data impossible without upsetting the entire network.  Since the blockchain in uncorruptible and traceable, patients can confidently send records without out fear of information tampering.
Who is Gaining Traction in the Healthcare Industry with Blockchain?
Solve.Care – is building a blockchain platform to connect stakeholders with each other in order to redefine care, cost and convenience throughout the patient base and the supply chain. With the Arizona Care Network, of approximately 5,500 physicians, Solve has launched Care.wallet. The wallet serves as a system for checking physicians' performance analytics and earning rewards. The next phase of Solve. Care's development will look at expanding the platform to focus greater emphasis on the needs of patients.
Simplyvital Health – launched in 2017 by a Katherine Kusmeskas, who was listed in Forbes as one of the global leaders changing healthcare, uses blockchain to create an open source database for access by providers to patient records to ensure accuracy of treatment. Their permissioned blockchain platform creates a blockchain network so that different HIPAA compliant healthcare providers and clinics can view the same data provided by the patient. The aim is to develop a fully functioning healthcare data marketplace, open to all major players in the industry. Blockchain Brings Database Management to Healthcare
Encrypgen – it's blockchain innovation is "Gene-Chain," a platform built solely to enable users to search, share, store, and buy/sell genetic information.  Privacy protection is handled on this permissioned blockchain network by enabling only network members to purchase the genetic information using safe, traceable DNA tokens. Member companies access the genetic information, in general, for further research into refining genic therapies.
And, none other than International Business Machines Corp, with has taken a lead role among Big Data in blockchain by developing its IBM Blockchain platform.  This platform enables customers to build blockchain applications in the IBM cloud network. The company has made a multimillion-dollar commitment in blockchain technology to improve transparency and interoperability in the healthcare industry.
Profiting from Blockchain in the Healthcare Industry
Here are the characteristics we encourage our investors to look for as they assess the investment opportunities blockchain is bringing to the once tradition-bound, paper-centric healthcare industry.
The technology – critical, naturally, to thoroughly understand the technology and its place in the client's investment strategy.

Consider that open-source public blockchains have the largest number of developers, and that there are a large number of open-source applications already on the shelf that include those that continue to advance the security aspects of blockchain.
Look into the blockchain structure – permissioned vs. public – where permissioned blockchains only allow known participants and known nodes to participate in the network. Financial institutions, in particular, prefer permissioned blockchain networks.

The team – how comfortable is the investor with the caliber and experience of the management team and how convincing is their dedication to change/improve people's wellbeing?
Credible funding plans – is there a clear and attainable path toward improved EBITDA?
Risk Assessment – what is the type of risk the investor is willing to take?
Timing – is investment prudent now before the onset of future risks?
Exit – understand the company completely from their patent protection to the acumen of their management team to accomplish their exit strategy.
Legal advice – consult with a law firm skilled in structuring legal documentation associated with the level of risk of the investment being contemplated.
A Competent Investment Advisory – preferably an advisory experienced in the healthcare industry that is thoroughly familiar with the industry trends that will affect future ROI.
Investor Takeaway
In the U.S., healthcare accounts for over 18% of GDP.  That's huge!  And, blockchain technology has the capability to bring down the costs and complexity of this current paper-based industry, while keeping patient data secure and improving healthcare outcomes for all participants.
How We Can Help
At Highway 33 Capital Advisory we excel at structuring deals to meet client investment strategies in trending segments like Blockchain in Healthcare as well as our core expertise in highly regulated markets that include: Biotech, SaaS, Fintech, CBD/Hemp, Cannabis and ancillary tech companies.  We provide investors with thoroughly vetted companies looking to drive growth and enterprise valuations through M&A, non-dilutive debt financing and/or capital investments ranging from $5M to $100M+.
Let's talk about putting the power of this expertise and our network to work for you.